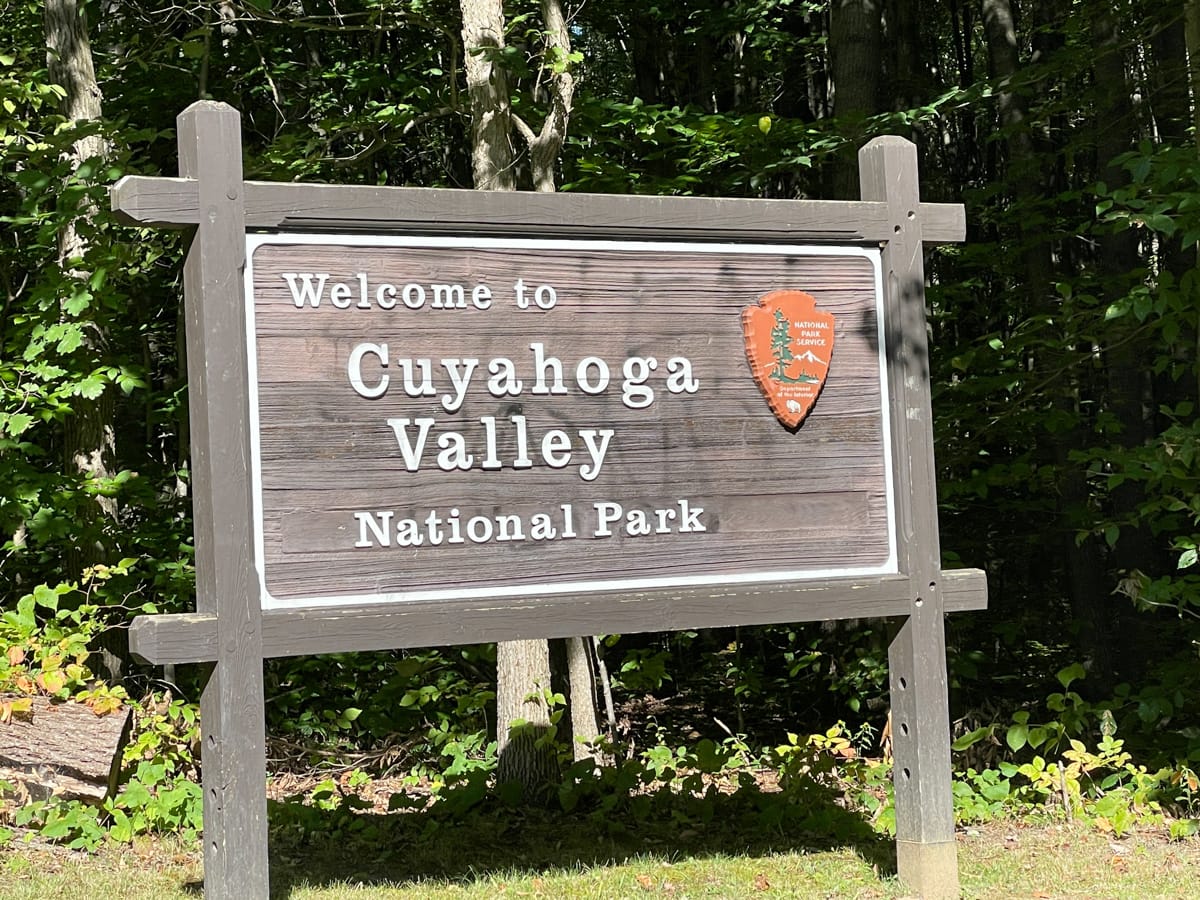 Cuyahoga Valley National Park is a different kind of national park. It was created back in 1974 as part of the Federal Parks to People program, which called for national parks in metropolitan centers.
Nestled between the cities of Cleveland and Akron, this 33,000-acre park makes an easy day excursion from either one of these urban cores. And with its open spaces, verdant forests, unique rock formations, waterfalls, farms, quaint villages and historic sites, you'll immediately feel worlds away from civilization.
Activities Abound
In Cleveland for an event, I decided to do a quick getaway to the park. In thirty short minutes, I was amid a lush, natural environment. As for things to do at Cuyahoga, there are plenty.
Activities include hiking on the over 125 miles of trails, paddling the Cuyahoga River Water Trail and cycling the 20-mile Towpath Trail. The trail follows the historic route of the Ohio & Erie Canal.
In addition, you can experience the park from the comfort of your seat on the historic Cuyahoga Valley Scenic Railroad. Then stop in at the Canal Exploration Center to learn about the Ohio & Erie Canals. Or go fishing in Kendall Lake and spot wildlife in Beaver Marsh.
You can even go questing, which involves finding hidden treasure boxes in different areas of the park and Canalway.
Get Oriented
Start at the Boston Mill Visitor Center. Here you'll find maps and rangers to steer you in the right direction depending on your interests. Talking to one of the rangers, I learned that the Cuyahoga River, which is dubbed the Crooked River, snakes through the valley and eventually empties into Lake Erie in downtown Cleveland.
The river was part of early transportation networks and later it powered industry, which led to a serious pollution problem.
However, after the Cuyahoga River fire of 1969, people realized that protecting the water should be a priority and shared responsibility. A cleaner river is the result of environmental action and new laws.
As for the Ohio & Erie Canal, this waterway once connected farms to East Coast ports and spurred the development of Cleveland and Akron as major cities. The canal created a national trade economy in this region.
The park preserves and has adapted this historic passage, along with the railroad that supplanted it, for recreation use only, as it no longer transports people or goods.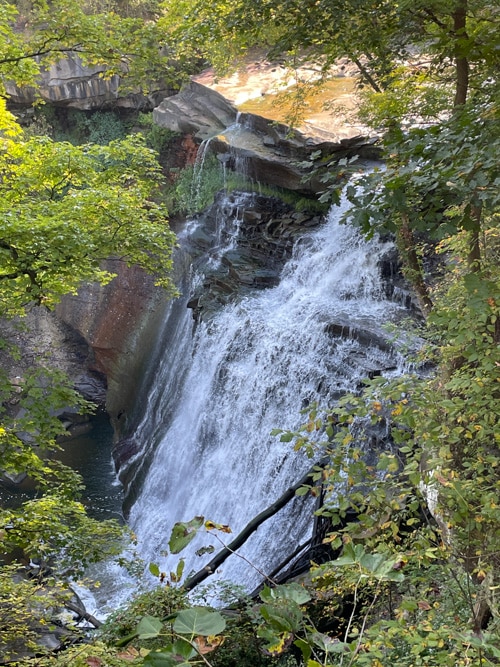 Waterfalls Are One of the Highlights
Waterfalls abound in Cuyahoga – a whopping 100 or so – with sixty-foot Brandywine Falls as a major draw. This is the tallest waterfall in the park and in northeast Ohio. Opt to visit it early in the morning. Also preferably not on the weekend, as it is a very popular place.
This pretty bridal veil-patterned cascade is accessed via a boardwalk. It offers two views – from the bottom up or top down.
Take the 1.5-mile Brandywine Gorge Loop if you want to explore the area beyond the waterfall. You'll follow the edge of the gorge and then descend to the creek. I'm told pools of water fill with salamanders in the spring.
If you want something more challenging you can do the 3.5-mile roundtrip hike from Stanford House to the falls through the woods. This is also an option if you can't find parking at the Brandywine Falls lot.
Historic Stanford House was built in 1843 for George Stanford and his family. It is now operated by the Conservancy for Cuyahoga Valley National Park and offers accommodations to groups and visitors. Furthermore, it's a lodging option for those wanting to stay in the park.
Other waterfalls in the park, like Bridal Veil and Blue Hen, are smaller, but nonetheless picturesque. Depending on the time of year and the drought status, though, the water can be a torrent or a trickle.
Hike the Ledges
Another highlight is the Ledges. This 2.6-mile hike follows along ginormous walls of moss-covered sandstone, which are called the Ledges. Erosion carved out the rock that was deposited in the area hundreds of millions of years ago, forming the landscape we see today.
The trail loops around these massive walls. Along the way, there are clefts, talus caves, alcoves and other nooks and crannies to discover. There are even a few slot canyon-like sections to walk through.
You'll eventually come to the Ledges Overlook, a well-known scenic vista in the park. When I was there, an art class was going on and the students were busy trying to capture the landscape on their easels.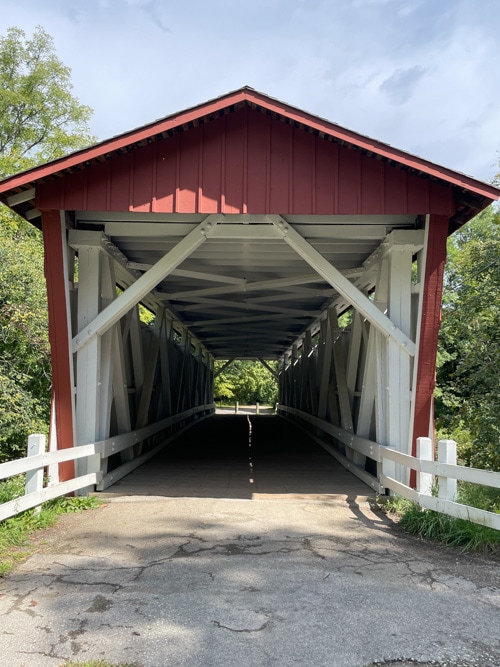 A Photogenic Bridge With Plenty of History
Everett Covered Bridge over Furnace Run offers a flash from the past. It's the only remaining covered bridge in the county. When it was built in the 1800s, it was one of over 2,000 in the state. These types of bridges helped create safe, functional means to cross bodies of water, so farmers could get to the canal and ship their products to Cleveland and elsewhere.
Several hazardous and tragic incidents most likely led to the bridge's construction. One story tells of farmers John Gilson and his wife, who had to cross Furnace Run after returning home from seeing friends.
A winter storm made the waters rise and ice had formed obstructing the ford they would have normally used. In passing around the ford, Mrs. Gilson was thrown into the stream, while Mr. Gilson lost his footing and was dragged by his horse into deeper water. Though Mrs. Gilson was rescued, Mr. Gilson's body wasn't recovered until several days later.
Everett Covered Bridge is a truss-style construction that uses a framework of beams. It has been repaired several times after major damage caused by a flood and then by a vehicle. The community rallied to rebuild it, securing money for a historically accurate reconstruction that was completed by the National Park Service in 1986.
I can attest that the bridge has weathered well over the years and makes for a great photo opp.
I was disappointed that Hale Farm and Village wasn't open the day I visited the park. This outdoor living history museum uses costumed interpreters to provide an insight into 19th-century life in the region.
There are over thirty historic structures, craft and trade demonstrations, farm animals and gardens. I've put it on my list for next time.
If You Go
For more information: www.nps.gov/cuva
Author Bio: Debbie Stone is an established travel writer and columnist, who crosses the globe in search of unique destinations and experiences to share with her readers and listeners. She's an avid explorer who welcomes new opportunities to increase awareness and enthusiasm for places, culture, food, history, nature, outdoor adventure, wellness and more. Her travels have taken her to nearly 100 countries spanning all seven continents, and her stories appear in numerous print and digital publications.
Latest posts by Go World Travel Magazine
(see all)