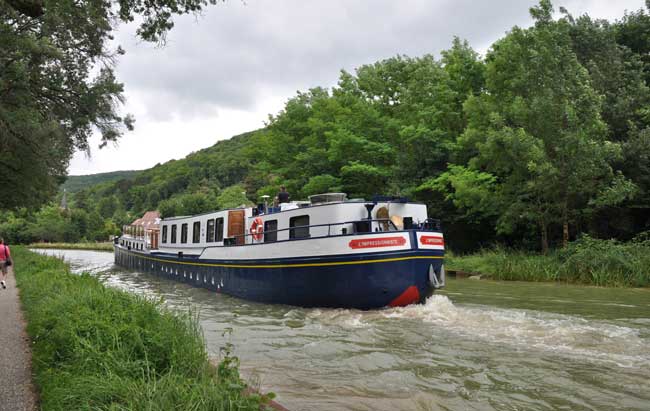 Monday mornings don't get much better than this. I've had a lovely breakfast, the sun is shining and our luxury barge is about to set sail. There are 48 locks to navigate during our week in France on L'Impressionniste, and I'm looking forward to every one.
Luxury Barge Cruise in France
But first, what is luxury hotel barge cruising? Still a little known niche concept within the huge cruise industry, the term barge or barging often conjours up images of narrow boats or coal boats.
In fact, nothing could be further from the truth. Yes, most hotel barges started life as cargo vessels. L'Impressionniste, for instance, was built in Holland and carried cargo in the 1960's, but it has since been painstakingly converted to offer luxury boutique accommodation for small groups of passengers. All barges in the fleet benefit from an annual refurbishment of some description.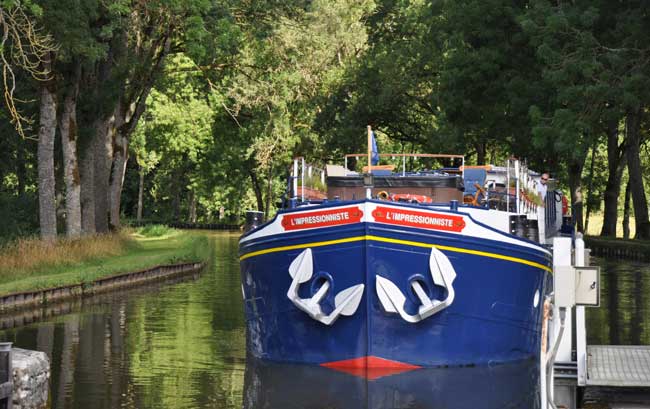 This is cruising, but probably not as you know it. The pace is slow with a 6-day cruise, often covering less than 50 or 60 miles along a rural canal. Passengers can walk or bike along the towpaths and never get left behind as their floating hotel glides gently along. Cruising just a few feet from the towpath, it's easy to moor up and explore.
The hotel barge experience includes comfortable accommodation in air-conditioned staterooms, fully inclusive with gourmet meals prepared by the onboard chef, fine wines and an open bar. Daily escorted excursions in private vehicles, bicycles, an on-deck spa pool and personal service from an experienced crew are also part of the experience.
Our Burgundy adventure starts at a centrally located hotel in Paris, and it's from here we are picked up at 2.30 pm for our transfer to the barge by private chauffeured mini bus. Captain and tour guide Daniel and Matelot Sam introduce themselves to my wife and me, then load our luggage into one of the two mini-buses and we're off.
We have a comfortable journey chatting to two of our fellow guests, a friendly professional couple from Sydney. Sam points out landmarks on the route and answers any last minute questions we have, although to be honest, the pre-cruise information sent out by European Waterways was very comprehensive.
We arrive in rural Burgundy and spot the elegant L'Impressionniste for the first time moored at Escommes. Forget the luggage that will soon be safely placed in our stateroom by the crew, we enjoy a lovely champagne reception to welcome us onboard and meet the rest of the crew — Chef Joss, Pilot James and our two lovely hostesses, Erell and Carolyn.
We have more champagne and snacks, and get a chance to meet the remaining fellow guests. We meet two couples from Canada and a couple from California, although originally from the U.K., bringing the total guests onboard to just 10.
We're a friendly bunch, getting on well and all looking forward to a week's cruising, exploring Burgundy and tasting the wine. But now, it's time to investigate our stateroom before dinner.
Staterooms on L'Impressionniste
We head down a wide stairway of 12 steps from the lounge and find our sleeping accommodation. There are four staterooms and two junior suites.
This is a barge, so space is at a premium, but the staterooms (ours was called Sisley and located mid stern) are spacious with comfortable double beds, (some have single configurations). There's a wardrobe and drawer space, bedroom tables and an en-suite WC and bathroom with shower. Staterooms are traditionally decorated to a high standard with port holes (ours had three), air-conditioning and heating.
Public Areas on L'Impressionniste
L'Impressionniste is certainly stylish, accommodating up to 12 guests. The lounge and open plan dining area are extremely comfortable with glorious panoramic windows, ideal to watch the world go by when cruising.
The lounge is furnished with leather sofas and a coffee table, and there's a fully stocked bar built from oak with a drinks cabinet and fridge. The elegant dining table seats all guests at one sitting and the selection of prints, fabrics and wall coverings are reminiscent of the era after which our barge was named.
Meanwhile, outside, there's a large sun deck and a heated spa pool, which I can confirm is good fun having tried it several times with champagne in hand. There's a large table for outside dining and plenty of seating.
There's no shortage of bicycles for every guest to use. We took advantage of them several times during the cruise, disembarking at a lock and cycling along the towpath in the beautiful countryside to meet the barge a little further along. Yes, we were cycling faster than the barge.
Complimentary Wi-Fi is offered and worked well, considering that we were in many rural locations. There are also two barge vehicles for transfers and excursions – a 9-seater Mercedes Sprinter and a 7-seater Mercedes Vito, so there was plenty of transportation space. A small library, board games and CD player were also available for use, and Daniel would happily download from the internet a choice of music on request.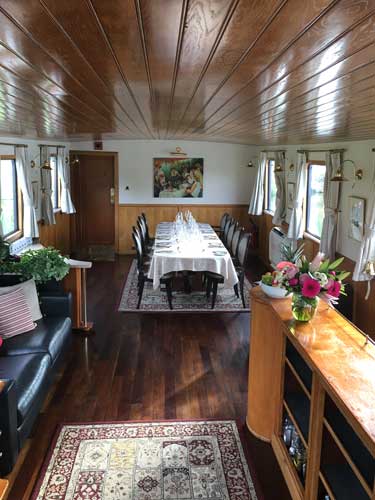 Gourmet Dining on L'Impressionniste
Our onboard chef, Joss, worked tirelessly throughout the cruise preparing fabulous 3-course lunches and exquisite dinners. Before each meal he would pop out from the kitchen, and in a relaxed and friendly manner outline the delicacies and regional specialties he had prepared.
Dinner was always a gastronomic experience created by this very talented chef. Fine wines and a varied cheese board admirably served and described by Erell and Carolyn complemented each meal.
Wonderful food, good company, fine outstanding wines, lots of cheese and Joss' sensational culinary creations were the perfect combination.
Continued on next page