There are two diametrically opposed holiday vibe tribes: those who prefer glitz and glamor and those who are adventurers requiring only sturdy shoes and stamina. But if you yearn for a vacation that embraces the best of both styles, opt for a pick-and-mix escape to the Cyclades archipelago.
You can divide your time between Mykonos and Tinos, two wildly diverse Greek isles anchored in the blue-green Aegean Sea.
Small But Mighty Mykonos
Mykonos, measuring 33 square miles, is a small but mighty tourism mecca. It has a chichi cachet dating to the 1960s, when Jackie Kennedy Onassis, Brigitte Bardot, Grace Kelly and their friends began frequenting its shores.
Planning a last-minute trip to Greece?
Top Experiences and Tours in Greece:
Where to stay in Greece:
Find accommodation with Booking.com
Get a rail pass through Rail Europe
Find Bus, Train, and Flight tickets with one search through Omio
Since then, this rocky oasis has continued to attract models, movie stars and other larger-than-life personalities. This includes Leonardo Di Caprio, Mariah Carey and the Kardashians. But the vague hope of rubbing sleekly exfoliated elbows with the rich and famous is the least of Mykonos' temptations.
Many come for its coast, primarily the sandy stretches to the south, notorious for its party atmosphere. Paradise, Super-Paradise, Psarrou and Paraga are among the most popular "organized beaches." Here you can rent sun loungers and umbrellas, as well as drink and dine at seaside tavernas, or "clubs."
Boozy Afternoons at Scorpios
On my first visit to Mykonos a couple of years ago, I whiled away a boozy afternoon at Scorpios beach club overlooking Paraga.
With its log cabanas, golden-limbed waitresses in fringed leather vests, and a bazaar selling beaded jewelry and leather cowboy hats, Scorpios has a Wild West, Ponderosa-on-Sea ambiance. Plus a New Age soundtrack ranging from Cretan bouzouki beats to Ecuadoran-inspired electronica (admittedly an acquired taste).
It's the sort of venue where Gwyneth Paltrow types, aka blissed-out beauties with energy-exuding crystals secreted in the most unlikely places, would seem right at home. As a mere mortal, I feel like a fish out of water, gasping to take in the exotic, unfamiliar view before being released back into the sea.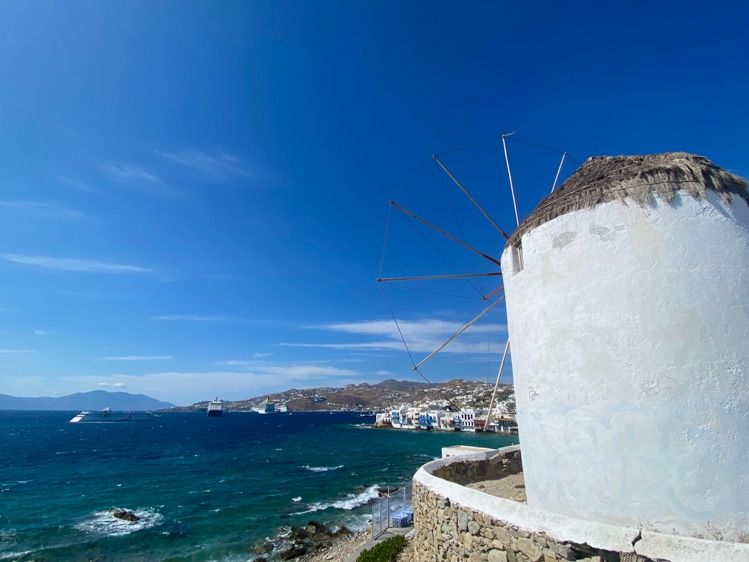 Absurdly Beautiful Chora
I'm more in tune with the siren song of Mykonos Town, also known as Chora or Hora. From a bluff above the azure harbor, old thatched-roof windmills overlook a sun-drenched scene below. Abutting the sea, a cadre of cozy bars known as Little Venice draws an energetic young clientele for aperitivos and late-night cocktails.
White-washed shops and houses back the waterfront restaurants and tavernas, haphazardly stacked like sugar cubes along zig-zag streets where vibrant bougainvillea hangs similar to celebratory bunting.
The absurdly beautiful, crooked charm of Chora is both its greatest asset and its undoing. From June through August, you can hardly move for pouty-lipped Instagrammers, commandeering postcard-perfect passages for impromptu photo shoots.
Along with conga lines of cruise ship passengers, shuffling past shops stuffed with gauzy beachwear and accessories emblazoned with the evil eye.
But like that unblinking talisman, I can't look away. When my husband and I stop for a fleeting summertime visit, we succumb to Chora's gravitational pull. We wander the same twisting streets, snapping the same photos, never tiring of its movie-set perfection. Only the crowds convince us that it's time to move on.
The Camouflaged Beauty of Tinos
Tinos, a half-hour ferry ride away, offers a complete change of scene. Admittedly, at first glance, the port of Tinos Town (also called Chora) isn't as architecturally stunning as Mykonos Town. Its humped silhouette looks inhospitably dry and stark.
But like those "ugly duckling" actresses whose attractions are thinly camouflaged by horn-rimmed glasses and a ponytail, it doesn't take long for Tinos to whip off her specs, shake her hair loose, and seduce us with her subtle beauty.
For my husband, who is used to big-city traffic, driving around the almost deserted, winding roads is a joy. (At 75 square miles, Tinos is more than twice the size of Mykonos, and you'll want your own wheels to explore).
As we whizz along, I discover that the terraced hills, which had appeared barren from the ferry, are indeed alive with drifts of wildflowers, grazing cattle, sheep and goats. There is also the occasional hearty trekker tackling the challenging terrain on foot.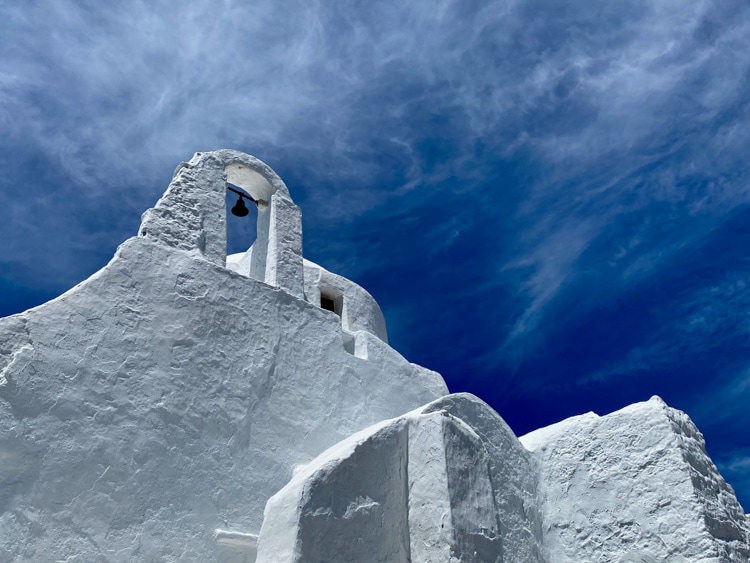 Abandoned Villages and Churches to Explore
Scattered over the island, we find dozens of tiny villages, too, which I find endlessly fascinating. Many are almost abandoned, save for slow-blinking cats dozing amid the picturesque ruins of crumbling walls and faded shutters.
But on this religious outpost, populated by Greek Orthodox and Catholics, even when most of a town has surrendered to the ravages of the ages, its compact church often remains conspicuously well-kept.
A few of the smaller settlements have some claim to fame. Tarampados, for instance, is known for its dovecotes. These ornate towers, built to house pigeons, appear throughout Tinos. But they're particularly numerous in this blink-and-you'll-miss-it town, where the only sounds we hear are wind and birdsong.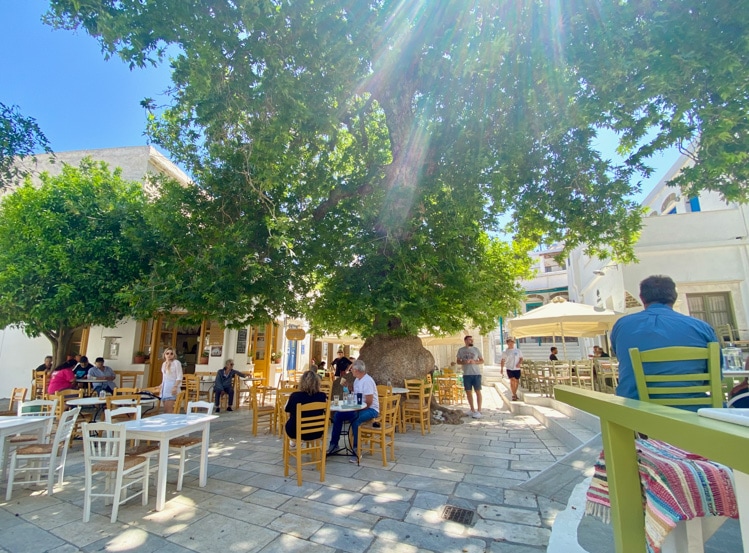 Volax and Pyrgos
Volax has achieved notoriety for the Greek poems and songs that are neatly penned on many of its buildings and doors. It sits nestled in a gorge where enormous boulders are strewn like marbles tossed aside by a tempestuous giant, It's hauntingly atmospheric but not quite a ghost town.
There are a few shops run by local craftsmen, a café built around a massive rock, a small outdoor amphitheater and about ten tourists on the day we visit, including ourselves.
Pyrgos, in the northwest, is Tinos' answer to comely Mykonos Town. Here are the pristine white buildings swathed in garlands of flowers, the fashionable boutiques with their handcrafted jewelry and gossamer dresses and the attractive square filled with al fresco diners.
For the culturally minded, there are a couple of museums devoted to the island's tradition of marble sculpting and quarrying. All that's missing, thankfully, is the tourist tsunami, and there's not a selfie stick in sight.
Tinos Town
In Tinos Town, we lunch under the watchful gaze of a ginger cat at To Koutouki Tis Elenis. Here tables laden with local delights like fennel fritters and stewed pigeon spill down a rainbow-hued alley. On a Saturday night, we join a jubilant throng of locals enjoying an al fresco evening amid a buzzy labyrinth of tavernas and bars near the marina.
Shops stocked with all the usual touristy temptations, as well as religious icons, flank Evangelistrias. This broad boulevard leads to the pilgrimage church of Panagia Evangelistria (a.k.a. Megalohari), which attracts hordes of the faithful. It is especially busy on August 15, the feast day for the Assumption of Mary.
Plentiful Beaches
For sun worshippers, there are dozens of beaches, both "organized" and untamed. We tour half a dozen of the "organized" variety, dismissing those in the southeast as too populated for our taste. Meanwhile, Kolimbithra and Rohari to the north are, alas, too windy during our visit, although we love their bohemian-surfer feel.
We finally find our happy place to the west: Ormos Gianaki, a narrow strip of sand and pebbles in a quiet cove at the end of a steep, corkscrew road. It's served by a laid-back taverna called Dear John, where the music is mellow and the menu ranges from local sausage to ceviche.
The staff greets our return day after day with genuinely friendly smiles. Floating in this sea of tranquility, I feel like one of Odysseus' Lotus-eaters: utterly content, satiated and loathe to ever leave.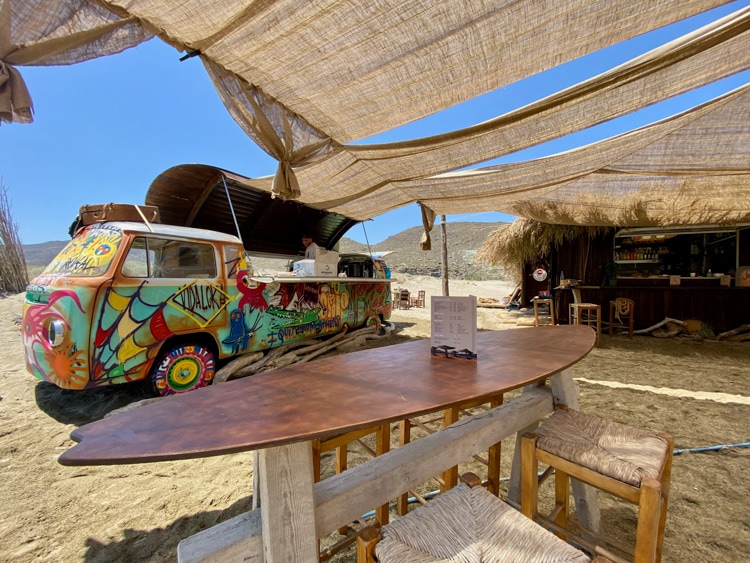 Book This Trip
Getting there: Fly into Mykonos Airport. Ferry rides to Tinos are approximately 20-30 minutes. (https://www.go-ferry.com)
Where to stay: On Mykonos, Katikies Mykonos is a luxury five-star property with a spa, swimming pools, and gourmet restaurants. Located above Agios Ioannis beach, about a fifteen-minute drive from Mykonos Town. https://www.katikies.com/katikiesmykonos/
Island Mykonos Suites & Studios is in the heart of Mykonos Town. You may hear some noise from passing revelers at night, but rooms are comfortable and extremely convenient, and the proprietors are friendly and accommodating. https://www.islandmykonossuites.com
On Tinos, make the most of your escape from the crowds and consider renting a private villa. Personally, I would choose a property on the south or southwest coast, near the beaches and Tinos Town.
When to go: Your best bet is shoulder season: May – early June or September – early October. In summer, you're more likely to encounter extremely strong winds, as well as higher temperatures and more visitors.
More info: www.visitgreece.gr
Author Bio: As a UK-based writer, photographer, and self-confessed coward attempting to conquer her fears through her travel adventures, Amy Laughinghouse has paraglided in the Swiss Alps, walked with lions in Mauritius, swum with sharks in French Polynesia, and–her most terrifying challenge ever–taken ballroom dance lessons in London. Her articles have appeared in A Pink Suitcase: 22 Tales of Women's Travel, Qantas' in-flight magazine, the Irish Times, AAA Journey, and the Toronto Globe and Mail, among other publications.