it
Chautauqua Harbor Hotel sits in the nine-acre footprint of Celoron Amusement Park,  considered the "Coney Island of South Western New York" circa 1900. Among its treasures were a huge ferris wheel; a wooden roller coaster; an auditorium that served as a dance hall, roller rink and ice rink; a water slide; a zoo; hotels and a theater that later converted to the Pier Ballroom, hosting famous dance bands of the 30s and 40s. Surprisingly, it even had a baseball field where Babe Ruth allegedly hit a homer into Chautauqua Lake. And as a teenager, a local kid named Lucille Ball sold hot dogs and burgers there. Unfortunately, fires and a tornado destroyed some of the buildings and the roller coaster. As a result, along with the ending of trolley and lake steamer service, the park closed in 1962.
Chautauqua Harbor Hotel
Though the park is gone, Chautauqua Harbor Hotel has brought the property back to life again, providing a more sedate version of its former self—a destination for relaxing and renewing along beautiful Chautauqua Lake and a home base for exploring the area.
The lobby immediately imparts a welcoming vibe—homey and orderly. Upon entering, I can see straight through to the water, giving me a sense of place. The furnishings feel earthy—natural elements like stone, finished and unfinished wood, slate and ceramic tile are used throughout. Consequently, it's comfortable and warm.
What really catches my eye are the vintage photos of Celoron Park lining the halls. For example, this photo of a performance. The history of what happened in this very spot is fascinating! Lucy, one of the concierges, can give you a complete tour.
Rooms at Chautauqua Harbor Hotel
The hotel has 135 rooms and suites. Thankfully, my room faces the lake with a nice balcony offering a wide-range view.
The room is spacious, cheery and functional with a desk and bureau opposite the beds. The wood floor accentuates earthy elements while a blue accent wall and curtains highlight the nautical theme as does the artwork. Most importantly, the bed is super comfy with a heavy duvet for extra warmth. The bathroom has a walk-in shower and separate room for the loo. There is no coffee/tea service in the room; however, there's a coffee/tea station opposite the elevators on the lobby level.
Each floor has a lounge area.
Dining at Chautauqua Harbor Hotel
You won't go hungry after dining at The Lakehouse Tap & Grill because portions are quite large. Cuisine is classic American, with a wide selection of appetizers, salads and entrees. The restaurant is open for three meals a day.
A section of the dining room is round like a half moon with windows facing the lake. The rest features booths and tables and a long bar. We sit next to a water feature and large stone fireplace, again highlighting the natural elements. An impressive glass-enclosed wine collection is on display. When the weather is warm, there's a patio just outside for dining as well. Also, the Carousel Bar (named for the first ride at Celeron Park) is open for lunch, dinner and cocktails during the summer months.
Amenities at Chautauqua Harbor Hotel
Speaking of warm weather, there's a nice outdoor pool . . .
as well as an indoor pool with a hot tub. The mural depicts Chautauqua Lake (middle) and Celoron Park (sides).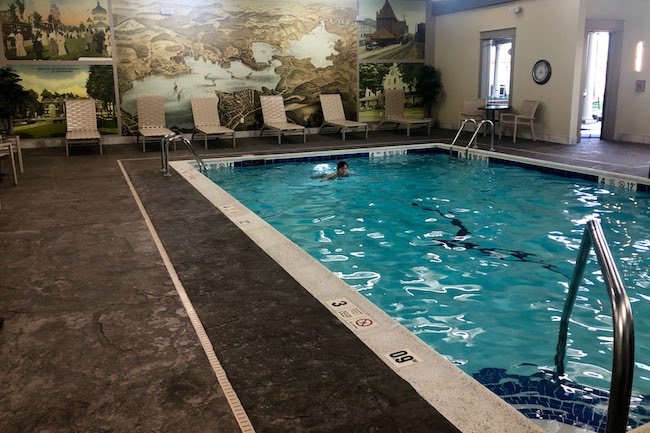 The Pier Ballroom (a name reprised from the old park) attaches to the conference center with a 450-person capacity. We peek in on a senior prom being held in the ballroom. Some of those seniors are enjoying a game of miniature golf on the lawn of the hotel's back yard. These paths lead to the board walk along the lake.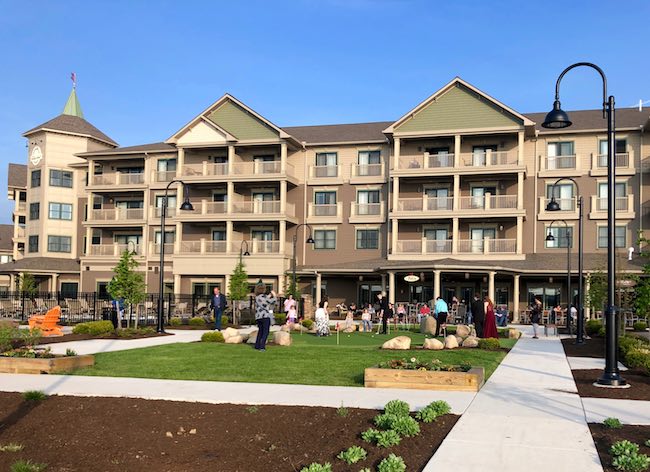 Perhaps the most endearing aspect of the hotel is on the eastern end of the old park—now Lucille Ball Park. Named for the "I Love Lucy" star, the park is home to this 2016 statue of Lucy by Carolyn Palmer and an older one by Dave Poulin that is discreetly hidden behind a clump of trees. Why? Poulin's statue, unveiled in 2009, is so unflattering that residents and fans called it "Scary Lucy" and demanded a replacement. It is scary! Thank goodness, Palmer's bronze captures Lucy's energy, confidence and glamour.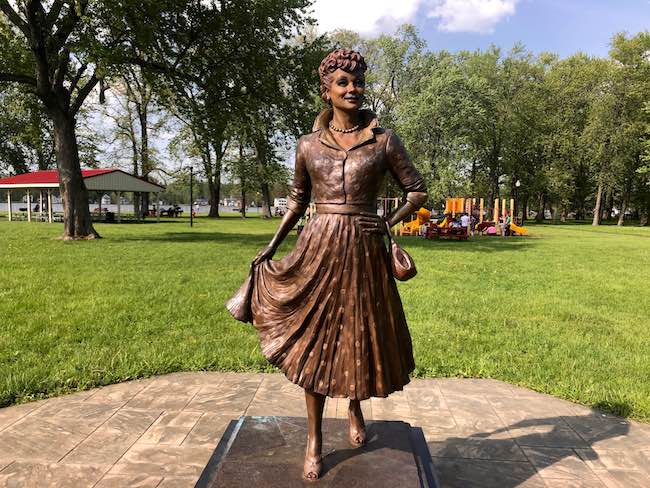 Chautauqua Harbor Hotel, 10 Dunham Avenue, Celoron, NY 14720; 716-489-2800; thechautauquaharborhotel.com
What to do in Chautauqua County
Lucy Desi Museum—Fans of "I Love Lucy" won't want to miss this fun museum that takes you into the lives of Lucy and Desi and their beloved show. Above all, it's a fitting tribute to Jamestown's most famous celebrity.
National Comedy Center—Inspired by Lucy to create a center that celebrates comedy as an art form, this museum is like none other. With personal exhibits and interactive displays combined with state-of-the-art personalization technology, visitors can explore their inner Lucy or Johnny and even take a turn at stand-up karaoke.
Chautauqua Institution —This 750-acre community, founded in 1874 on the shores of Chautauqua Lake, is dedicated to exploring the best in human values in fields of education, religion, the arts and recreation. For nine weeks in the summer, it offers life-long learning sessions to visitors who stay at the historic Athenaeum Hotel or private rentals.
Lake Erie Wine Country—Follow the trail of 23 wineries along Lake Erie in the largest grape-growing region east of the Rockies.
Dunkirk Lighthouse—This historic lighthouse, site of the first shots of the War of 1812, and the attached house is a fascinating look at how lighthouse keepers lived. The upper floors house a veterans museum. Also, you can climb the spiral staircase for amazing views.
Claudia Carbone is an award-winning travel writer based in Denver. Read about other hotels she's visited in Sleepin Around.