Editor's Note: Travel is complicated right now. Please check local regulations and location openings before you go. We share places, products and activities we recommend. If you make a purchase using a link on our site, we may earn a commission.
The August sun poured through our hotel window in Sarria, Spain, as my husband Dan and I pulled on hiking shorts and T-shirts for our first day on the Camino de Santiago.
To prevent blisters, we lubricated our feet with a Vaseline stick, put on two layers of socks and laced up our Trail Runners. Then I pocketed three pieces of sea glass sent to me by a cousin for energy and luck.
It was a crisp 50-degree morning as we zipped our fleece jackets. I dug my trekking pole into the soft earth and pushed ahead on a steep hill, inhaling heady whiffs of pine needles and wildflowers.
You will want to have plenty of light layers for this trip so that the load will be easy to travel with and you will be prepared for any weather. We love the handy clothing items from Scott-e-Vest like The Fireside Fleece Vest with 15 discreet pockets or this Men's Essential Jacket with over 20 pockets.
It was no fluke that Led Zepplin's "Stairway to Heaven" played over and over in my head. Since medieval times, pilgrims walking to Santiago and the enshrined remains of St. James, the patron saint of Spain, have believed this journey secures a place for them in heaven. I thought my chances of getting into heaven, someday, were good. But, at the outset, I had my doubts about completing the Camino.
The 500-mile Camino
The 500-mile Camino, also known as the Way, stretches from the French Pyrenees to cities and Roman roads in Spain. The average pilgrim completes the trek in 36 days.
Since Dan and I didn't have the luxury of time, and I'd endured knee surgery six months earlier, we chose to walk the last 70 miles of the Camino Francés through farm country, forests and tiny Spanish villages.
A yellow scallop shell painted on walls, kilometer markers and churches point the way. The shell's multi-ridged lines reach out like a fan in all directions and are joined at the base. I see these lines as routes of the Camino, all leading to Santiago. The scallop shell, native to Galicia, was also used by pilgrims centuries ago to scoop food and water along the trail.
As the hill crested a cornfield, a group of young women singing to the notes of a ukulele player passed us with vigorous strides. Some smiled and waved, while others wished us, "Buen Camino! (Good Way!)"
The musician's lively tunes helped quicken our pace. I asked where she was from. "Málaga," she said, "many kilometers south on the Costa del Sol."
Like the Pied Piper of Hamelin, she motioned Dan and me with a wave of her hand to join the wandering minstrels. Their swinging tempo in sync with the tapping of trekking poles carried us down the road.
Three miles later, the strolling singers stopped for snacks at a terraza or roadside patio strewn with backpacks, kicked-off trail shoes and windbreakers. We marched on. Soon the only music was the cooing of mourning doves.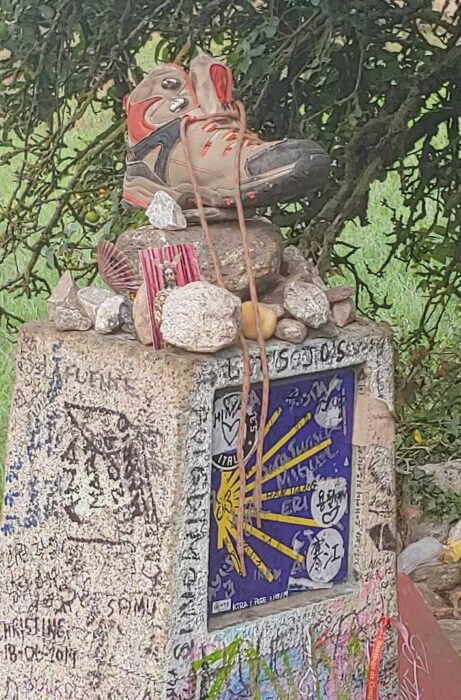 Enchanted Forest – Where Anything Could Happen
We had entered an enchanted forest of eerie green light spiraling into a rich golden glow in the distance. Twisted vines crept up the trunks of trees; petals of pink rhododendron blushed in an unearthly light. I thought of the scene in "A Midsummer's Night Dream" where fairies cast a spell on lovers lost in the forest. This was a place where anything could happen.
Dan and I trod toward the radiant light at the end of the forest. Within minutes, the mystical glow was overpowered by bright yellow fields of sunflowers waving in the wind with the rhythmic flair and grace of flamenco dancers.
As the trail drifted down a country road, I was curious to know why sunflowers hung in droopy bunches above farmhouse doors. I later learned from a Spanish pilgrim that this flower is symbolic of "God's eye" and is believed to ward off witches, evil spirits, storms and disease.
We walked the first nine miles of our journey by mid-afternoon. Despite two-foot blisters and sore shoulders from my backpack, I felt exhilarated to have finished the first leg of our trek.
I thought of our disabled son and silently cheered, "This one's for you, Matt!"
Slipping into sandals, Dan and I seated ourselves in the dining room at Casa Morgade in Lugo. It wasn't long before we felt the stares of two scruffy, middle-aged men seated at the next table. Their dusty cargo shorts, tattered T-shirts and mud-splattered trail shoes were testaments to the rigors of their odyssey.
Making Good Camino Friends
My husband, who is of French-Canadian descent, smiled when he heard their accents and asked where they were from.
New-found French friends hike the Camino every summer
"Avignon, France," said the more muscular one with dark, bushy hair. "We've been friends since kindergarten. Now we hike the Camino together every summer to honor our bond."
Jean-Claude and Mylos didn't need much encouragement to share more details, as well as food and drink. Within seconds, they scooped up their bread, cheese, olives and red wine to join our table like we were old neighbors.
Our French was broken at best, and their English was scrappy. But we took turns showing pictures of our families and hometowns.
The Camino route has travelers from all over the world but it's a good idea to learn some French or Spanish before hitting the trail. You can learn the basics with Babbel Language and continue lessons if you want to have more conversations on your journey.
With pride in their eyes, they showed us Camino passports from previous years with stamps from all their stops. As hard as I listened, though, their convoluted exchange often lost me in translation, so we played charades to clarify meaning and common ground. Glasses clinked, as we laughed and broke bread, my arm slung around Dan's shoulder.
On day three, our path paralleled a freshly paved road with speeding cars and chemical smells from nearby fertilizer plants. Yet, I felt transported back centuries when I passed a slow-moving woman with long, flowing gray hair, a billowy maroon robe and leather sandals reminiscent of garb worn by the original pilgrims. Her eyes were closed as she chanted to herself.
"She may be praying the rosary," whispered a tall, lean man with coppery red hair who fell into step with me. He said he carried his own rosary beads for protection on the Camino.
"I'm Tim from New Zealand," he said, extending his hand with a mischievous smile.
In an exuberant voice, he told me his adventure had begun a year ago when he quit his corporate job to explore Asia. He worked for religious and charitable groups in India for four months and learned the arts of meditation, yoga and mindfulness.
"When I practiced these skills, I felt free of stress and focused on turning my life around," he said.
I asked Tim if he planned to return to New Zealand after this journey.
"No, I want to travel another nine months to find my place in the world."
On A Path to Enlightenment in Spain
I found myself rooting for him on his road to self-discovery. The Camino seems to bring together people on a path to enlightenment. The more I bonded with fellow hikers, the more I felt we were all part of something bigger than our individual journeys.
As we all drew closer to Oz, my desire to stay in the game and complete the 70 miles seemed attainable. A sense of unity and team spirit propelled me on.
Tim stopped for cerveza at a roadside tavern and said we'd raise a glass together in Santiago. I waved goodbye and bounded up the road to walk with Dan and a group of Australians. Two Aussies compared the size of blisters plaguing their feet. Another claimed that pilgrims on the Camino often walk unknowingly beside escorted prisoners who are preparing to re-enter society.
The Meaning Behind the Stones
A hush fell over the crowd when we reached a large stone cross or cruz surrounded by a mound of hundreds of stones. For centuries, pilgrims have carried stones from home, representing their burdens, to pile on top of this mound or others along the route.
I bowed my head and prayed for strength and guidance to help my disabled son on his journey. Then I tossed my stone onto the towering heap, and felt my worries lighten and my mind ease.
Under a cloud-covered sky on day six, Dan and I navigated a muddy, puddled trail. The air barely stirred, and was thick with an earthy, moldy odor. Soon we trudged through ground-beating rain and mist. My sneakers felt spongy once the downpour soaked my socks, but I pressed on. Nothing was coming between me and my Compostela or certificate of completion.
A couple who seemed unruffled by the rain passed us with a wave of a walking stick.
"Hey, how far are you two walking in this storm?" yelled Dan through the thunder.
"We stop at the albergue (overnight lodging) in Arzúa," said the woman.
"That's where we're headed, too. Mind if we walk with you?" I asked.
We endured the elements with Irena and her boyfriend as we shared our stories. They were from Bulgaria and had started the Camino in Astorga, which is 98 miles east of Sarria. Irena, in near-perfect English, said that she had bought a new pair of shoes for the Camino but had not broken them in.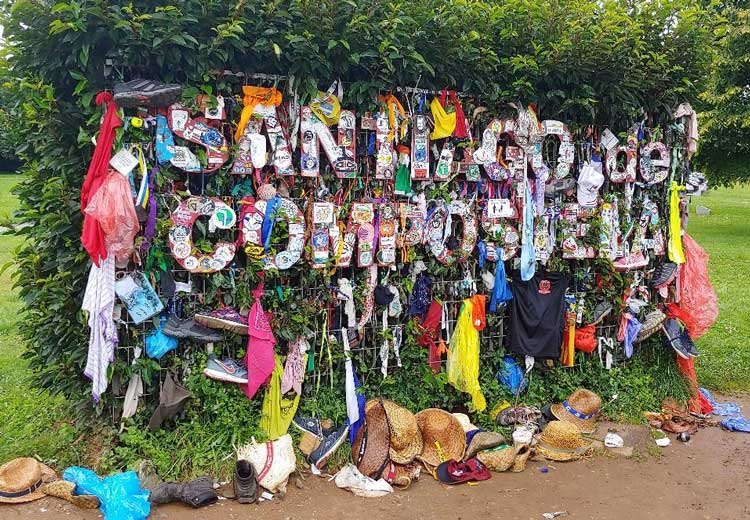 Like Dorothy from 'The Wizard of Oz'
Her feet had become so blistery and sore that she bought a cheap but comfortable pair of sneakers today. She thought it coincidental that my name was Dorothy, reminding her of scenes from "The Wizard of Oz." All that Dorothy had wanted was the Wicked Witch of the West's shoes, so she could go back home.
"Now that I have new shoes and can make it to Santiago, Dorothy, you are my compass!" said Irena with a wink.
On day seven, about five miles from the Cathedral at Santiago de Compostela, fellow hikers were less chatty, trekking poles were driven hard into the trail, and bikers and horseback riders rode low and fast.
A large sign of hand-made letters on a wire backing spelled Santiago de Compostela. It was framed by discarded straw hats, colorful bandanas, sweatbands, socks, sneakers and anything else weighing down those headed to the homestretch.
My weary feet flew with a surge of adrenaline the last two miles toward an archway where a bagpiper's song celebrated our journey's end. As we reached a large plaza facing the Santiago Cathedral, I felt blessed and spiritually uplifted not only to have made it but to have bonded with nature and a global team of cheerleaders who had rooted me on. I wept tears of joy, others shouted with delight, and some looked up at the church spires in wonder and disbelief.
And then I heard a pair of violinists playing the song that had echoed through my head the entire hike, "Stairway to Heaven." I had dreamed of the Camino for years. Finally, my feet had taken me where my heart had longed to go.
If You Go:
Take a tour of the Cathedral de Santiago de Compostela. The Cathedral, with its Romanesque structure, marks the traditional end of the Camino and is the reputed burial place of St. James, the patron saint of Spain. www.catedraldesantiago.es
Don't miss the Museum of Pilgrimage and Santiago. This museum offers insight into the three great Christian pilgrimages, the history of the Camino de Santiago, St. James and experiences of individual pilgrims today. http://museoperegrinacions.xunta.gal/
Plan your trip now and book your flight with New Year Travel Deals here.
Author's Bio: Dorothy Maillet is a writer and adventurer from Irvington, NY. Her travels have taken her across Europe, Asia, Africa and North America. She has been a freelance feature writer for Gannett Newspapers, and her stories have appeared in the anthology, A Pink Suitcase: 22 Tales of Women's Travel, Pembrokeshire Life (Wales), More Magazine, Westchester Life, BootsnAll Travel Guides, and Go World Travel Magazine.