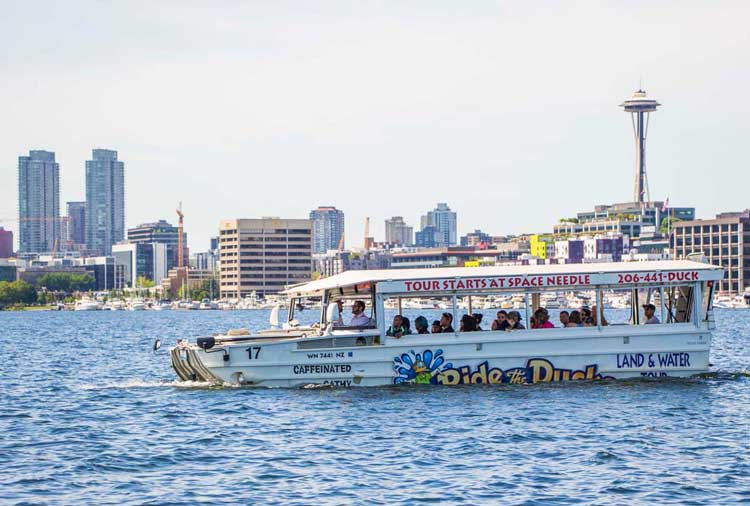 When I visit a new city, I like to start my visit with a city tour. This gives me a good idea of where things are located, and what attractions or places I'd like to visit during my stay. Best of all, it offers local insight on the destination that I might otherwise miss.
I've taken walking tours, bus tours, trains tours and boat tours. One of my favorite ways to explore a city is by Duck Boat – and this is especially true in Seattle, Washington.
Duck Boat Tours in Seattle
Ride the Ducks of Seattle offers a 90-minute land and water tour of Seattle by duck boat. The tour takes place on land and in the water, and includes many top Seattle attractions, from Pike Place Market to the Space Needle to Seattle's famous floating houses.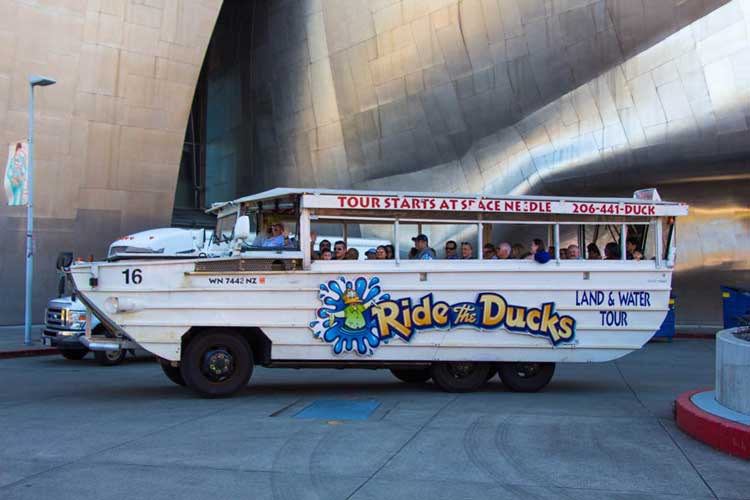 There's a reason that the company's 90-minute Ride the Ducks Seattle Tours have been voted the #1 City Tour in Seattle for more than a decade. The commentary is not only informative, it's entertaining and fun.
Ride the Ducks uses songs and the occasional prop to tell the stories of Seattle. The tour guide may even use a rubber chicken or funny hat, and don't be surprised to see a flying "salmon" like you would at Pike Place Market (spoiler warning: it's a fake, not real salmon).
Sure, it may sound a little silly, but that's the point. Travel should be enjoyable and Ride the Ducks of Seattle tours are clever and memorable. All you need to do is let your hair down a little and enjoy the ride.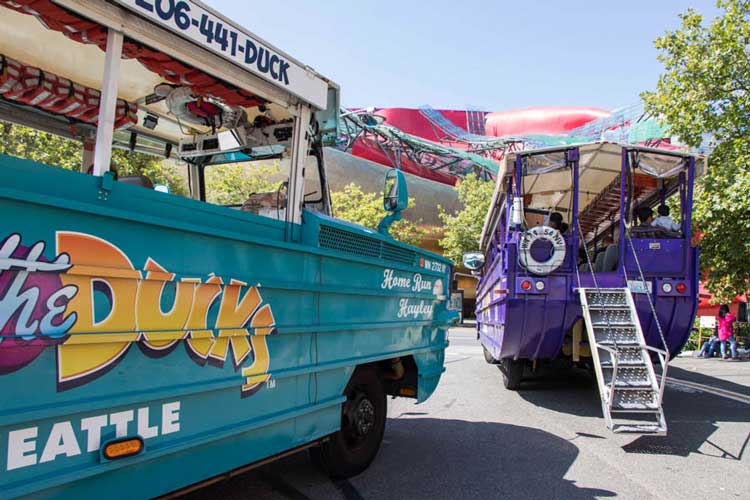 What is a Duck Boat?
Duck boats (originally known as DUKW) are amphibious landing craft that were designed by the United States Army for use during WWII. The DUKWs were designed to deliver cargo from ships at sea directly to the shore. They could move easily through choppy water and huge breakers to exit the water onto soft sand without losing traction.
After the war, the DUKWs were decommissioned. Several have been preserved and restored for use in civilian life. Today, many of them have found a new life at Ride the Ducks of Seattle.

What Will I see on a Seattle Duck Boat Tour?

The 20-mile duck boat tour runs from historical Pioneer Square to quirky Fremont. Along the way, you'll cruise the Seattle Waterfront (home to the Seattle Aquarium and the Great Wheel), then move through Seattle's historic district. Here you'll learn about Seattle's Underground and how the Great Fire of 1889 changed everything for the city (including their toilets).
Then you'll head to Downtown, home of the very first Starbucks and the famous Pike Place Market. Later, you'll get to watch the bus turn into a boat as your amphibious duck boat splashes down into Lake Union.
In Lake Union, you'll have a unique view of the city's coastline from the water, passing Gasworks Park and the floating homes that were made famous in the film, "Sleepless in Seattle."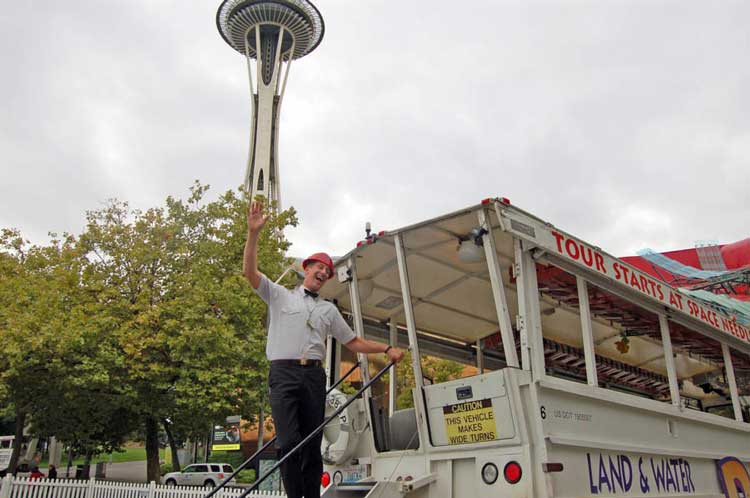 Will My Kids Enjoy It?
Ride the Ducks of Seattle is a fun family activity that is good for all ages. Jokes are fun, clean and age-appropriate for everyone. Kids seem to enjoy the tour, especially when the boat splashes down into the water.
Each tour guide entertains little ones in his or her own way. One of the guides makes drawings for children, and sometimes guides will let children sit in their seat on the water (but that's up to the guide).
Many guests celebrate a birthday with a duck boat tour. Ride the Ducks of Seattle celebrates each birthday with a special paper crown and a happy birthday song for the birthday guest.
What Does a Duck Boat Tour in Seattle Cost?

While some city tours charge up to $100 for a five-hour tour, Ride the Ducks of Seattle is an affordable $38 per adult ticket. Children and seniors receive discounts.
Adult: $38
Senior (65+): $35
Child (4-12): $23
Duckling (0-3): $5
Discounts are provided for groups of 20+ and private events.
When Are Duck Boat Tours Offered?
Ride the Ducks of Seattle is open year-round and operates 362 days a year. The tour schedule varies by season, so be sure to check their online schedule.
Tours run rain or shine. (After all, this is Seattle.) The Ducks are equipped with a canopy. If it's raining, clear vinyl windows can be rolled down to keep you warm and dry.
Where to Buy Tickets
You can buy tickets online or from the company's walk-up sales window in Seattle. I recommend buying tickets ahead of time online, especially if you want a tour on a certain date and time.
Tickets can be purchased for tours departing now through the end of the year. If you're booking tickets for a large group, you can fill out the booking form online or call to make a group reservation.
READ MORE: Travel in Washington