It's warm and sunny as we gather along the Danube near the iconic Chain Bridge in Budapest. With its stately Parliament and Castle Hill overlooking the river, the Hungarian capital is the perfect setting for today's event.
Adorned with flowers, the Envision, a new river cruise ship from Avalon Waterways, sparkles in the sunlight. Christening a new ship is an important occasion, and the ship's godmother is chosen with care.
For Avalon Waterways, Elizabeth Gilbert, the author of the bestselling book EAT PRAY LOVE, is the perfect choice.
Ms. Gilbert's work inspires transformative travel experiences, says Pam Hoffee, Managing Director of Avalon Waterways. "She has helped us embrace curiosity each day in search of extraordinary; something we ask our travelers to do with Avalon."
Gilbert herself is an avid world traveler, and as she steps to the podium, the blessing she reads reflects that:
"In these dark times of division and fear and anxiety, never is it more important than to travel. Never is it more important than to leave your home and to go face to face, not on the internet, but in the flesh and meet people who are not the same as you.
I've traveled my entire life. I've traveled alone. I've traveled all over the world. I've traveled in the strangest circumstances from as luxurious as a situation as this to a $4 hotel room in Calcutta. I have never done anything but grow as a result of what I've seen and learned.
I do just want to say this: I have never been afraid of the world. But I am afraid of people who are afraid of the world. And if you are a traveler, you are not afraid of the world, which means you are my kind of people, and it's what we need more of. So, to all of you here who live your lives that way, you are my tribe."
"We come from the water, we are made of the water, we are drawn to the water," Ms. Gilbert continues. "Our lives are rivers meant to be explored and enjoyed. Let every curious soul who steps foot upon this vessel have a safe and blessed journey. May we all be changed for the better by what we discover along this river."
Gilbert's message is well-received and with the happy smash of a bottle of Hungarian wine against the ship's bow, the Envision is christened. The ship will sail the rivers of Europe for years to come.
River Cruise on the Avalon Envision
The 443-foot, 166-passenger Avalon Envision is the 13th Suite Ship in Europe from Avalon Waterways.
The luxury river cruise line is part of the Globus family, and offers river cruises in Europe, Asia and South America. Envision will cruise the Danube River on popular river cruise itineraries like the 10-day Danube Dreams and 12-day The Blue Danube Discovery.
Today, we will take its maiden voyage.
Stepping aboard the spacious ship, I find it tastefully decorated with gray, gold and violet décor inspired by Dutch interior designer Liane van Leeuwen. It's obvious that each room has been designed with views in mind.
The Panorama Dining Room has expansive windows on both sides of the room, providing generous views in all directions while you dine. The spacious Panorama Lounge also has large windows in all directions.
Avalon's Suite Ships
My favorite part of the Envision, however, is my stateroom. It has floor-to-ceiling windows across the entire outer wall – and the windows open 11-feet wide in the company's Europe ships and 14-feet wide in their ships in Southeast Asia.
That's wider than any other balconies in the industry. The result to me, of course, is that this turns my entire room into an open-air balcony. Best of all, the beds face the window, so I can lay in bed with the windows open and watch Europe float by.
Avalon Waterways calls this stateroom design their Panorama Suites. I just call it smart design. Panorama suites are available on two full decks of every ship in Avalon's fleet, which is sure to result in many happy travelers like me who enjoy watching the scenery from the comfort of their stateroom.
Later, it's the bed and pillows that I fall in love with. Avalon's Comfort Collections Beds can be personalized to one of four firmness levels, from very soft to very firm. I feel like Goldilocks when I find that my bed is already "just right" and I sleep like a baby.
Dining on the Envision
Dining is a highlight on many cruises, and that's certainly the case with Avalon Waterways. The food is innovative and fresh. I appreciate Avalon's FlexDining approach, which means you can choose where and when you want to eat – from a leisurely four-course dinner in the Panorama Dining Room to a BBQ lunch at the Sky Grill on the top deck to a satisfying, quick meal in the Panorama Bistro.
Avalon river cruises are all-inclusive, which means all meals and excursions are included, as well as regional wine and beer at lunch and dinner.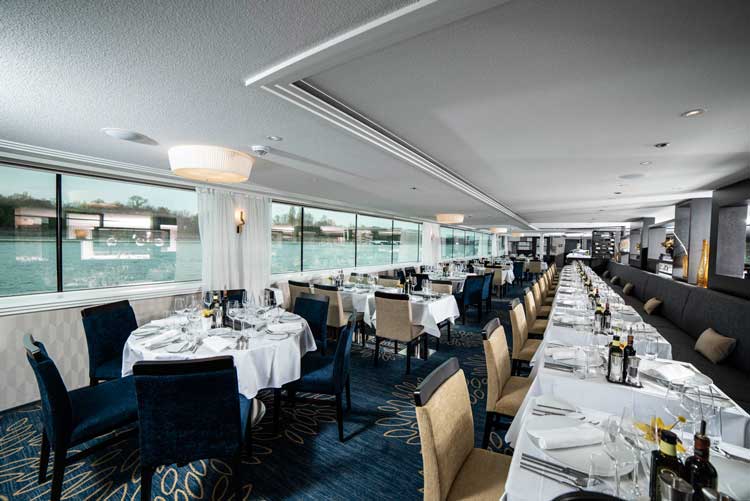 There are no formal dress requirements during the cruise, and you can choose to sit where you like. At the beginning of the cruise, I'm told, many of the tables are set as two tops. But as the cruise goes on, it's easy to make new friends – and those two-tops can be turned into tables with four, six or even more seats. It's dining as you wish.
There's a wide variety of cuisine offered, including an Avalon Fresh option at every meal. Avalon Fresh meals are created in collaboration with Austrian chefs Leo and Karl Wrenkh, brothers who well known in the Austrian restaurant scene.
River Cruise Excursions

Comfortable as the Envision might be, the point of a European river cruise is to see Europe. Each of Avalon's itineraries include the Avalon Choice program, which offers three different types of excursions, from classic sightseeing excursions to immersive discoveries and active adventures.
During our short maiden voyage, I sample one of each excursion type. In Budapest, I take the guided Classic Tour, which visits the top landmarks of Budapest, including the Parliament, the best-known icon in Budapest. I learn a lot about the city from our knowledgeable local guide.
Later, I join an Active Tour and explore the large natural cave system below Budapest, as well as the Hospital in the Rock. Accompanied by our very entertaining local guide, we go down into two different cave systems that are part of the National Parks system in Hungary.
The caves are fascinating, but the best moment is when someone starts singing a song a cappella. The moving sound reverberates throughout the caves.
Finally, in the small village of Visegrad, population 1,800, I join a Discovery Tour to a Medieval Knights Tournament. In a 13th-century castle, we watch an entertaining display of medieval skills, and then get to become part of the show.
In addition to the many excursions on offer, guests can explore on their own at each port. There are bicycles on board available at no charge. Avalon's onboard Adventure Host can provide helpful information on fitness activities and active excursions.
River Cruises Ahead
As the Envision sails back to Budapest at the end of our four-day cruise, I open the wall of windows in my stateroom. Rays of sunshine fill the room, and the only sound is a flock of birds flying over the tranquil Danube. I sit like this for more than an hour, happy to be on the river.
River cruising is such a relaxing way to explore Europe, and after my experience on the Avalon Envision, I know I'll want to do it again soon.
If You Go

Visit AvalonWaterways.com for more information.