I've always loved Mexico and now I have a reason to love it even more: Hard Rock Hotel Los Cabos. The all-inclusive resort, set along an uncrowded stretch of the Pacific coast, invites you to vacation, leave your wallet in your safe, and create your own version of paradise.
Generally, all-inclusives are big affairs where service is good but somewhat anonymous. Ditto for the food, and most of the activities. Here I felt like a queen, however, una reina veritable, where every wish was mine to imagine.
During my brief stay, I discovered the aspects of Hard Rock Hotel Los Cabos that transformed it from being a typical all-inclusive to a very personal resort. It was one that made me feel like a special guest and addressed my desire to vacation like an adult, even in the midst of families and children enjoying themselves as well.
Book your stay at Hard Rock Hotel Lost Cabos here
Music for the Mind at Hard Rock Hotel Los Cabos
Did someone mention music?
I'm all about music. I love to play it, hear it and experience it. When I learned about the new Hard Rock Hotel in Los Cabos, I was excited to go. I had visited Hard Rock Hotel's Punta Cana resort in the past and I anticipated a rock-filled holiday with memorabilia and lots of entertainment options. I was not disappointed.
Best Tips & Tools to Plan Your Trip
Beautiful and spacious, lined with music-themed shops, the lobby of the resort sets the tone. The focal point is a continuous line written across a wooden counter in front of a display of artful guitars. In beautiful script, the words from Led Zeppelin's "Stairway to Heaven" sprawled across the multi-sided art installation.
In conversation with the captain who welcomed me, we chatted about the choice of this "theme" and then sang the lyrics aloud. Was I going to heed the advice of the song and "roll" instead of being a "rock?"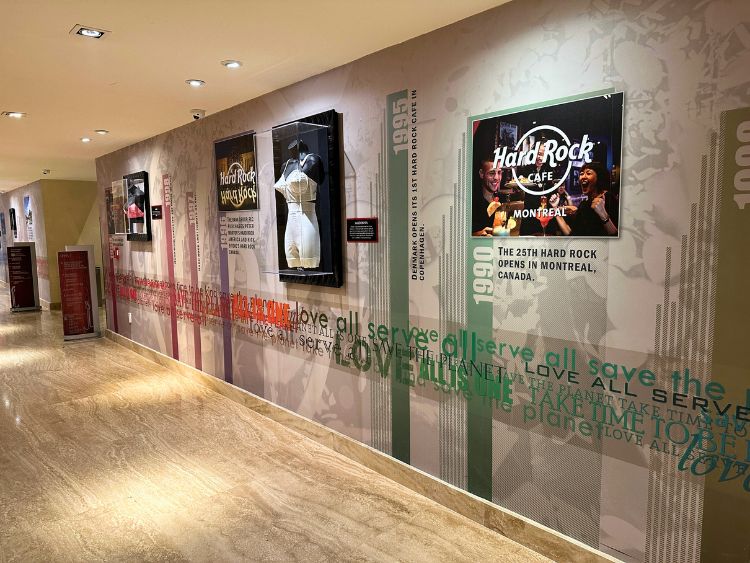 Hard Rock History and Full Music Immersion
I immediately knew I was going to roll, move forward and learn from this new experience. I'm a rock and roller "always and forever," and this made me feel right at home. Page's and Plant's beautiful lyrics plus the well-chosen songs playing around me told me I'd wisely chosen my vacation spot.
This is a resort filled with music and love. To paraphrase yet another line highlighted in the lobby, the Beatles' "And in the end, the love you take is equal to the love you make."
Music accompanies you at every turn. Photos of famous musicians line the walls, punctuating a timeline of Hard Rock history. Costumes from top rockers like Madonna and Michael Jackson sit in corridor displays. The "See the Show" theatre offers a revolving rotation of musical programming with the likes of Elvis Presley tributes or Michael Jackson shows.
Echoing the words of Emerson, Lake and Palmer, I was ready to "see the show, it's rock and roll." Other events were designed for audience participation including the popular karaoke, DJ Neon Glow and Latin nights on the Sunlight Terrace or line dancing and Zumba lessons. Fitness took on a musical twist as well with aquaerobics and "rocking at backstage" pool games.
Read More: Yucatan Adventures: Biking and Snorkeling in the Cenotes
A Room with a View
When I entered my balcony suite after crossing buildings named Octave and Chord, soft music was playing in the spacious sitting area, easily controlled so that the bedroom could remain quiet. My mini-bar was stocked, at my request, with sparkling water and tequila, the perfect drinks for a Mexican holiday. While most alcoholic beverages are included free of charge at Hard Rock, I could also order Champagne or any of 12 top-shelf tequilas for an additional cost.
My view was of the vast resort lawns with the ocean in the background. A jubilant wedding added live mariachi music to my experience, audible only when I sat outside. Well-placed art in the bathroom encouraged a melodious start to my day. There were excerpts from Neil Young's "Old Man, Take a Look at My Life" and Bob Marley's "Rise Up This Morning, Smiled with the Rising Sun" framed on the wall.
I didn't have one, but some of the rooms came with their own private plunge pool. Mine came with a hot tub on the balcony – the perfect spot to relax while watching the crimson sunsets over the Pacific.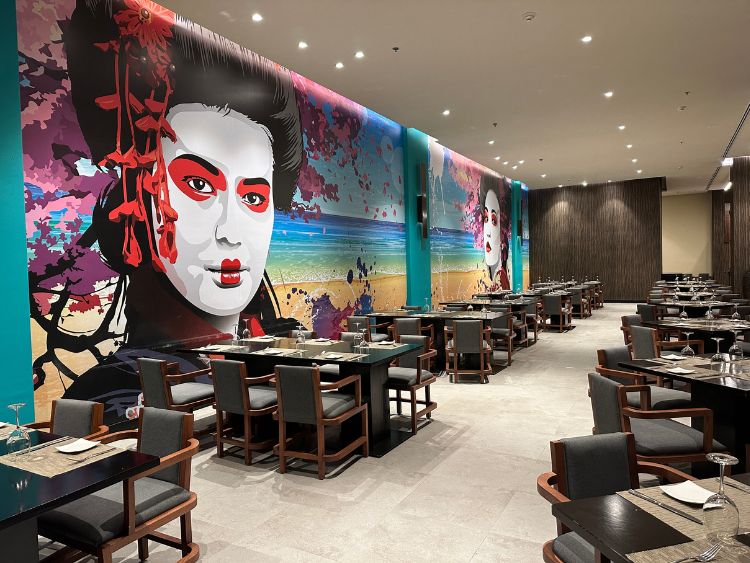 Global Dining
True to the all-inclusive format, dining at Hard Rock Hotel Los Cabos offers a mix of buffet and sit-down choices. There's The Market, Hard Rock's international buffet that features every conceivable type of food from hand-crafted omelets to tacos, pizza, grill items, vegetarian dishes and an extravagant salad bar. If that isn't enough, the dessert "island" will add more calories. For a dash of seclusion, there's an outdoor dining patio where you can also have a cocktail with your meal.
I prefer the more intimate venues and immediately sought out Hard Rock's options for more personalized service. These specialty restaurants offered a mix of meals, some with smaller buffets for breakfast, lunch and dinner.
You can choose from eight outlets, from a café open past midnight to a brick-oven pizza parlor. There are also reservations-required restaurants with elegant décor and sophisticated choices to please the most discerning palates.
There was something for everyone. Each menu indicated which dishes were vegan or vegetarian; whether they had dairy, egg, seafood or nuts; and whether they were slightly spicy or muy muy muy picante. For someone who is lactose-intolerant like me, this was a true blessing.
My Favorite Spots
At my favorite breakfast spot, the casual Mexican eatery Los Gallos, my servers Victor and Christopher and hostess Karla became my friends. I'm an adventurous eater which the staff quickly recognized.
They brought me a variety of items to try and custom-made my favorite Mexican breakfast items, chilaquiles verdes and huevos divorciados, a colorful plate of fried eggs with tomatillo salsa on one half and rojo salsa on the other.
They even asked the chef to come by to meet me. To top it all off, the restaurant sits with a lovely view of the ocean so the outdoor seating area added another dimension of serenity to my visit.
Versatile Array of Dining Options at Hard Rock Hotel Los Cabos
Dinner options include Italian, Mexican and teppanyaki-style Asian fusion restaurants; a Brazilian rodizio; a steakhouse; and a spectacular 360-degree dining experience.
I was able to enjoy several "served" dinners during my visit. I loved the mix of fresh ingredients and steakhouse choices at Toro. There were dishes like beet salad with goat cheese, soy wasabi tuna tataki, ribeye steak with roasted garlic, and "campfire" salmon in sriracha sauce with soy, ginger and chili peppers.
My dinner at Ciao was a true Italian feast with multiple courses starting with pizza, calamari fritti and beef carpaccio. It was followed by a secondo of risotto with prawns and mains of chicken in gorgonzola sauce, and short ribs with creamy polenta. The crescendo came in the form of a decadent tiramisu de Treviso, soaked in coffee syrup. Specialty cocktails and a curated selection of wines complemented both meals.
Read More: All-Inclusive Sensira Resort & Spa in Cancun A Good Fit For Families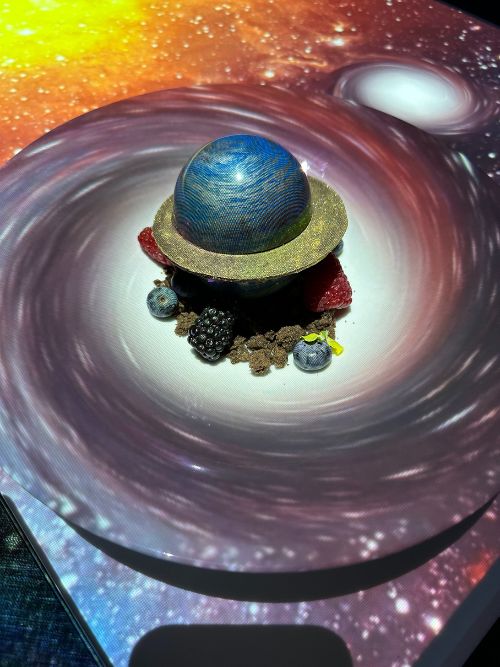 An Incredible 360-Degree Dining Experience that You Must Try
The most unusual offering, the extraordinary 360-degree dining experience "Awaken Your Senses" was a symphony for the 22nd century. Designed for an intimate gathering around a rectangular table, the 90-minute event evolves from a seemingly unadorned room into a multi-sensory voyage around the globe, expertly interwoven with appropriately theatrical cuisine.
Six imaginative courses are themed to six countries. Each course aligned with graphics that circle the room and dance around your plate. You can expect dishes like Yorkshire pudding with smoked salmon and tobiko caviar, kampachi tiradito, and a sinful dessert called "Chocolate Planet" with passionfruit mousse.
If you miss out on dinner (or any other meal for that matter), room service is always available. Your biggest problem is saying 'no' to all the choices!
Adults Only If You Wish at Hard Rock Hotel Los Cabos
Traveling solo, I was not inclined to spend time near children-filled activity centers. While there were many areas catering to a diversity of generations like the water park and Lyric "party pool" where DJ and recorded music encouraged dancing and fun all day long, there was an adults-only Rhythm Pool with private cabanas and its own swim-up bar.
Servers could deliver your lunch there against a soundtrack of appropriately curated "adult" tunes. If you felt the need for more solitude, there was a secluded area with swinging seats, away from both pools.
Hard Rock Hotel also has a number of activities tailored for adults. Hard Rock's Rock Spa is distinctive in its harmony of music with wellness treatments. Guests are encouraged to experience the hydrothermal area as a prelude, taking advantage of the steam, sauna, cold plunge, hot tub, lap pool, and bucket and pressure showers.
This "water ritual" prepares you for the spa's most distinctive treatment, the music-themed Synchronicity massage. Small speakers are located over your head as you lie on the table, and your therapist sets music to your preference, rock, classical, or whatever.
The massage is synchronized to the beat and vibrations. You'll "feel the beat," as the Black Eyed Peas would say, as you drift off into a sense of bliss. You can choose to finish your session by lying on a heated lounger or heading outside to the spa's private outdoor area to "soak up the sun" in silence.
Plentiful Activities at Hard Rock Hotel Los Cabos
It's easy to fill your time at the resort with all of the activities scheduled. A complete program is posted each day. Choose yoga, music or games, for starters. Or choose to do nothing and loll by the pools and work on your tan, facing the expansive beach. Take note, however: the ocean is fierce in Cabo, and swimming in the surf is not recommended.
Do motivate yourself to leave your lounge chair and take a walk along the beach nonetheless – it's quite beautiful. There are usually vendors selling clothes and crafts so remember to bring some dollars or pesos.
The Music Lab invites you to pick up an instrument and record a song or your own music video. I chose to sing, instead, channeling Nancy Sinatra and Lady Gaga as best as I could. The technician who guided me deftly laid down the "Boots" and "Bad Romance" tracks.
He happily transformed my less-than-perfect performances into palatable renditions. If you prefer to star in privacy, you can ask to have a Fender guitar and amplifier brought to your room to play for the duration of your stay. Not a guitarist? No worries – they'll bring you a Crosley turntable with a selection of vinyl for you to sing to.
Evening activities were more than just dinner. The bowling alley was a fun twist on standard all-inclusive sports and gym spaces. You can reserve the lanes for a small group or just for yourself, add cocktails, and pretend you're on a team in the "Big Lebowski." The nightclub came alive later, with pulsating neon lights, DJ beats and go-go dancer-type platforms, ready for the bravest to show off their moves.
An Experience By Land or Sea
The resort also arranges off-site excursions in the Cabo area. Los Cabos is a curved stretch of land called the Corridor. It is bookended by the colonial town of San Jose del Cabo to the north and energetic Cabo San Lucas to the south.
Hard Rock Hotel sits approximately 35 minutes from Cabo's main marina in Cabo San Lucas. There, a riot of souvenir shops (and crowds) awaits along with many choices for water-based sightseeing along the coast. The most popular is a private whale-watching sail on one of Cabo's beautiful catamarans.
Adults-only options are available, where alcoholic beverages flow freely with lavish picnic lunches or on sunset cruises. You snorkel and swim by Lovers Beach, a cozy section of sand just a short sail from the mainland. Or, you could continue navigating until you reach the iconic Los Arcos, a rock formation precipitously poised in arch formation. Negotiate with the captain if you have a preference.
My Stunning Sailing Experience
As you sail towards the point where the Pacific Ocean meets the Sea of Cortez, you might notice sea lions and iguanas along with many species of birds. It's a good idea to bring binoculars with you.
But, the door prize of your seafaring adventure is catching a view of grey or humpback whales breaching alongside your boat. Depending on the season, you'll likely see quite a few. My boat, Cabo Adventures XII, maintained its successful track record of whale sightings. We saw a mother and a baby swim and breach side-by-side….a truly breathtaking sight.
If you prefer to explore on land, an ATV drive across the sand dunes is a dusty, adrenaline-filled escapade. For a local immersion, Thursday's Art Walks open San Jose del Cabo's galleries to all. It encourages festivity with churros and bebidas. To bring some "culture" home, a shopping trip can also be arranged for non-arts purchases.
The warmth exuding from the staff endeared me to Hard Rock Hotel Los Cabos. I was able to carve out my own experience, one that I will cherish for a long time. Hard Rock Hotel Los Cabos let me "come sail away, come sail away, come sail away," in true Styx fashion. Now I understand those welcoming words at the entrance of the resort.
Book your stay at Hard Rock Hotel Los Cabos here
Read More
Author Bio: Traveling has given Meryl Pearlstein a chance to "live" all over the world, something she's always longed to do. A member of the Society of American Travel Writers (SATW), Meryl is the author of Fodor's Family: New York City with Kids and a contributor to Splash Magazines, Gayot, TravelAwaits and Real Food Traveler. Meryl's blog, Travel and Food Notes, www.travelandfoodnotes.com, is a lively companion to her column on www.AllNY.com. Follow her on social media @merylpearlstein.