Except for my family, there are few people with whom I like to travel. Lately, I have done many solo trips, but I've found that sharing experiences is much more rewarding.
Trip to Peru
Last fall, for a trip to Peru, I reconnected with an old friend, Gail Goldman. In high school, we used to do a lot together — including going to modeling school.
She learned perfect posture and I fell down the stairs with my diploma. After high school, we drifted apart.
Now we are great pals again. I invite her to join me on a trip to Peru which includes the Plains of Nazca and an Amazon cruise. She quickly accepts, even though she isn't quite sure where Peru is.
Although Gail has traveled, the outdoorsy stuff has eluded her. She asks me to check out her most appropriate clothes for the trip.
"Prada shoes? No. What about Keens?"
She looks at me blankly.
"Rain jacket?"
She pulls a trench coat from the pile. Wrong.
On departure day, Gail and her ginormous suitcase meet me at the airport. She marvels at my tiny one. I begin to have doubts.
But she is a trooper. Later in the trip she gets sick. That doesn't stop her.
Lima: Parque de la Reserva
Our first stop is a visit to Parque de la Reserva, a park located in downtown Lima, Peru. Its circus-like atmosphere permeates the park.
Vendors hawk cotton candy, popcorn and caramel apples. Giggling, we run through the colorful, arched water tunnel. A multi-hued dancing waters show coordinates spewing water to music.
As fountains erupt to heights over 262 feet (80m), laser creations of quintessential Peru images like Machu Picchu float against the waters.
The next day, we fly over the Plains of Nazca in the southern Peruvian desert. Our voices echo in the huge Paracus airport. Twelve departure gates service only 90 passengers per day.
The hour and forty minute flight glides just below the clouds. At first, the figures and shapes are hard to distinguish. Once our eyes attune to them, we are awed.
These giant figures — the hummingbird alone is 25-feet (7.6m) wide — were created by the nomadic Nazca people between 2,000 and 1,500 years ago. Nobody knows exactly why.
Different theories have them as markers to be seen by sky gods, indicators for water or landing sites for aliens. They are amazing.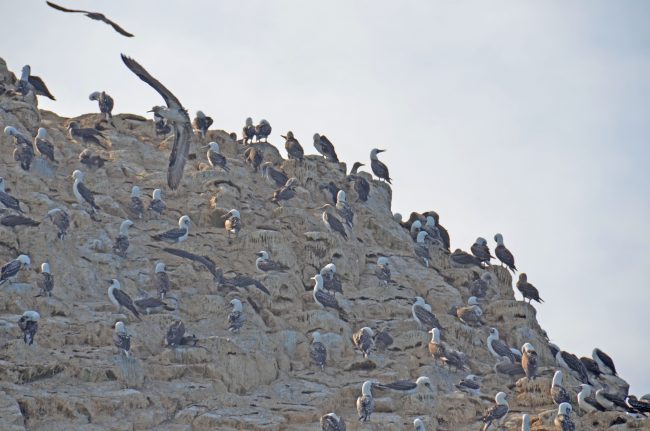 Bellastas Islands
So are the Ballestas Islands. One of them, El Candelabro Mountain, has a 595-ft high (181m) geoglyph of a candleholder.
The triangle at its midpoint resembles a Masonic symbol. Created about 200 B.C., some think it was used as a guide for sailors.
Sea lions, fur seals and Humboldt penguins waddle on other islands. Bottlenose dolphins frolic around all of them. Birds are everywhere.
Guano has turned the island white. Every few months, "guano guys" harvest it for fertilizer.
La Hacienda Bahia
Our digs, La Hacienda Bahia, has a private museum with etchings, textiles, silver, quartz jewelry and metal from about 200 A.D.
One of the textiles closely resembles a scarf I bought in Borneo.
Amazon Delfin II Cruise
But our 5-day, 4-night Amazon Delfin II Cruise is the highlight of our trip. The boat sits at the headwaters of two rivers, the Ucayali and the Marañón.
Meals are an upscale sampling of Peruvian-style food often accompanied by live Peruvian music.
With only 30 passengers and a friendly crew, everyone on the Delfin II soon becomes family.
Days are filled with swimming, hiking, kayaking and bird watching. Daily lectures include ecology, indigenous foods and towel topiary.
Our spacious cabin is quickly filled with Gail's clothes. No room even for my towel.
She puts on makeup which melts into sweat during our undulating rainforest walk in the Pacaya Samira National Reserve. A giant kapok tree spreads its roots like a ballerina's tutu. Birds provide a jungle symphony.
Our Guide
Our guide, Juan Luis, picks up a giant tarantula. Yuck! I hate those hairy things. He finds a poisonous, vermilion-colored great back frog.
Locals use their venom for blow gun ammunition. In the bush is a red-tail boa and an anaconda. These creatures make Gail and me anxious to go back to the Delfin II.
We board 10-person skiffs for bird watching in a creek. The water is like glass. Squawking parrots and squirrel monkeys jumping in the trees break the peaceful silence.
"The Amazon is like a spider," says Juan Luis. "It has many legs or tributaries."
Pink dolphins appear near the swimmers at one of the "spider legs," Rio Yanayacu. Later, we kayakers search for them. Gail has never kayaked.
Her instruction consists of, "This is the paddle. If you want to go left, paddle right and vice versa."
Off we go. Suddenly it starts to rain — not a drizzle but a huge downpour. The rain is overbearing. We no longer care about pink dolphins. I put my paddle perpendicular so someone will rescue us.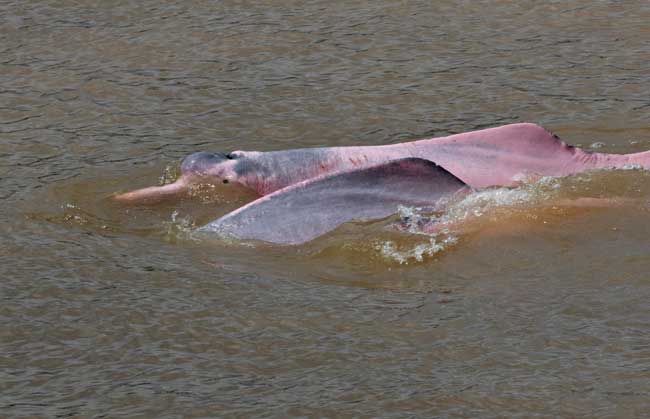 Gail skips the visit with Carola, a woman shaman. Through an interpreter, Carola explains her potions made from trees, and plants. Treatment consists of her medicine, singing, praying and shaking leaves over patients.
Often, she takes a hallucinogen to get a vision of the cure. Some patients drink the hallucinogen to cure themselves.
Moving from person to person, Carola prays and puts powder in our hands. She blows it away with cigarette smoke. I get power, smoke and spit.
Even more unique than Carola are the huge Victorian lily pods which grow on the flood plains. Measuring approximately six feet wide, they must be on steroids.
Visit a Native Village
Our day is topped off with a visit to a native village, Puerto Miguel. Kids jump off trees into the water.
Wooly monkeys and three-toed sloths are their pets. A table is laden with local foods like grub worms for tastings. We pass.
Our Peru trip has flown by. Each day is interesting and exciting. As we pack to leave, Gail fills my suitcase with her clothes.
We fly to Lima and have time to do a tour. Gail, still ill, heads for the airport hotel's bathroom. Twenty minutes later, I go looking for her. She is taking pictures with her new friends, Peru's soccer team.
Traveling with the right friend makes the journey unforgettable.
If You Go To Peru
Delfin Amazon Cruises: www.delfinamazoncruises.com
For all land attractions, I would recommend Coltur: www.culturperu.com