If you've never heard of Croatia, it probably means you're not a fan of Game of Thrones. At least not the real one, because the magical walls of Croatian Dubrovnik have won the hearts of GOT fans all over the world.
Film Locations in Croatia
It's no wonder that film producers have gone crazy for Croatia since then because this country has everything in a small space: a luxurious coast, golden fields, quiet forest areas, fascinating hills, and urban cities. So, here are some world-famous films and series that you might never know were filmed in Croatia. Grab some popcorn!
Planning a last-minute trip to Croatia?
Top Experiences and Tours in Croatia:
Where to stay in Croatia:
Find accommodation with Booking.com
Get a rail pass through Rail Europe
Find Bus, Train, and Flight tickets with one search through Omio
Game of Thrones
"As soon as I started walking along the walls, I knew that this was it. (…) You have the sea, the sun, and beautiful architecture. Everything is here! It looked just like King's Landing," said Game of Thrones producer David Benioff. The rest is history.
HBO's GOT became one of the most famous series of all time, and Dubrovnik jumped to the top of wish lists all over the world. Of course, the Croatians knew how to take advantage of this, so there are many organized routes through which you can enter the GOT world.
You can walk through the gardens of King's Landing, see where the battles of the kings of Westeros took place, stop by Minčeta Fortress to see the House of the Undying, and pass through Gradac Park, where Joffrey's wedding bells still ring.
You can go to the Lovrijenac (Red Keep), located on a 40-meter-high rock, admire the breathtaking walls of Dubrovnik, go to the Old Town, and test yourself to see if you remember the scenes as well as you think you do.
Finally, visit the island of Lokrum (Queen of Cities) and take a picture on the Iron Throne for a memory because—picture or it didn't happen! If you miss it, don't worry; you will probably come back. Because everyone comes back. You don't believe me? Ask Beckhams or Beyonce!
Best Tips & Tools to Plan Your Trip
Star Wars: The Last Jedi
If you ever visited Monte Carlo, you can assume what Dubrovnik (Canto Bight) is in The Last Jedi: a place of pure luxury, sparkling casinos, big risks, wonderful hotels, and unforgettable fun. Of course, only for the richest.
The eighth part of one of the most popular TV shows of all time, the epic sci-fi series Star Wars, was partly filmed in Dubrovnik. "What happens in Canto Bight stays in Canto Bight", is roughly the motto of its elite.
Luckily, Dubrovnik is nothing like Canto Bight, and everyone is welcome. So, here is what I suggest if you want to see some movie locations: Walk through Stradun for some coffee; enjoy the sun on the beach called Banje; let the atrium of the Duke's Palace take your breath away; and get lost in the charming streets.
Because, wherever you go, you cannot go wrong. That's how magical Dubrovnik is!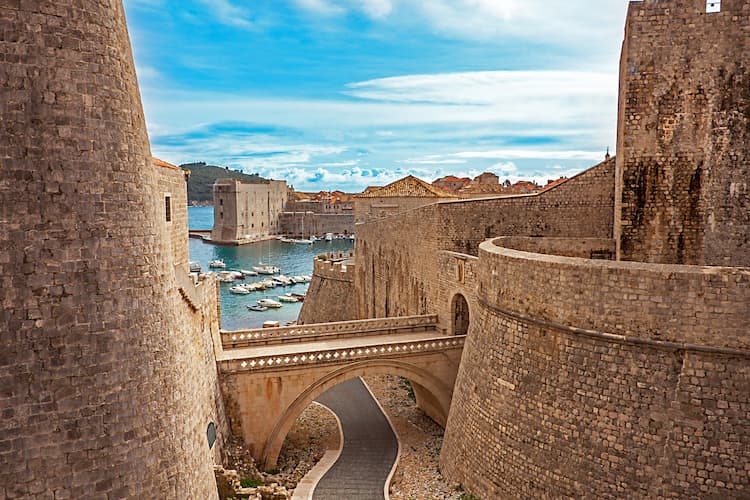 Mamma Mia! Here We Go Again
Ten years and 600 million dollars after the first film, it was time for the second part of the spectacle called Mamma Mia. But what many do not know is that the fictional Greek island of Kalokaira is actually the Croatian island of Vis. "It's the most beautiful place I've ever been," said actress Alexi Devis.
Meryl Streep, Pierce Brosnan, Andy Garcia, Stellan Skarsgard, Colin Firth, Cher, and many others "danced" into the beautiful scenes of Komiža. They showed us the Franciscan Monastery, the charming Old Town, and the Adriatic Sea. The cherry on top was the view of Stiniva, one of the world's most beautiful beaches.
"Filming in Croatia was incredible. A lot of the happiness seen in the movie comes from the happiness felt while we were filming on the island. In the movie, Croatia "pretends" to be Greece, even though Croatia should be Croatia, and we hope that a lot of people will come here," said director Ol Parker. And I couldn't agree more!
The Hitman's Wife's Bodyguard
"If you are gonna be repeatedly punched in the face anywhere… I recommend Croatia. I love this place," wrote Ryan Reynolds on his Instagram, posing in front of Rovinj with several bruises on his face.
As we know Ryan uses his humor for what he loves the most, for example, his wife Blake Lively, we can consider Croatia honored. Of course, no need to worry; his bruises were just makeup from a film set.
So, humor, action, and a little more humor—that's what Ryan Reynolds, Salma Hayek, and Samuel L. Jackson brought to Croatia while filming The Hitman's Wife's Bodyguards. This is how Hollywood was replaced by Rovinj, Rijeka, Motovun, Zagreb, Karlovac, and Vodnjan.
Action scenes "woke up" Rovinj, one of the most beautiful and most visited Croatian cities. Of course, as it happens in action movies, it leads characters to the edge of the cliff, and what we see next is a stunning Modra Špilja. After filming at the coast, the action was moved to Zagreb, for example, to Medulićeva Street and to the roof of the garage near the Panorama Hotel.
Ryan's "partners in crime" were also thrilled with this country. Jackson called Croatia beautiful, and Salma Hayek described it as magical. Rumors that the actress is building a house on one of the Croatian islands prove that it was not just out of politeness. Salma was delighted by the beauty and the fact that, as she stated, she did not need bodyguards there. Pretty awesome, right?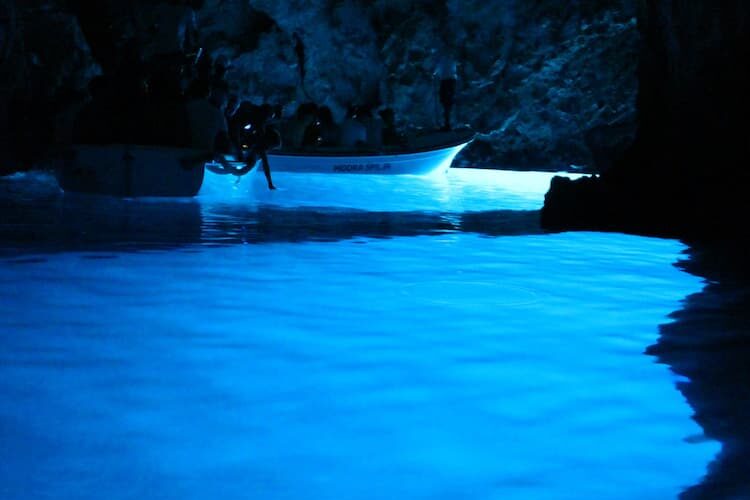 Diana
Opatija, Zagreb, and Rovinj: remember these three Croatian cities because they perfectly fit into the lifestyle of the royal family. Quite an impressive compliment, isn't it? Namely, these cities were the backdrop for a biographical film about the never-regretted Princess Diana. The plot follows the last two years of her life, with an emphasis on the love aspect.
And while Naomi Watts played Diana, Croatia "played" four different locations: Australia, France, Great Britain, and Bosnia and Herzegovina. The film crew stated that it is rare that one country can "act" so many different areas. It's an even bigger compliment when you realize how small Croatia actually is.
So, for a touch of royal life, you can visit these movie locations: Croatian National Theater in Zagreb (which "starred" the British Royal Opera); Hotel Lone in Rovinj (which "acted" a Victor Chang Cardiac Research Institute); Imperijal Hotel;Kvarner Hotel; and the riviera of stunning Opatija.
It is interesting that Opatija is known as the queen of the Adriatic, so it is not surprising that it was worthy of a real princess.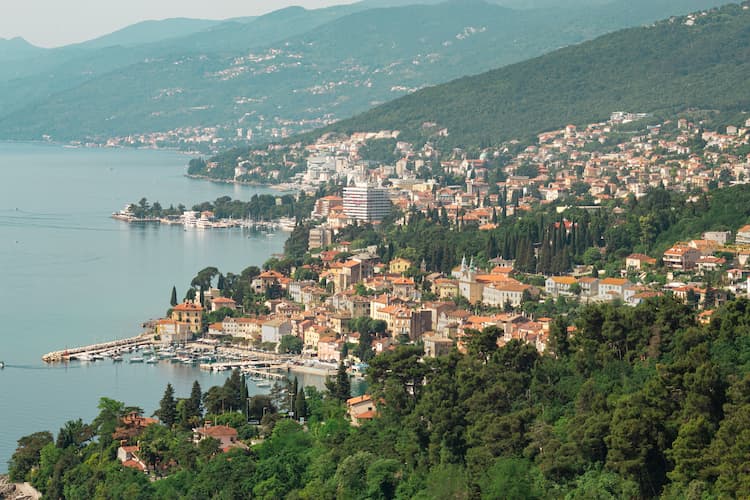 The Weekend Away
"You know you love me, xoxo, Gossip Girl!", you could hear in Croatia when the news spread that the famous Blair Waldorf, star of the Gossip Girl, was coming to Split to film Netflix's thriller The Weekend Away.
This city is known for nice locations and good fun, and that's exactly what two friends, fresh divorced Kate (Christina Wolfe) and young mother Beth (Leighton Meester), needed. But the perfect weekend turns into a nightmare, so Beth has to find answers about the murder of her friend Kate.
During the film, we can see impressive scenes of Split. The characters lead us to the charming Old Town, to the blue Adriatic Sea, to the Peristiland Matejuška, and also to the famous Splitska Riva.
We also see Diocletian's Palace, which is on the UNESCO World Heritage List. If you visit Split, don't worry; you can't miss these locations. The film also shows us a little bit of Dubrovnik, the most attractive Croatian city.
Although Queen B and the Adriatic Coast seemed like a perfect combination, the film received not-so-good reviews. Even the Croatian audience wasn't thrilled, noticing numerous illogicalities in mentality, locations, and culture. However, everyone agrees on one thing: this did not diminish the beauty of Croatia.
Bliss
"Nothing of this is real," Isabel (Salma Hayek) tells Greg (Owen Wilson) in the romantic sci-fi thriller Bliss, a film that discusses the world as a simulation. And while the main characters try to figure out which reality is real, what is certainly real are the beautiful Croatian locations.
Greg and Isabel, walking through Split, exit the Meštrović Gallery. In front of them is a view of the beautiful Mediterranean architecture characterized by stone streets and the crystal-clear Adriatic Sea. "This place is breathtaking (…) in a great way," says Greg. We can also see several more famous city locations: Prva Vidilica, Prokurative, and Selitska Riva.
But that's not the end of the compliments for Croatia. "It's like I've come to heaven!" says Greg, looking at Lopud, a beautiful island near Dubrovnik. Well, even if the characters sometimes are not sure if something is real or not, they are obviously sure about one thing: Croatia is heaven on Earth.
Yes, There is More
In addition to the mentioned TV shows, Croatia also served for numerous others: Zagreb "starred" in The Process; it also "played" Warsaw in Sophie's Choice and "helped" Meryl Streep win the Oscar. Vanessa Redgrave danced through Opatija (which "acted" Nice) as Isadora Duncan in the movie Isadora.
Winnetou was filmed in some of the most beautiful Croatian locations: Plitvička Jezera, Paklenica, Krka, Grobničko Polje, Zrmanja, Cetina, Velebit, Vranjsko Jezero… Croatia also "played" in the McMafia, The Terror, Ezel, Medical Police, Succession, Odyssey…
It is obvious that this country is becoming more and more attractive to producers. Besides its beauty, it has everything in a small space, which is also great if you are coming as a tourist because you will be able to visit many different locations in a short time. Who knows, maybe you too, just like Salma Hayek, will decide to find your peace on some of the beautiful Croatian islands.
Inspire your next adventure with our articles below:
Author Bio: Katarina Marjanović – I studied Croatian language and literature at the Faculty of Humanities and Social Science in Zagreb. I am a freelance columnist, writer, influencer, and content creator, which has enabled me to collaborate with many different brands and some of the largest Croatian marketing and media agencies. Also, I am the author of three books and the owner of a publishing and service company.
Latest posts by Katarina Marjanović
(see all)