Who doesn't love a relaxing vacation by the beach? The good news is that there are plenty of places in the USA where you can find a tropical paradise.
From the sunny beaches of Florida to the beautiful coastline of California, or clear blue waters of Hawaii to the expansive Outer Banks of North Carolina, there is something for everyone.
Spend a long weekend at the beach or a whole month. Whether it's the family-friendly beaches of Florida, or the laid-back surf culture of Newport Beach, CA, these six destinations will be perfect for your next beach trip.
Florida – Pensacola Beach
Florida is an excellent place to spend a long weekend at the beach. One of the top destinations is Pensacola Bay, which offers plenty of activities for visitors, including nearby golf courses, tours, parasailing, and more.
If you're looking for a more secluded beach experience, head to Gulf Islands National Seashore. There are miles of undeveloped shoreline with untouched beaches.
Find stylish swimwear for you and the whole family at the best price on Sierra Trading Post. Check out their swimsuits and other outdoor activity items here.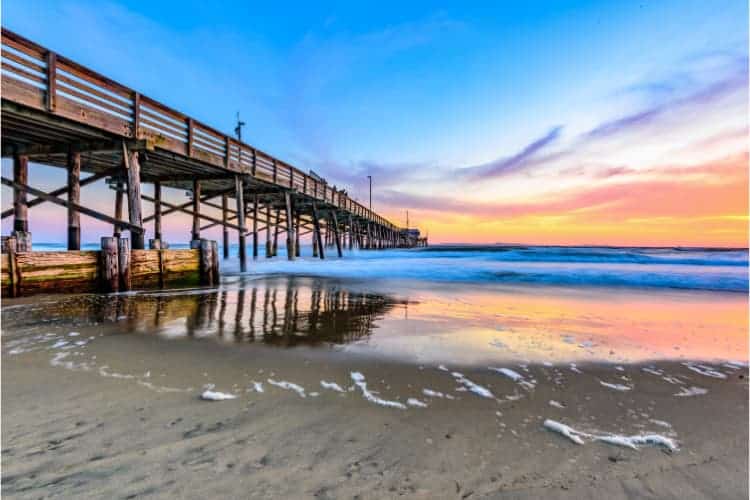 California – Newport Beach
If you're looking to relax, then California has some of the finest beaches in the country. From the sunny southern coast to the vast shores of Northern California, Southern California is home to some of America's best beaches.
Newport Beach, known for its laid-back surf culture, offers beautiful pier walks where you can admire the water and take in the fresh ocean breeze. Laguna Beach is also popular for its breathtaking scenery and charming colonial Spanish architecture.
Hawaii – Keauhou Bay
The beautiful coastline of the Hawaiian islands ranges from white sand to black lava rock. The West Coast is known for its long and wide beaches and the East Coast for its palm tree-lined shores with crystal clear water.
The Kona Coast in the west offers a chance to experience the true beauty of Hawaii with its lush rainforests, spectacular volcanic views, and diverse wildlife. A favorite beach on this coast is Keauhou Bay which is famous for its perfect sunset.
If you want to experience something different, head east to Ka'anapali Beach in Maui, known for its wide stretch of sugar-sand beach.
Find more adventures, ocean activities and tours in Hawaii here.
North Carolina – Outer Banks
The Outer Banks of North Carolina is a favorite destination for people looking for beaches with easy access. The area is home to over 150 miles of coastline, making it one of the longest stretches of undeveloped shoreline in the country.
Alternatively, Kure Beach offers an expansive stretch of beach that never seems crowded thanks to its wide separation from other beaches. Also, Wrightsville Beach is a popular spot with tourists and locals alike due to its location near Wilmington.
The village boardwalk provides a pleasant stroll along a stretch of shops, restaurants, and galleries.
Tybee Island, Georgia – Savannah Beaches
Savannah, Georgia is a charming city that will make you feel like you're in colonial Europe. The architecture in the Historic Districts is reminiscent of Spain and Portugal. Best of all, it's not far from an often-missed, but beautiful beach destination — Tybee Island. Tybee Island has over 3 miles of beaches and has a relaxed atmosphere. Rent a bike and explore this small island. You'll find beachside restaurants, unique shops and plenty of wide-swept beaches. If you have the time, take a sunset cruise. Chances are, you'll see plenty of beautiful birds and even dolphins.
As you drive to each beach and through each coastal town, download the HearHere app to listen to insider stories from each location. Find more information here.
South Carolina – Myrtle Beach
South Carolina is home to some of the most popular coastal destinations in America. With numerous national and state parks and miles of coastline, the Palmetto State is an excellent place for nature lovers and outdoor enthusiasts alike.
One of the most popular places to visit in South Carolina is Myrtle Beach. Located just two hours from Charleston, Myrtle Beach is a beautiful destination with luxurious hotels and family-friendly attractions like golf courses and amusement parks.
The beaches in this area are perfect for adults and children alike because they offer plenty of amenities.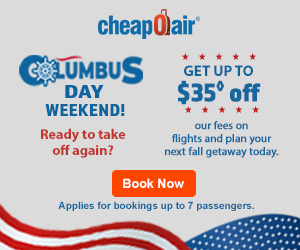 Read about more great US beach destinations:
Travel Resources
Start planning your getaway to one of these relaxing beaches today. Get prepared to travel with insider tips on the best sights, hotel and VRBO accommodations, local restaurant favorites and more on TripAdvisor and Travelocity.
Plan even more fun at the beach by booking ocean activities, expert-led tours and skip-the-line tickets for attractions through GetYourGuide. Find more information and book your dates in advance here.
For the best, discounted plane tickets and car rental options, check out CheapOair. Be sure to protect your travel investments with travel insurance catered to your needs from Squaremouth.
Author Bio: Sandy Page is a life-long adventurer. In her free time, she reads and consumes copious amounts of hot beverages.