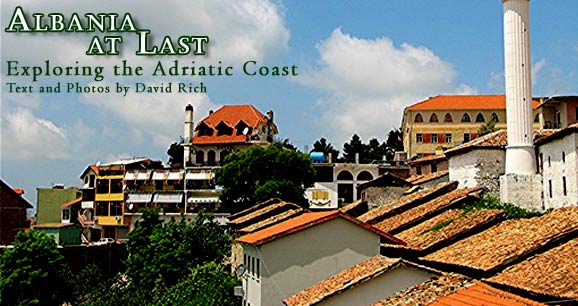 On a recent trip to Albania, I found the Albanian people among the friendliest, most helpful and kindest people on the planet: The former Albanian ambassador to the United Nations, dressed in a spiffy white fedora, white vest and black silk shirt, walked us to the hotel we couldn't find in Tirana.
A kindly grandmother ushered me onto the correct bus in the capital of Tirana, and kissed me goodbye when I got off a few hours further south, in Berat. The bus driver on my trip along Albania's Adriatic coast, from Vlora to Saranda, helped me find an immaculate hotel at half the price of the one I'd picked, and called the owner, who came to fetch me and my mass of luggage, no charge.
It had taken me more than 30 years of trying to get into Albania before I succeeded. This Balkan country sits on the coast where the Adriatic and Ionian seas meet, just across from the boot heel of Italy.
I first applied for a visa in 1972, but Comrade Enver Hoxha, Albania's communist chief of state from 1944 to 1985, gave me a pass, stolidly ignoring my written requests for a visa. That year I had to take a detour and drove around Albania. On a trip to Greece in 1997 I considered a visit to Albania, but it had been plunged into anarchy after an epidemic of collapsed pyramid investment schemes that took the life savings of many Albanians.
Many cities were controlled by Kalashnikov-wielding militia, and thousands of Albanians had fled to neighboring countries while an international force made up of eight European nations helped to restore order. So I gave it a miss.
But perseverance brings reward, because on a 2006 visit I finally made it across Albania's border.
Maybe the sincere friendliness I encountered has something to do with Albania's turbulent history as the North Korea of the 20th century, isolated and alone, first spurning Yugoslavia, then Russia, and finally China, as too liberal. (Imagine Stalin and Mao as too liberal.)
Continued on next page