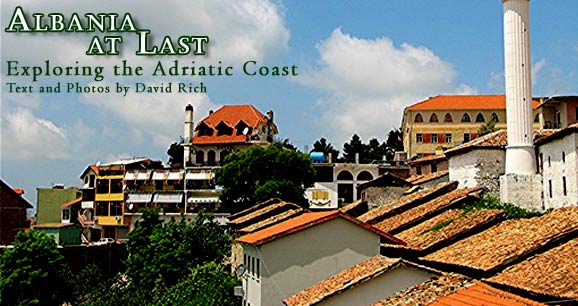 Friendly People of Albania
On a recent trip to Albania, I found the Albanian people among the friendliest, most helpful and kindest people on the planet:
The former Albanian ambassador to the United Nations, dressed in a spiffy white fedora, white vest and black silk shirt, walked us to the hotel we couldn't find in Tirana.
A kindly grandmother ushered me onto the correct bus in the capital of Tirana, and kissed me goodbye when I got off a few hours further south, in Berat.
The bus driver on my trip along Albania's Adriatic coast, from Vlora to Saranda, helped me find an immaculate hotel at half the price of the one I'd picked, and called the owner, who came to fetch me and my mass of luggage, no charge.
Waiting for My Trip for 30 Years
It had taken me more than 30 years of trying to get into Albania before I succeeded.
This Balkan country sits on the coast where the Adriatic and Ionian seas meet, just across from the boot heel of Italy.
I first applied for a visa in 1972, but Comrade Enver Hoxha, Albania's communist chief of state from 1944 to 1985, gave me a pass, stolidly ignoring my written requests for a visa.
That year I had to take a detour and drove around Albania. On a trip to Greece in 1997 I considered a visit to Albania.
But it had been plunged into anarchy after an epidemic of collapsed pyramid investment schemes that took the life savings of many Albanians.
Many cities were controlled by Kalashnikov-wielding militia, and thousands of Albanians had fled to neighboring countries while an international force made up of eight European nations helped to restore order. So I gave it a miss.
But perseverance brings reward, because on a 2006 visit I finally made it across Albania's border.
Albania's Turbulent History
Maybe the sincere friendliness I encountered has something to do with Albania's turbulent history as the North Korea of the 20th century, isolated and alone, first spurning Yugoslavia, then Russia, and finally China, as too liberal. (Imagine Stalin and Mao as too liberal.)
Hoxha was paranoid of a capitalist invasion, and had more than a half-million ugly two-man bunkers built to protect his soldiers in a potential guerilla war.
These mushroom-like defenses required several tons of concrete each, possibly enough for pavement to stretch from the earth to the moon.
The concrete-mushroom bunker caper was sufficient by itself to grind the country into poverty, diverting all money from roads whose potholes could have seemingly swallowed dump trucks.
But except for a few minor stretches around Tirana, most potholes have now been fixed.
The country's poverty is reflected in the many cars — well over half of them Mercedes — on blocks being parted out along the 50 miles (80.5 km) of highway from the northern city of Shkodra to the capital of Tirana.
Only in Albania can you find more Mercedes Benz parked in front of a grocery store than at a dealership.
Many cars now in Albania were stolen from across Europe in the mid '90s to compensate for the lack of cars here.
There were only a few thousand cars in a country of roughly 3.5 million that had been stuck for more than 40 years under the thumb of brutal Stalinist ruler Enver Hoxha.
I encountered few tourists on my visit, yet I'm sure that when tourists finally realize Albania is a European country with unspoiled beaches remarkably similar to its neighbor, Greece, they'll come.
A Brief History of Albania
The south half of Albania has secluded beaches, high mountains chopped by gurgling streams, and age-old ruins such as at Butrint, a UNESCO World Heritage site across from the Greek island of Corfu.
Before Butrint was constructed, local landholder Titus Pomponius Atticus pleaded with orator Cicero to lobby Julius Caesar to forget about locating a Roman colony near his estate.
Because it'd bollix the land values of the "quietest, coolest, most pleasant place in the world." Caesar did end up building a colony there, in 44 B.C.
Butrint harbors some of the most extensive archaeological remains in the Balkans: Greek, Illyrian, Roman, Venetian and Ottoman ruins co-exist here on a tiny green peninsula between a lake and the Straits of Corfu.
The sprawling fortress is practically surrounded by water, the castle on top housing an excellent museum, high above hollow shells of the ages. At Butrint the only tourists I saw were day-trippers from Corfu.
The citadel of Rozafat dominates the southern horizon of the country, where the trade routes from the Danube River and the Aegean Sea converged.
Shkodra, surrounded by snowy mountains on the shores of Lake Scutari, is the country's northernmost city. Shkodra's orthodox church and mosque are photogenic.
Farther south, the capital Tirana has numerous restaurants and broad boulevards, yet there were few tourists on my visit. My favorite place to visit in Tirana was the Marubi photo exhibition.
Classical shots taken in the late 19th and early 20th centuries captured the personalities of Turkish Pashas, mountain men and rugged Albanians of all persuasions.
I stayed at Qendra Stefan (Stephen Center), a combination restaurant and hostel that is one of the only wireless hotspots in the country.
Only single and separate beds are available because the facility is run by American missionaries.
It was frequented by pairs of Mormons in white shirts and ties, and families watching the World Cup while their men quaffed non-alcoholic beer.
The Internet is free for the price of dining from an excellent menu with slightly inflated prices, or a liter of French-press coffee for US$ 1.80 with enough caffeine to fly you through the roof.
The Mountain Village
High above the Tirana dust a mere 20 miles (32 km) away, cooled by mountain airs and set off by a chunky citadel above a modern castle-cum-museum is the mountain village of Kruja.
The village is the hometown of the historic hero George Castriota, nicknamed Skanderbeg.
Skanderbeg (c. 1404-1468) — often depicted wearing a helmet decorated with a goat's-head sculpture with impressive horns — repulsed 13 Turkish invasions, earning himself the title captain general of the Holy See, bestowed by Pope Calixtus III.
Many Albanian city squares feature a bronze statue of Skanderbeg astride his valiant steed.
Ten years after Skanderbeg's death, in 1468, the fourth siege of Kruja proved successful to the Turks. Following the collapse, Albania remained part of the Ottoman Empire until 1912.
Berat is Albania's second museum town, so-called because it was spared, along with Hoxha's birthplace of Gjirokastër, from the widespread razing of churches, mosques and historic sites in the former proletarian Albania.
Above Berat is a mountaintop fortress rebuilt by the Byzantines in the 13th century, with a view over the broad valley, serpentine river and snow-capped peaks.
Berat has several old churches and a 15th century mosque — incongruous relics among the hilltop population of more than 45,000 people.
Understanding the locals was my biggest hurdle during my visit.
My guide told a torrid tale of repeated invasions by barbaric tribes and Bulgarian conquerors that was probably warped in the telling by weak translation abilities.
And I witlessly clung to the mistaken belief that shaking the head from side to side meant "no," when in Albania it means "yes." Thus I thought the hotel full, when it invariably offered many rooms.
I experienced the same lack of comprehension when attempting to negotiate the ordering of coffee, breakfast and other daily necessities.
So when shaking one's head side to side in Albania, remember, it means YES.
If You Go
Albania Tourism
www.albaniantourism.com