It's easy to shop for homebodies who live inside where harsh elements aren't a thing. It's harder to shop for the person on your list who gets more fresh air in a week than most people get in a month.
But it's not impossible. Beloved hardcore brands like Icebreaker, CAMP and FINEX have been catering to the outdoor industry for years. They specialize in guaranteed-to-last travel products designed to look great.
Here are 10 products for anyone on your list who is obsessed with being outside.
If Goldilocks was looking for the holy grail of hooded layers she'd stop at this one. It's not too heavy, and it's not too light. As a mid-layer made of 100% merino wool it's just right for the woman who won't let a little bad weather cancel her hiking plans.
It's also not too hot, although it will keep you warm by helping to regulate your inner body temperature while you're outside. The only time it may be too cold is when it's in the wash. Yes, despite being made of high-quality all-natural fibers, it's machine-washable, on cold.
Adding to its practicality are the thumb loops, fitted hood, two zippers and plenty of conveniently-located pockets. It currently comes in four colors – clay, black, sage and Arctic teal. P.S. If the size you ordered is too big or too small no worries. Icebreaker offers 60-day free returns.
Buy this product here.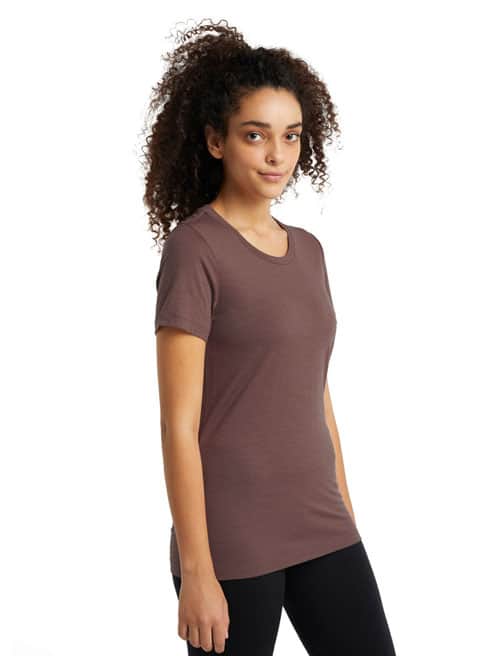 Cotton t-shirts are cool and all. But have you ever tried a technical tee? Between its stretch factor, breathability and odor-resistance, this 100% soft merino wool t-shirt will be the base-layer top she'll wear more days than she doesn't.
Just don't be surprised when she blames you for ruining regular tees for her. Most likely, she'll thank you for introducing her to tees with properties. It currently comes in four colors: black, gritstone heather, mink and clay.
Buy this product here.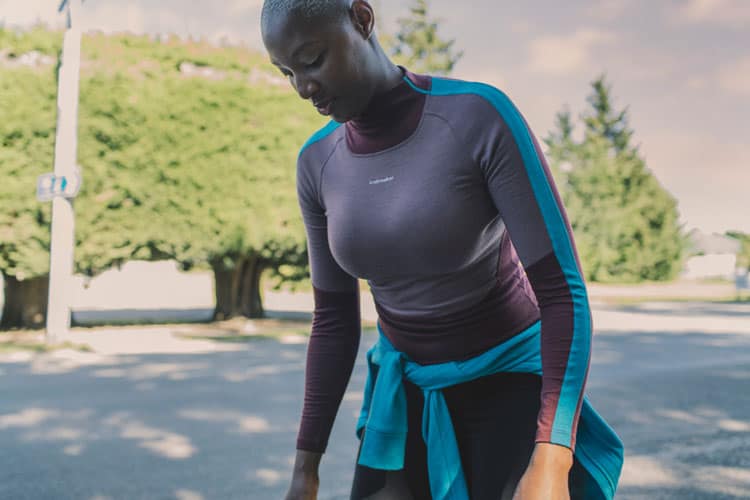 This top is where turtleneck meets colorblock meets raglan. Add in the striping on the sleeve and she's probably never seen a shirt like this. Technically speaking, it's a jersey.
Made of 100% warm merino wool it's the top she'll always bring to the slopes for snow sports (or just to show off in the lodge). Besides how it looks, what makes it better than other outdoor base items out there are the small things.
Think flatlock seams to prevent chafing, a raised collar for added warmth, gusseted under arms for maximum mobility and a hemline slightly longer in the back so it looks great with leggings. It comes in two colors: mink/espresso and midnight navy/royal navy.
Buy this product here.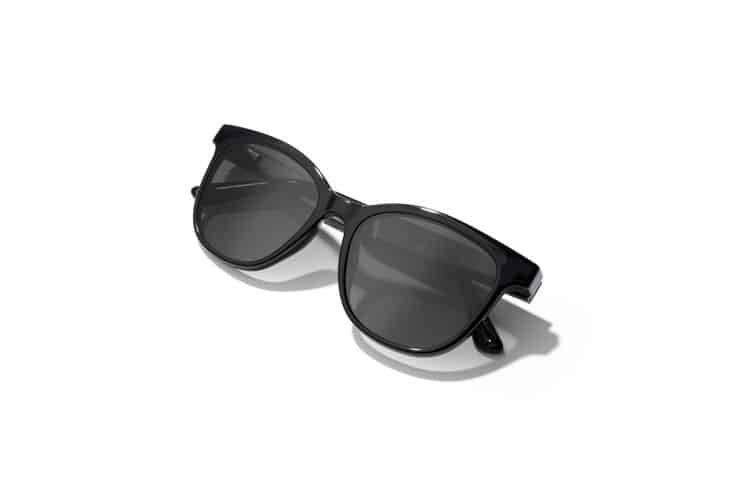 If her future is so bright she'll need shades, this is the pair she'll want to wear. That's because this favorited outdoor item work both ways. Look good – thanks to a subtle cat-eye brow shape – and feel good. Feel good – they're made of sustainable plant-based bioplastic – and look good.
They come with TAC Polarized lenses, stainless steel spring hinges and a conversation-starting case: a sleeping bag travel pouch. Just roll with it. They also come with a little peace of mind: a one-year warranty. Choose from four frames, including matte styles, and three lens tints.
Buy this product here.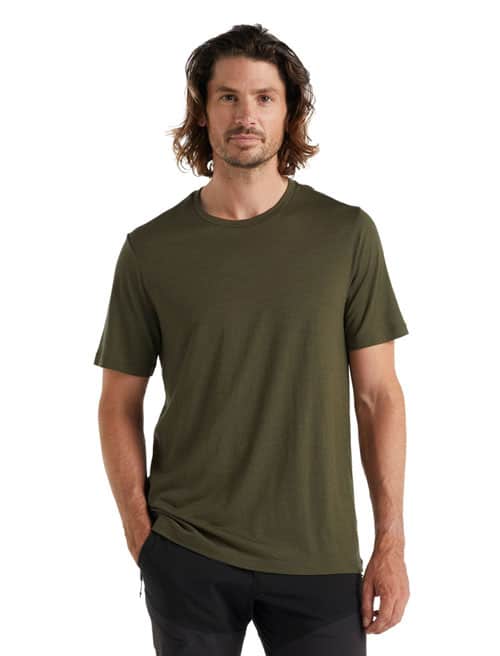 This tee is great for the guy who works or plays so hard he needs a little technical mixed with his practical. While it can be worn as an everyday tee, this shirt was designed by overachievers. Like the women's version, it's 100% merino wool.
In other words, it's breathable, stink-free and stretches as much or as little as he wants it to. Choose from seven colors including black, gritstone heather, mink, loden, spice, and for the blue-eyed boys – island and royal navy which will really bring out those cool hues in their irises.
Buy this product here.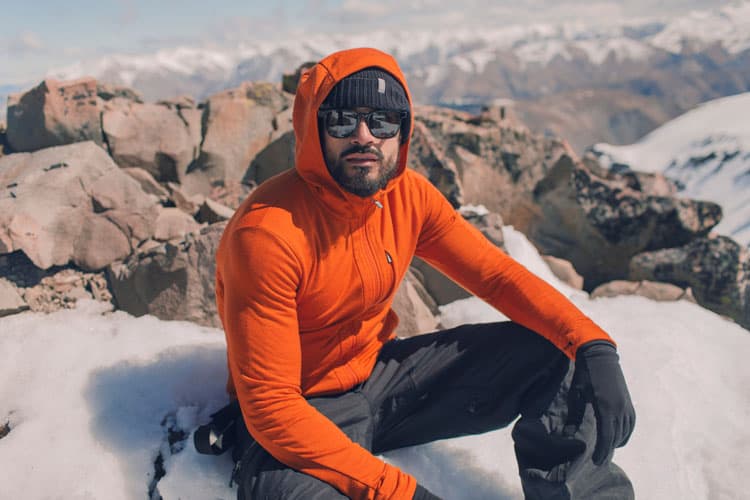 His old college sweatshirt is great for couch activities. But for outdoor pursuits, get him this sleek hoodie designed for action in the elements. (That's not to say it doesn't look good at leisure because it totally does.)
The guy who prides himself on barebones packing will love that it's lightweight. The guy who prides himself on breaking a sweat in the backcountry will appreciate the moisture-wicking properties.
One recent 5-star review describes it as "warm and yielding when in motion." Like the women's version, it's 100% merino wool. It currently comes in three colors: black, loden and island.
Buy this product here.
Even the guy who swears he has all the best outdoor items has never seen this. It's a classic meets contemporary design that can be worn for fashion reasons alone. Of course, like the women's version, it's highly functional.
Every clever feature – from gusseted and flatlocked seams to a high collar and drop tail hem – optimizes what's important to him on any outing: being comfortable, mobile and confident the construction of what he's wearing.
It comes in an aesthetically pleasing midnight navy/royal navy color combo. But for the man who likes a little contrast, get the kale/loden color combo complete with red striping down the arms.
Buy this product here.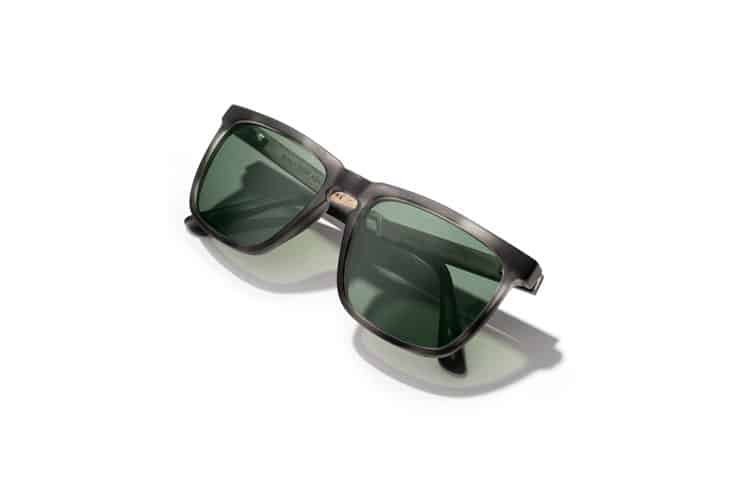 Ray Who? If he's a guy who describes himself as rugged, CAMP's Ridge frames will become his new gold standard for sunglasses. That's because in addition to its classic keyhole bridge design and rectangular shape, these stylish shades are made for men in motion.
They're lightweight – thanks to materials like sustainable plant-based bioplastic and real walnut wood inlays – and durable.
That's why CAMP can offer a 1-year warranty on this outdoor item; most customers don't need to cash in on it. They come with TAC Polarized lenses offering 100% UVA/UVB protection and CAMP's signature "custom sleeping bag travel pouch." Choose from four frame colors, including matte styles, and three lens options.
Buy this product here.
Is it a gift or is it an investment? It's both. FINEX' iconic 5-quart Dutch oven is a bestseller and popular gift for couples for many reasons. For starters, its base and sides are a heavy-gauge cast iron designed to last as long as the recipient does.
That's why FINEX can offer a "guaranteed good forever" promise. Chances of having to repair or replace it are miniscule at best. Elegantly angled and polished to perfection, it could double as a piece of art. But it's designed for Dutch oven cooking.
Twin handles – made of stainless steel "Speed Cool" springs – mean it can also double as a serving dish.
Buy this product here.
Worthy of any Michelin-star restaurant kitchen, this flat press from FINEX is on every aspiring chef's wish list. Unlike flimsy low-cost models made in China, it's 4.5-pounds of heavy-gauge pre-seasoned cast iron with a stainless-steel spring coil handle. And like every timeless piece from this Portland-based company, it's made in America.
At 8 inches long, it's perfect for flattening almost any food cooked over almost any heat source. And like a fine wine, this outdoor item gets better with age – as long as it's being used. The non-stick bronze finish will brown and deliver better results over time.
Buy this product here.
Heading outside on a hot day without something refreshing to sip on is like camping sans s'mores. Fortunately, this ingenious 2-in-1 backpack keeps drinks cold in its removable insulated compartment. There's even an internal sleeve for an icepack. But wait: it gets better. The padded straps boast a bottle opener.
The main compartment is also handy because it keeps snacks (and other essentials your favorite hiker needs to pack) dry. This bag also gets serious style points for thinking beyond the zipper by opting for a roll-top closure. This means it can be packed down to take up less space once the goods are gone.
Buy this product here.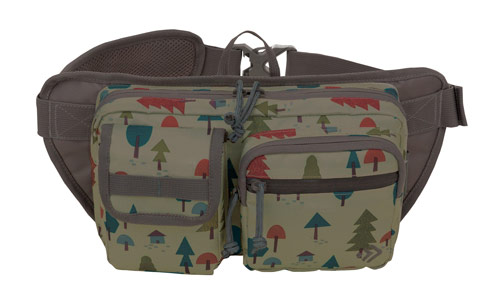 The fanny pack has been back in style for some time now. This camper-esque design is specifically made for outdoor pursuits. Why else would the company that makes it offer a lifetime guarantee? With its adjustable waistbelt, it may be one-size-fits-all, but that doesn't mean there's only one way to wear it.
With adjustable shoulder straps, it can also be worn as a sling pack. It features plenty of roomy, zippered compartments as well as an external pocket with magnetic closure for easy access.
Choose from a navy-blue pine tree pattern or a khaki-green eucalyptus. With 4 liters of space, whoever you gift it to will be grateful for you when they don't have to leave anything important behind.
Buy this product here.
Sure, bike baskets look cute. But when it comes to outdoor gear items carrying other goods while on two wheels, a real cyclist knows the value of a high-quality pannier. For the commuter on your list, consider the Pannier Backpack Convertible 2.0 Plus. With 30L of space, it's the big brother to the best-selling 22L version (it has more than 200 reviews on Amazon).
The 2.0 PLUS easily holds a 15.6-inch laptop (in a padded sleeve), a helmet, heavy U-lock and thanks to built-in mesh organizers, water bottles and all the little odds and ends you don't want to carry in your coat or pants pockets.
The bag – which also doubles as a backpack – is made of waterproof polyester. As if that's not enough, it comes with a fluorescent rain cover for maximum visibility. For stability and security, pedal in peace knowing the secure KLICKfix Kompakt Rail Mounting System can handle any turn or speedbump.
Buy this product here.