As a college student, there is no better time to let loose and have fun than during a spring break vacation. It is a time of year that is eagerly anticipated by students all over the world, and for good reason. Spring break offers the perfect opportunity to take a break from the rigors of academic life and explore some bucket list destinations.
With so many destinations to choose from California to New York and beyond, it can be overwhelming to decide where to go. Here are the 10 best spring break destinations in the USA to experience the perfect getaway.
Best Tips & Tools to Plan Your Trip
Factors to Consider When Choosing a Spring Break Destination
When choosing a spring break destination, there are several factors to consider. One of the most important factors is your budget. Spring break can be an expensive affair, so it is important to plan accordingly.
You should also consider the location of your destination. Do you want to go somewhere tropical or somewhere with a vibrant nightlife? Do you need rental equipment? It is also important to consider the safety of your destination, as well as the availability of accommodation and transportation.
Top 10 Best Spring Break Destinations in the US for College Students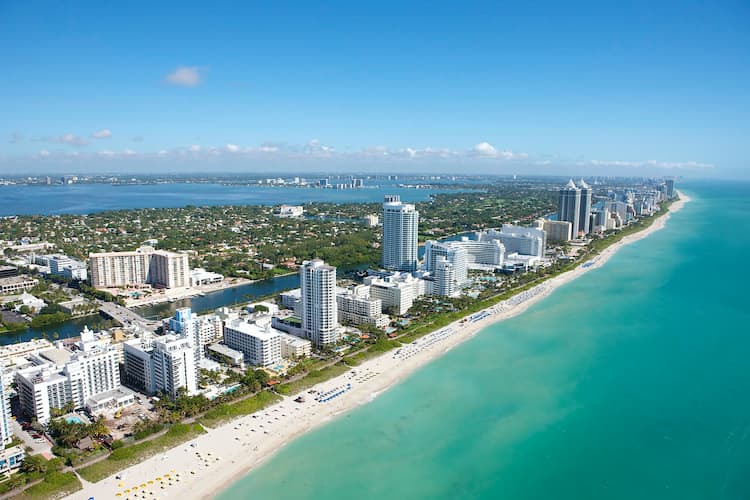 Miami Beach, Florida
Miami Beach is a popular spring break destination for college students in the springtime. With its warm weather, beautiful beaches, and lively nightlife, Miami Beach has something for everyone. During Spring break, the city comes alive with parties, concerts, and other events.
The best beaches are always packed with people, and the nightlife is some of the best in the country. Also, you can try different water sports such as jet skiing.
Make it a road trip and visit Orlando and experience its many theme parks. Disney World and its water parks is a destination in and of itself. Try bringing your own food and making a day trip to save money.
Cancun, Mexico
Cancun is another popular spring break destination and spring is the perfect time to visit. With its turquoise waters, marine life, white sandy beaches, and vibrant nightlife, it is the perfect place to let loose and have fun.
Try out the world-class snorkeling and outdoor adventure offered in Cancun. Try speed boating, and paddleboarding through its mangroves. This vacation spot beckons with its white sand beaches. There are plenty of parties and events to keep you entertained, and the Mexican cuisine is a must-try.
Panama City Beach, Florida
Panama City Beach is a favorite spring break destination for college students. During spring break, the city comes alive with beach parties, concerts, and other events. There are plenty of bars and clubs to keep you entertained.
South Padre Island, Texas
South Padre Island is a hidden gem that is quickly gaining popularity as a spring break destination. With its pristine beaches, crystal-clear waters, and laid-back atmosphere, it is the perfect place to escape the crowds.
Try some outdoor activities such as birdwatching or kayaking or a marine life tour.
Las Vegas, Nevada
Las Vegas is a popular destination year-round, but it is especially popular during spring break. It has world-class entertainment, live music, casinos, luxurious hotels, and vibrant nightlife.
Sights to see while there include the High Roller Observation Wheel and Hoover Dam.
Lake Havasu, Arizona
Lake Havasu is quickly gaining popularity as a spring break destination. Lake Havasu City is home to the famous London Bridge, which was brought over from England in the 1960s and rebuilt in its current location.
Visitors can take a stroll across the bridge or explore the charming English Village nearby. For those looking for adventure, Lake Havasu offers a range of outdoor activities, including hiking, rock climbing, and off-road vehicle tours.
Gulf Shores, Alabama
With its warm weather, sandy beaches, and laid-back atmosphere, Gulf Shores is the perfect place to relax and unwind. There is even a zip line. Try out the variety of water sports available. Gulf Shores is also host to several festivals such as Hangout Music Festival.
Puerto Rico
Flamenco Beach, one of the top-rated beaches in the world, is just one of the many stunning beaches located in Puerto Rico. Visitors to the island can also explore the lush rainforests of El Yunque National Forest, discover hidden waterfalls on hiking trails, and take guided tours to witness the glowing bioluminescent bays at night.
In addition to natural beauty, Puerto Rico also boasts a rich history and culture, with Old San Juan's colonial architecture, colorful street art, and lively music and dance performances. The island's diverse culinary scene offers a variety of dining options, from traditional Puerto Rican cuisine to international dishes.
Myrtle Beach, South Carolina
Myrtle Beach is an attractive tourist spot that houses a diverse range of entertainment options such as amusement parks, water parks, and mini-golf courses, making it an ideal destination for families and groups of friends.
The boardwalk is a popular spot for visitors as it offers a scenic ocean view and has numerous shops and restaurants.
Myrtle Beach provides a classic and enjoyable spring break experience with numerous attractions and activities for everyone.
Cabo San Lucas, Mexico
Cabo San Lucas, located at the southern tip of Mexico's Baja California peninsula, is a great spring break destination for those looking for a mix of relaxation, adventure, and nightlife. The city boasts beautiful beaches with crystal-clear waters that are perfect for swimming, snorkeling, and surfing.
Visitors can also take a boat tour to see the famous rock formations, El Arco, or go whale watching to see humpback whales during their migration season.
Tips for Planning a Safe and Enjoyable Spring Break Trip
When planning a Spring Break trip, it is important to prioritize safety. Here are some tips to help you plan a safe and enjoyable trip:
Plan ahead: Research your destination and plan your itinerary in advance.
Travel in groups: Traveling in groups is not only more fun, but it also helps ensure your safety.
Be aware of your surroundings: Be mindful of your surroundings and stay alert at all times.
Stay hydrated: Drink plenty of water to stay hydrated, especially if you'll be spending time in the sun.
Avoid excessive drinking: Alcohol is often a big part of spring break, but it is important to drink responsibly and avoid excessive drinking.
Alternative Spring Break Ideas for Those Who Want to Try Something Different
If the traditional Spring Break destinations don't appeal to you, here are some alternative Spring Break ideas:
Volunteer: Consider volunteering for a local charity or non-profit organization.
Road trip: Plan a road trip to explore new places and see the sights.
Consider visiting a national park. There are many to choose from in America. There are a lot of activities to do in national parks such as biking, camping, hiking trails, and kayaking. State parks are also a great option. Botanical gardens are also a great option if you want to visit somewhere a little closer to home.
Whether you're looking for a tropical paradise, a vibrant nightlife, or a laid-back atmosphere, there is a spring break destination that is perfect for you.
Inspire your next adventure with our articles below:
Author Bio: Sandy Page is a life-long adventurer. In her free time, she reads and consumes copious amounts of hot beverages.