Although Lebanon is a small 10,452 km2 chunk of land that has been surrounded by a war zone in recent years, my home country is a friendly, safe, diverse destination rich in culture, entertainment and historical landmarks.
From wineries to night life to cultural sites, Lebanon should definitely be on your bucket list. Here's why:
The People of Lebanon: Friendliest Around
We like to give three kisses on the cheek almost every time we greet somebody. And although the country is riddled with corrupt politicians, and is always somehow struggling economically, you can never erase the smiles off our faces.
We do, however, express our unease through black comedy and sarcasm. A lot. In fact, everyone's so used to it that we're all immune to the backlash of each other's jokes. Practically no one gets offended anymore.
An important feature of my homeland is the fact that it was occupied by both Eastern (Ottoman Empire) and Western (France) cultures in its past. This meant Lebanon adopted a unique diversity within its citizenry. And that's what we are today.
Language Skills
The majority of the population in Lebanon is bilingual if not multilingual. I, myself, am fluent in Arabic, English, French and Spanish.
Lebanon's mother tongue is Arabic, but most people speak English as fluently as if it was their first language. And because Lebanon was a French mandate before 1943, many Lebanese nationals speak French throughout their daily life.
Private schools use English or French, and even both to educate the youth. It is easy for tourists to interact with the locals.
The Nightlife in Lebanon
The Lebanese are known to be party animals. No matter how the situation may be in Lebanon people always find the time to party.
There is a wide variety of clubs with a multitude of music tastes that range from deep house to hip-hop and R&B. Clubs like "Iris," "The One," "Publicity" and "White" are always jam-packed with exuberant party­goers.
One club, called "B 018," is one of Lebanon's best-known nightlife spots, and my personal favorite.
The spot might sound sketchy at first since it is underground and a former site of a civil war refugee camp, but it's surely one of the hottest after party spots where the roof retracts to reveal the nighttime stars.
It's always the first option in mind when my friends and I are looking for a breather from a long week of work. For people who opt for a quieter night out, Lebanon has approximately eight pub streets in Beirut and its surroundings.
I really enjoy catching up with friends over great food, drinks and ambience. Namely Alley Way Street in Hamra delivers all of these.
Low Tobacco Prices
If you are a tobacco lover, whether you smoke cigarettes or enjoy a Shisha, the tax on tobacco in Lebanon is really low.
While you might get a box of cigarette for $8 in the US, the pack of cigarettes would cost around $2 in Lebanon and the same applies for Shisha. While in some countries it ranges from $20 ­ $30 in Lebanon it only costs around $10.
The low tax, as well as the overall 'coolness' of the Lebanese spirit, made the shisha business one of the most prevalent in the country.
Shisha delivery stores, that offer their services 24/7, are within kilometers of each other and are widespread throughout the whole country.
Many people here smoke cigarettes and Shisha; surprisingly I am the only person in my group of friends who doesn't not smoke. The shock on people's faces whenever I tell them that I don't smoke is amusing.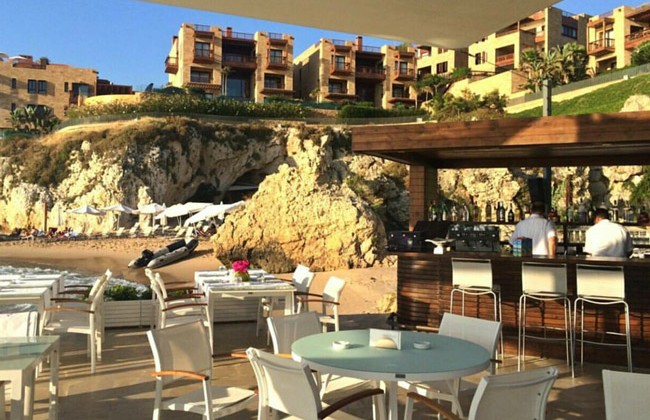 Mezza
One thing quite capturing about Lebanon is the variety of food venues. Lebanese Mezza are similar to Spanish tapas; they are a form of small appetizers put together, but the type of food is definitely different.
A typical Mezza set would include: hommos, taboule, wine leaves, cheese rolls, potatoes seasoned with cilantro, and various forms of meat, both raw or barbecued.
While the Lebanese Mezza is flavorsome, the great thing about Lebanon is that you can always resort to other cuisines to satisfy your cravings, such as French, fast food chains, Indian, Japanese, Mexican and many more.
And if you were undecided as to where you wish to have your meal, you can just go to any street and you'll find a restaurant every 200m.
Both the wide price range of these restaurants and the charm of their servers make the Lebanese food scene an unmissable experience.
Humorously, the McDonalds branch in Lebanon is the only McDonalds in the world that offers valet parking.
Historical Landmarks
In my 21 years, I've witnessed one of Lebanon's many wars and it was as emotionally draining as you can imagine. The repercussions of the aforementioned occupations on Lebanon hold their mark still.
Not to mention that a few present day Lebanese cities are some of the oldest in the world. Such as Byblos, for example. Beirut, the capital, was destroyed and rebuilt seven times.
There are 15 rivers in Lebanon all coming from its own mountains and it is argued that the first ever alphabet was introduced in Byblos by the Phoenicians.
The only remaining temple of Jupiter is in Baalbeck, Lebanon. According to Christianity, Jesus Christ performed his first miracle in Lebanon, in Sidon. (The miracle of turning water into wine).
Intriguingly people say that the cedars were planted by God's own hands. This is why they're called "The Cedars of God", and this is why Lebanon is called "God's Country on Earth."
In addition to all of that, you'll find one of the biggest tourist attractions, Jeita Grotto, which was almost awarded the eighth wonder of the world title in 2012 for its geological significance.
It is a set of two interconnected limestone caves that will surely take your breath away.
Wine in Lebanon
Having a captivating array of mountain tops makes Lebanon one of the main hubs of wine production in the Middle East. There are a plethora of wineries to check out including the more renowned Ksara, Kefraya, and Ixsir.
I must wash down every dinner with Kefraya's Blanc de Blanc; it's truly exquisite. This probably explains my reason for being a Wineaholic.
Fashion Hub
A lot of malls house well-known retailer shops such as Zara, H&M, Mango, Topshop, and so many more. More importantly, Lebanon is the home of international designers such as Reem Acra, Elie Saab, Rami Kadi and Zuhair Murad.
We take such pride in that. Especially when these names are present at every other Hollywood red carpet event. It gives us such pleasure that Lebanon gets its well-deserved spotlight.
If you wish to buy from worldwide designer labels like Chanel or Dior, you will also find what you're looking for in Downtown Beirut. Lebanese citizens are not strangers to spending that kind of money.
Transportation Mode
For those looking for a way to save money, there exists a system (which was one of the first in the world to apply carpooling service) where you can go within Beirut for 2,000 LL (just a little over a dollar).
And for those who like to travel more luxuriously, there are always private taxi companies and car rental shops that offer their services to a single party.
Lebanese taxi drivers are known for being quite the conversationalist. They will chat you up on pretty much anything and that in itself has given them a great talent in reading people and situations.
I once heard a story from a taxi driver telling me that his son, "a student at Oxford," found the cure for cancer.
Ski & Beach
In winter, 45 minutes away from the capital city, there are many ski resorts with slopes ranging from beginner level to expert level. You can even ski/snowboard from one piste to another off road.
This easy access allowed me to be an expert skier by the age of 11. As for those who don't know how to ski or simply don't like it, you can always rent a snowmobile or just take some time to play in the snow.
Just 20 minutes away from all that you find the beach. From the public beach at Rawshe, there are also a multitude of pools/ beach resorts that are available throughout the entire coast.
Diverse City
Architecture has long been a subject of my interest, so I can't help but mention its aspects in Lebanon. The range goes from skyscrapers to small houses to villas. Also the presence of beautiful coastal regions as well as high altitude ones add to this diversity.
Home to 18 religious sects, we have two houses that we share with affection and respect: the mosque and the church. You'll often find them right next to one another.
On Friday, we listen to the sound of the mosque, and on Sunday we listen to the bell of the church. However, Lebanon doesn't only have Muslims and Christians.
It is, in fact, the most religiously diverse country in the Middle East, with 18 state recognized religious sects.
Although it has proven difficult throughout our history, we learn every day to respect one another. Despite what the media might tell you, Lebanon is not a toy in terrorists' hands.
It is not a victim. Lebanon is a unique country full of life that has always been a survivor, a fighter.
And we'd be happy to welcome you here.
Author Bio: A native of Lebanon, Paula Nawfal has visited more than 34 cities in 19 countries – and she not only seeks to expand this number, she's also keen on sharing her experiences and newfound understanding of cultures.