Where were you on 9/11?
Everyone remembers where they were and what they were doing during the catastrophic events of 9/11/2001 in New York City. Many of us (an estimated two billion) saw the second plane hit the South Tower of the World Trade Center and witnessed the collapse of both towers live in person or on TV. Reruns of the day's horrific events and their aftermath played repeatedly on TV, online and in print.
The impact was no less as emotional when I visited the 9/11 Memorial & Museum in lower Manhattan.
Visiting the 9/11 Memorial
Our first view of it is from the car driving into the city from New Jersey. The tallest building and its spire stand above all others in the skyline. The Memorial rises triumphantly as a monument to the human spirit and a testament to the value of human life.
We begin our remembrance on the outdoor plaza of the World Trade Center. Hundreds of people quietly and reverently mill around two deep square pools with waterfalls—the largest man-made waterfalls in the country—pouring from all four sides into a deeper square in the middle.
Called Reflecting Absence, these pools outline the footprints of each tower. Architects Michael Arad and Peter Walker created them to symbolize the loss of lives. All around the rims the names of the 2983 people who died in the attacks—both on 9/11 and the 1993 bombing that took place there—are etched in bronze. Some people are seeking names they knew; others, like me, are reading them like a who's who of an historic event.
Inside the museum (the tall, tall glass building), exhibits are divided into three sections: Before 9/11, the Day of 9/11 and After 9/11. There's also an auditorium where free daily programs and films are shown.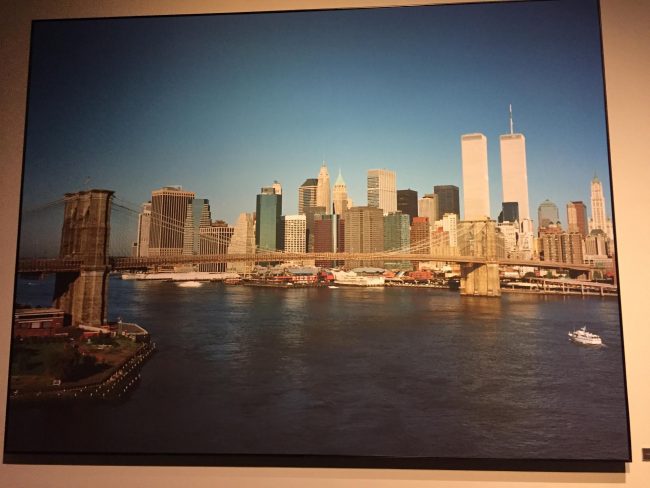 Before 9/11
Photos and text in the first exhibit describe the World Trade Center Twin Towers that were completed in 1970 and 1972 to revitalize Lower Manhattan: 12 million square feet of office, hotel and commercial space; 1,200 restrooms; 40,000 doorknobs; 200,000 light fixtures and 200 elevators that rose from the lobby to the 107th floor in 82 seconds.
The entire complex was on 16 acres. Director of the World Trade Department Guy Tozzoli in 1962 issued a charge to architect Minoru Yamasaki: "President Kennedy is going to put a man on the moon. You're going to figure out a way for me to build the world's tallest buildings."
The twin towers, indeed, were the world's tallest buildings at the dedication on April 4, 1973. On that fateful day in 2001, they and five adjacent buildings were reduced to rubble and dust that spread for blocks and blocks throughout lower Manhattan.
Continued on next page