Time spent at an American spa is sybaritic, designed to relax, rejuvenate or both. Visitors are cocooned in an atmosphere that does its best to say luxury experience. Unless your name is De Sade, a trip to a Moroccan hamman brings elements of pain and lots of insecurity. You don't relax so much as endure.
In search of a genuine hammam experience in Marrakesh, I selected the Hamman Ziani because it had received glowing reviews on a travel website and my very savvy Moroccan guide gave it a thumbs-up.
This hammam (technically a public bath) is located right inside the walls of the city's medina, so finding it was easy. I was greeted by the owner, an upbeat guy who was born in Morocco and educated at UCLA Berkley. Although his English was perfect, that of the rest of the staff was non-existent, even though tourism is a big part of the Marrakesh economy.
Handing over roughly US$ 73, I was told there would be absolutely no tipping, a message reinforced by signs throughout (in English!), and given a basket with supplies.
First came a grand tour of the facilities that didn't explain the drill as my guide spoke only Arabic. There were glimpses of white tiles, rushing water and floor drains; my inspection ended with a peek into a room where four women clad in G-strings lay on what looked like black gurneys, eyes closed.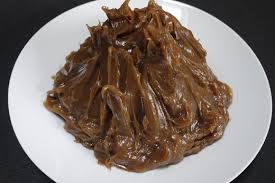 The "changing space" was a tiny, curtained stall, just large enough for shedding my clothes and tying on the itty-bitty, disposable paper triangle which was my costume for the rest of the experience. A pretty blue sarong was draped over me but whisked off two minutes later, never to reappear.
After stowing my belongings in a locker, I was escorted to the first scrub room and introduced to the famed black soap, said to be made of olives enriched with other oils. The scrubbing began; in any other situation I'd have requested pain relief but, assuming it was part of the gig, did my best to relax, reminding myself that I was enjoying an "authentic" experience. The scrub removed enormous amounts of brown gunk –presumably dead skin, that floated past the table I lay on. When I pointed to it my scrubber laughed.
Next came a steam room that seemed roughly the temperature of a volcano's core. I lay on one of the platforms feeling like a slab of salmon, oddly comforted by glimpses of the bright blue sky visible through slits in the roof.
Once I was deemed sufficiently poached, a woman appeared to escort me to the next station. This was helpful as the rubber sandals provided didn't fit well and the floor was hazardously slick.
For scrub number two, a woman wielded a mitt made of loofa that removed any epidermis the black soap scrub may have overlooked. Skin glistening, I was motioned to a small white plastic stool to be sloshed by gallons of water and have my hair washed. Forget conditioner, forget good-smelling shampoo; the goal here was cleanliness.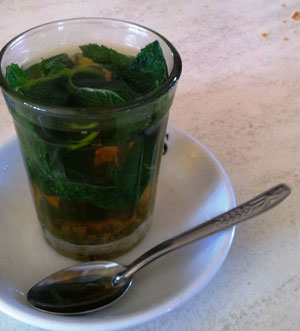 From there, it was on to the massage room, where I was sure I would slip off the oily table and kept grabbing the metal bars at the top. The masseuse was incredibly thorough, pummeling and kneading every inch of my body. The next day my forearms showed purple and green bruises, but the massage felt good in a strange, fierce way and released knots all over.
Afterwards, I lay on the table for a few minutes until it was time to get dressed. Limp, with skin softer than the one I'd been born with, I was ushered into a dimly-lit, mirrored room with a fountain in the middle and served mint tea, the panacea for every experience in Morocco.
A foray to an America spa affords far more modesty and personal bits remain untouched. At the hammam, none of the handling was lascivious but almost no inch of body was ignored, short of my inner ear canal.
Would I do it again? In a minute.
Latest posts by Janna Graber
(see all)