Sipping the smoky beer rauchbier in a Bamburg cafe, sampling sausages and gingerbread on the Nuremburg town square, peering up at castles on the Rhine. Such were our days on a recent Viking Cruise from Prague to Paris.
Viking River Cruise
Viking's "Cities of Light: Prague to Paris" cruise along the Main, Rhine and Moselle rivers enabled us to soak up European history without even realizing it.
When we were not moving along on glasslike water, we strolled through ancient neighborhoods in Germany's small cities.
Since the Romans were in southern Germany first, then the Franks, followed by the French, many places we saw were a meld of Medieval and Renaissance styles.
On trips ashore, each of us had an individual headset to hear the guide's explanations, so it was easy to listen and explore while viewing the architecture and street life from the best vantage points.
Since river boats travel at night, the best panoramas are left for the daytime hours.
First Stop on Viking Cruise: Prague
We began our trip in Prague, often called the city of a thousand spires, and started out with a tour of the Old Town.
In fact, we came a few days early to enjoy the classical music concerts, experimental theater, small museums, and restaurants — all of which are within blocks of each other.
The historic district of Prague has become a popular weekend destination for Europeans because it is such a magnet of culture.
Each stop had its own discoveries. At Bamburg, we stood arrested, gazing at a huge 14th century fresco done in trompe l'oeil — meaning to trick the eye — and painted on the outside of the town hall.
The building was originally on an island, and this Baroque city was gradually built on top of the confluence of several rivers.
After ambling over the small bridges, we had our first German food on land: sauerbraten, carrot soup and pears in wine.
There were many regional dishes to follow, both on and off the boat.
River Cruise: Nuremberg, Germany
We learned that Nuremberg, Germany — most often associated with Hitler's legacy — has a layered history.
Passing by the still intact city walls and fortifications, our guide explained that the Holy Roman Emperor had often passed through Germany on his trips through France and Italy.
Nuremberg was a trade route during the Middle Ages, and later an imperial city with many fortifications.
Step up centuries later, and we saw that Germans have put many issues related to World War II behind them. The former Nazi rallying grounds are now used for concert and sporting events.
From Wurzberg, so lavishly baroque and rococo that it has huge frescoes by Tiepolo in the ornate eighteenth century town palace, we drove on a section of the Romantic Road to Rothenburg.
As we traveled along, peering out the windows at the settlements surrounded by carefully planted fields, we were told that southern German farmhouses tend to be clustered in villages, as compared to Northern Germany where there are more freestanding farms.
The classic films "Pinocchio" and "Chitty Chitty Bang Bang" were filmed in medieval Rothenburg.
It's no wonder given the half-timbered houses, cobblestone streets, gatehouses, and covered walkways.
At Heidelberg – where the whole town is surrounded by the famous university started in 1386 – we walked awhile and then lunched at a restaurant where students were placed at each table.
Ours was a 27-year-old man from eastern Turkey, an urbane, graduate student in film studies, who was getting an advanced graduate degree here and then had subsequent plans to study film in New York.
He added a perspective that defied the stereotypes attributed to Kurds.
"I'm glad we don't spend the day at museums," said one of our fellow travelers.
The exception was the Gutenberg Museum in Mainz where a local guide gave demonstrations on early printing presses. The non-museum guy found the lecture fascinating.
After hearing that so many towns were founded by the Romans, we reached Trier, which had two huge structures actually left from that time.
The enormous Arc de Triumph style structure, Porta Nigra, at the end of the main square, and the 90 feet wide, 108 feet high, and 200 feet long Basilica Konstantin, once the throne room for the Holy Roman Emperor, and now a Protestant church.
Viking Cruise Through the Rhine Gorge
There were tours of castles at towns like Cochem, and cooking demonstrations for those who stayed on the boat to enjoy pure cruising.
Many times the guide would give an overview of the town, and then leave us free time to explore on our own.
The most "ooohs and ahs" could be heard on a stretch though the Rhine Gorge — in the Upper Middle Rhine Valley.
In a few hours, we'd passed through a small section of that 764-mile river which begins in the Swiss Alps and empties into the North Sea in the Netherlands.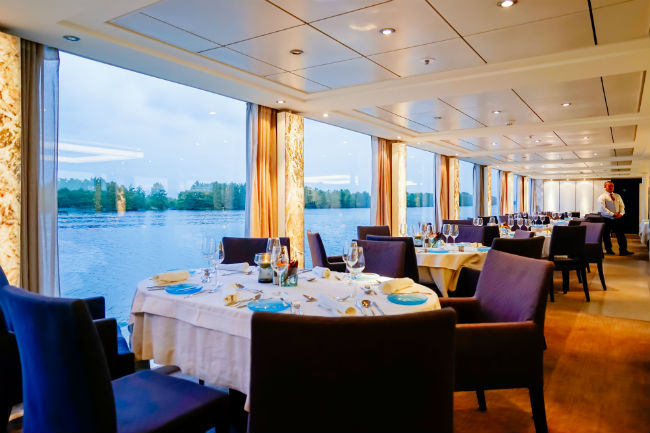 We looked up past neat strips of vineyards to panoramic views of the castles silhouetted on the top of hills on either side.
Early on, we passed Lorelai, a 132-foot steep slate rock with folkloric associations, including a bewitching woman who could lure ship captains to disaster and dwarfs who lived inside.
As we moved along, the cruise director gave excellent commentary along with eerie legends that went back centuries.
Many of the castles had suffered heavy damage during the Thirty Years' war between France and Germany, and had either been left in ruins or rebuilt so that they were private homes.
During this time, we relaxed in the glass-enclosed Aquavit Terrace at the front of the boat or in one of the lounges, all of which had good spots with comfortable seating for panoramic views.
Last Stop: Paris, France
On the last day, we drove to Paris, stopping for a brief walk through the historic center of Luxembourg, built high up on hills that dip down into forested gorges.
We also strolled through the American Cemetery where many casualties from the Battle of the Bulge are buried.
The Viking river cruise certainly helped us put together some pieces in that vast jigsaw puzzle of European history, as well as providing excellent cuisine and comfortable digs.
Author Bio: Emilie C. Harting has been published in the Philadelphia Inquirer, The Miami Herald, the Los Angeles Times, Dallas News and many other major publications. She has also written books on literary places in Britain and New England, and on Staten Island, New York.