Prague's Old Town Square
It was November and the wooden stalls for the Christmas Market were being set up in the Staroměstské Náměstí, or Prague's Old Town Square. Little pings came from hammers attaching holly and mistletoe to the wooden stalls.
A line of horse and buggies stood on the sidelines patiently waiting for fares. Their drivers, sporting top hats, were perusing the daily newspapers.
Schoolchildren, led by their teacher, filed by in single lines. A lone sweeper was cleaning debris off the cobblestones.
Pretzel and cotton candy sellers were doing a brisk business. At their feet, pigeons were busy picking up crumbs on the cobblestone.
The Yummy Food Stalls
At the food stalls, vendors were clad in winter gear as similarly dressed visitors and locals sampled their goods.
Sausages and hams were slowly turning on spits while over at the waffle stand. A waft of delectable air was coming up from the waffle irons as customers waited their turn.
The Palacinky stall was is full throttle. These very thin pancakes are similar to crepes with a fruit filling and powdered sugar on the top.
Today, the vendor was bundled up in a red sweatshirt with CREPES PALACINKY written across the front. A scarf, tied around her mouth, kept her face warm.
Don't Miss the Mouthwatering Deserts
In the adjoining stall, the Lango vender was rubbing his bare hands together against the cold. Langos is a pancake-shaped fried dough snack usually covered with powdered sugar.
It's a Slovakian street vendor favorite. Other sugary delights we tried included a Trdelník, the hot sugar-coated cake/pastry, and Vdolky, (Czech donuts).
Across the way, the Prazepne stall owner, clad in his wool hat and jacket, was popping corn. He told us his specially popped corn was vynikající (delicious!).
His finished products were bagged in cellophane and nicely displayed to catch the customer's eye.
A hurdy-gurdy player, sporting a white straw bowler, provided a little background music. A stuffed monkey sat atop his grinder holding up a price list for the CDs being offered.
Next to him stood a man dressed as a knight, just watching the goings on.
Before beginning our actual shopping, a nice warm drink seemed in order. At the Black Angel's food stand, we purchased a hearty hot chocolate topped with whipped cream for 29 koruna, or $1.49.
The Czechs are prepared to pamper the cold weather customer. Fur appears on outdoor seating and heat lamps are turned on. If it gets really cold, blankets are brought out.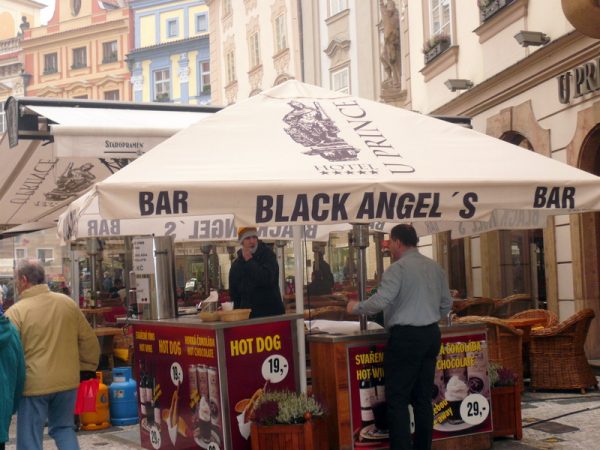 For those who want to warm up with a little libation, good bets are the Czech beers Pilsner, Urquell, and Budvar.
A little chilly? Well then, outdoor shopping is so much nicer with a cup of hot mulled wine svařené víno or svařák in your hand.
When you get tired of strolling, a horse and buggy will take you on a slow spin around the perimeter. We spotted a couple of people on segways who seemed a little out of place in this medieval square.
Romanesque and Gothic it certainly is. Prague's Old Town Square dates back to the 12th and 13th centuries. At that time, it was the economic and political center of Prague Old Town.
It's Time for Shopping
After a little libation, we set out to shop. Necklaces hung from stalls amid displays of rings and bracelets (especially amber and crystal). One of my favorites were the miniature clocks with photos of Prague on their faces.
The wooden stalls sell the traditional handicrafts: glassware, jewelry, embroidered lace, wooden toys, metal ware, ceramics and, scented candles.
A vendor was unwrapping Christmas tree ornaments, hats, gloves and scarves. One interesting entrepreneur was making bells (a la Downton Abby kitchen) right on the spot.
At the top of the hour, the clock tower, an astronomical clock, performs. It happens something like this:
The live trumpeter blows the call from the tower. The twelve apostles appear from two side doors on the tower wall.
A skeleton rings a bell, the clock chimes and the trumpeter sounds the hour.
Hundreds of people below break into cheers and clap, as they have been doing since 1410. The crowd then disperses until the next hour.
After people watching, shopping and munching on Czech delights, venture over to Mlejunice's, a delightful pub just off the Square for bowls of cabbage/sausage soup (nicely accented with globs of sour cream).
Work off a little of this Czech delight by taking in one of the little alleyways that branch off the Square. Here exists the world of Cartier and Espirit.
Espirit had their man dressed in a long red fur-lined coat and sporting an umbrella with Espirit written on it. (And yes, there was a McDonalds)
Guides, dressed in sailor suits, stood near a makeshift pier to take tourists on canal boat rides. A swan or two bobbed in the distance. But that's something to be savored for next time.
If You Go to Prague
Recommended: Restaurant Mlejnice at Kozna 488/14 Prague. We tried the goulash and soup. Both were exceptional. Hovězí Guláš s Knedlíkem (beef goulash with dumplings) 165 koruna or $8.25 Zeli a klobasa polevka (cabbage/sausage soup) 45 koruna or $2.25
For more information see Official Prague Tourism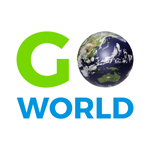 Latest posts by Go World Travel Magazine
(see all)