Visiting Lower Zambezi National Park
What makes a great national park, as opposed to merely a good one? For me, it comes down to three things: diverse and plentiful wildlife, spectacular scenery, and a moderate number of tourists to share them with.
To be honest, there are other criteria as well (ease of travel, lack of bitey, stingy things that give you bizarre and scary diseases, climate etc), but if the wildlife, settings and solitude are there, it's likely the park is a winner. It's a shame that good parks are so hard to find.
Recently however, I found a national park in Africa that excels in all three.
The Lower Zambezi National Park in southeastern Zambia lies directly opposite its more decorated neighbour, Zimbabwe's Mana Pools.
This national park consists of over 4000km2 of wilderness. There is a rawness and beauty to it which I haven't experienced anywhere in southern Africa.
In fact, it was only declared a National Park in 1983 (before then the area belonged to Zambia's president).
This helps to explain the giant populations of large mammals, including elephants, lions, buffalo and leopards. The Zambezi, as we all know, isn't short of a crocodile or hippo, either.
And whilst I can't claim to be the most avid birder (unless it's a chicken or turkey with all the trimmings), the mix of ground hornbills, rollers and eagles even had me salivating (despite my knife and fork being replaced by a camera).
So we have the animals. Next up is the scenery.
The Beautiful Scenery of the Park
The Lower Zambezi is simply gorgeous. Its furry, leathery and feathered inhabitants are all housed in the most spectacular amphitheater imaginable.
Think mopane forest that hugs meandering river systems, which spill into the Zambezi. Think palm trees, baobabs, acacias, and Machiavellian strangler figs.
Think mountains, wetlands and valleys. You get the picture.
Surroundings People
And finally, we come to the topic of people. Nothing spoils the magic of encountering the remnants of a lion kill like carloads of yabbering camera-clicking tourists (unless it's me of course).
The Lower Zambezi is wonderfully unspoilt, untamed and refreshingly untouristy. In fact, there are no tarred roads and you are unlikely to encounter another vehicle on your game drives.
During our time in the Lower Zambezi, my girlfriend (and fellow photojournalist) Gem and I stayed at Baines River Camp (https://www.bainesrivercamp.com/).
Baines River Camp
Part of the prestigious Mantis Group, this beautifully appointed lodge nestles imperiously on the banks of the Zambezi.
Owners Tim and Sabine Featherby have spared no expense. Each suite is filled with lavish soft furnishings including down pillows and duvets.
Each has a veranda overlooking the Zambezi, close enough to eyeball hippos over a sundowner.
Activities on offer include fantastic kayaking tours and river cruises, tiger fishing, and (of course) those game drives. Head guide Leonard has to be one of the best in the business.
And after you've had a hard day checking out the eles, you can head back to the lodge for an in-room spa treatment, or relax in the outdoor pool. Not bad given the lodge's remote location.
The camp and owners also excel in their conservation work. The Featherbys are doing huge amounts for indigenous communities and the region's wildlife, working tirelessly with local foundation Conservation Lower Zambezi.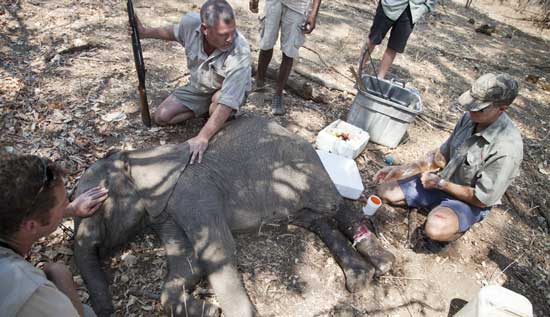 During our stay, I was fortunate enough to join Tim and CLZ to document the darting of a baby elephant, to remove a snare from its hind leg.
Despite a few hairy situations (forget the good intentions, herds of elephants don't take kindly to being shot at with a tranquilizer dart), the operation was a great success.
The calf is doing well and has no long lasting damage to its leg.
Since my visit, Tim and the guys at CLZ have repeated the operation on two more elephants and a lion.
The final string to Baine's bow is their elephant workshops, run by Johan Marais, wildlife veterinarian and author of Great Tuskers of Africa and In Search of Africa's Great Tuskers.
The workshops offer fascinating insights into the giant pachyderms, including their complex social structures, behavioural patterns, genetics, means of communication and importance to wildlife areas.
He also explores the long-term, devastating effects of the ivory trade on African heritage.
I may be cynical, but these days too many lodges position themselves as 'eco' or play up their work for conservation to put bums in beds. It's great to visit a lodge that actually practices what it preaches.
If You Go
Zambia Tourism
Lower Zambezi National Park
https://www.zambiatourism.com/travel/nationalparks/lowerzam.htm
About the author:
Aaron Gekoski is a freelance photojournalist and filmmaker. His work primarily documents conflicts between man and wildlife.
Recent jobs include shooting a documentary on shark finning in Mozambique; going on an undercover mission to report on Namibia's annual seal cull; chasing the 'tortoise mafia' through Madagascar's sacred forests.
And then heading to Bangladesh's markets where up to 100,000 turtles are killed during religious celebrations; and, amongst others, reporting on a controversial lion breeding initiative in Zimbabwe. For more information, please visit https://www.aarongekoski.com.
Latest posts by Janna Graber
(see all)