"Ohhhh. You a foreigner?" said the middle-aged Vietnamese man wearing a wrinkled suit. He sat across from me at the child-sized blue plastic table along one of Hanoi's narrow, crowded streets in the old quarter.
"Yes, from Canada," I replied. He flashed me a friendly smile, displaying a mouth full of crooked, yellow teeth.
I picked up my chopsticks and began plucking at the noodles in the bowl of pho (soup) I had purchased from one of the many street vendors selling it for breakfast outside my hotel. The man took a liking to me and tried to engage in conversation with the little English he knew.
He ordered a clear alcohol and poured it into a shot glass, taking a few tiny sips. When a wave of panic spread across my face from biting into a chili pepper by mistake, the man pushed the shot glass toward me and calmly said "Here. Water."
I smiled, noting that the potent smell coming from the glass was hardly water, and continued to slurp my noodles among the three locals now sitting with me at the miniature table.
Travel in Vietnam
There's no better start to the day in Vietnam than by eating pho for breakfast from a street vendor with the locals. The narrow streets of Hanoi date back more than a thousand years and are a hive of activity despite the cool, overcast weather that blankets the northern skies throughout January.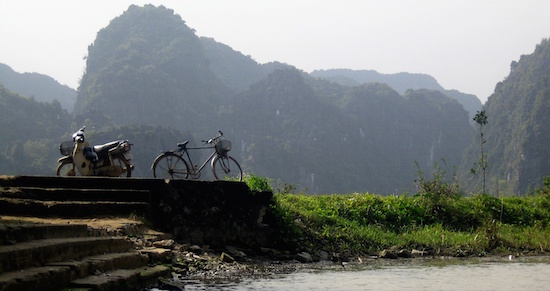 Bicycles, scooters and motorbikes — some carrying three or four people wearing surgical masks — slowly made their way through the congested streets packed with an array of food vendors and interesting shops that lure wide-eyed travelers inside.
Exploring Tam Coc, Vietnam
On this particular morning, I was headed for a much more peaceful part of Vietnam — the Tam Coc region — to view the stunning scenery that's often described as Halong Bay on land.
The area was the final place to visit during my three-week backpacking trip through the country with my best friend Lex. It had been five years since we ventured through Thailand and made a pact to go on another adventure together in Southeast Asia. My desire to see Halong Bay, recently declared one of the natural wonders of the world, sparked my interest in Vietnam, which Lex and I traveled from north to the south with the limited time we had.
After a bumpy two-hour journey in a passenger van travelling south of Hanoi, we stopped to explore the Temple of Dinh Bo Linh at Hoa Lu, the capital of Vietnam under the Dinh dynasty from 968 to 980. Asian tourists gathered around golden statues of the king and said prayers. Others lit incense and placed it in front of the many shrines that had offerings of alcohol, Coca-Cola, beer and crackers.
Hoa Lu is the gateway to the Ninh Binh region, which looks like an Asian postcard. The area is surrounded by spectacular limestone karsts that dramatically rise from the dazzling green rice paddies tended by farmers wearing traditional conical hats. The best way to experience life on the rice fields is by taking a rowboat for a three hour journey along the Ngo Dong River — a place that takes you back in time.
Our journey began at the busy wharf in the village of Van Lam. Lex and I got into a small, wooden boat with a friendly elderly woman wearing a conical hat. She rowed a short distance, then pulled over to the shore where an elderly, round-faced man got in the back to take over some of the rowing. The woman came and sat beside me in the middle with a paddle and continued to row, a smile etched upon her face.
The scenery along the river was breathtaking. Among the giant karsts that surrounded me like a blanket were rice farmers with weathered faces wading knee deep in thick mud. The river was a hub of activity. Locals slowly rowed tourists armed with cameras capturing every moment of the unique scenery. An astonishing 1,300 boats are registered to carry paying tourists along the river and into the three caves that give the region its name.
The locals chatted to one another as they passed by. Some rowed their boats with their feet while others transported trays of rice stalks to their crops that merge into the shallow, brown water. One man sang as he rowed downstream, grinning from ear to ear. It was a calming, peaceful atmosphere interrupted only by the sound of the paddle dipping gently into the water.
"This is breathtaking," said Lex as she soaked in the captivating landscape.
We approached the first cave, Hang Ca, which is the longest at 127 meters. The roof was only inches above my head, the air cool and damp as water dripped from the stalactites that hang above. The second cave, named Hang Hai and the third Hang Ba, marked the final stop on the journey. Here, a number of vendors sold fruit and beverages from their boats before tourists turn around and head back to Van Lam.
As we made our way back to the village, the old woman put down her paddle and picked up a plastic bag. She pulled out a large white T-shirt with a design on the front and held it up, grinning as though she made it herself. I shook my head no, so she reached back into the bag and pulled out what appeared to be a tablecloth in the style of a doily my mother had on her coffee tables in the 1980s. Again I said no.
The woman continued to pull things out of her bag that were of little interest to Lex and me. Finally, she held up a beautiful hand-stitched piece of art of a woman wearing a conical hat pushing a bike with a basket of flowers — a common site in Vietnam.
I nodded my head excitedly with approval. The woman's wrinkled face lit up with joy. She didn't stop smiling for the rest of the journey. Neither did I.
If You Go
Tam Coc is located 9 km southwest of Ninh Binh – about a two hour drive from Hanoi. Day tours can be arranged from Hanoi or Ninh Binh to Tam Coc through hotels or travel agencies. There are also regular buses from Hanoi's southern bus terminal that leave every 15 minutes. Ninh Binh is also a regular station for the Reunification Express, with trains coming from both north and south. Near the entrance to Tam Coc is Van Lan village, which is famous for its embroidery.
For more information visit https://www.tamcocgarden.com/en