My twelve-year old son, Alex, and I were venturing through Poland for two weeks on our first international father-son trip.
We flew in and out of Warsaw, Poland's capitol, where we spent some time, and we enjoyed some time in Krakow, often referred to as the soul of Poland.
We expected to be impressed with those two cities, and we were. However, we were surprised at how pleasant our time in the city of Gdansk proved to be.
Travel in Gdansk
Across the Baltic Sea from Scandinavia, and bordered by Germany, Lithuania, and Kaliningrad (Russia), Gdansk is a city influenced by them all. It is the center of the world's amber trade (see Shopping for Amber in Gdansk.)
Gdansk also holds an important place on the stage of world history: Gdansk was the place where the first shots of World War II were fired, and home of the Solidarity Movement, which initiated the end of Soviet occupation across Eastern Europe.
On our way from Old Town to the shipyard and its Solidarity sights, we came across two sections of wall, side by side — one from the Lenin Shipyard wall, another from the Berlin Wall. What began with one ended with the other.
The Solidarity Sights of Gdansk
The Solidarity sights in Gdansk had an almost Soviet look to them, although that was the very regime they solidified to stand against.
The Monument to the Shipyard workers, with its industrial look, was designed and built by shipyard workers. The Solidarity Trade Union still remains the world's largest union.
As important a part as the Solidarity movement played in history, the sights Alex and I found most interesting were in the older section of Gdansk, along the Glugi Targ and Ulica Dluga in Old Town.
The way from Highland Gate and Golden Gate on one side to Green Gate (a royal palace) near the water can be walked in 10 minutes.
But that road and the ones surrounding it are packed full of beautifully decorated homes and buildings, cafes and monuments, churches and museums.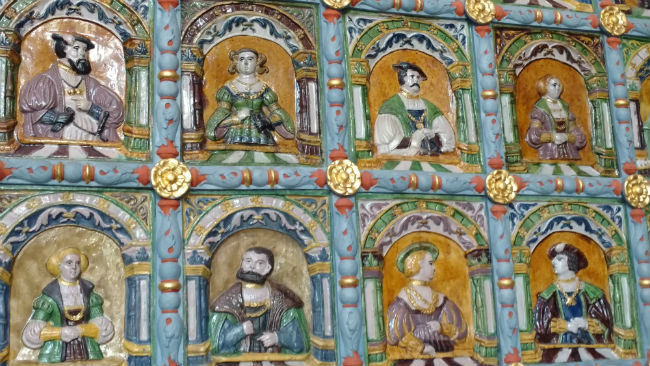 Off the main path, on Podkramarska Street, The Church of St. Mary looms tall and wide in rich, red brick.
Gdansk's Church of St. Mary is Europe's largest medieval brick church, started in 1343. Among the church's most impressive features (aside from its very size) is an astronomical clock from the 1400s.
It shows not only the hour and days but also the dates of feasts and phases of the moon.
At high noon, visitors are treated to a procession of figures from the clock: Adam, Eve, the Apostles and the Three Kings. Even Death makes an appearance. But after the procession, time marches on.
Paragon House
Back on Ulica Dluga, one of the many buildings to catch our eyes was Uphagen House. Unlike most of the other beautiful buildings, we were invited inside.
Behind Uphagen House's ornate door, we were treated to a tour of an 18th century wealthy merchant's home — complete with Rocco paneling — that survived World War II unscathed.
Artus Court, an ornate meeting house for dignitaries and Gdansk's wealthiest citizens, was as magnificent inside as it was out.
Inspired by King Author's Knights of the Round Table, the meeting house was established in the 14th century and boasts a gothic style.
Although the interior decorations represent a mix of styles, including a Renaissance tiled stove from the 16th century.
Ships float in air, suspended from the ceiling, statues of men and animals and even hybrids (such as a deer-man) stand along the walls. Everywhere you look within the building, there are intricate decorations to admire.
The Torture Tower
The former torture tower and prison tower, just between Highland Gate and Golden Gate, is now an amber museum and gift shop.
"So if you took Mom there to shop for jewelry, it would still kind of be a torture tower, for you," Alex quipped.
At the opposite end of Dluga Targ, the Green Gate opens up to the Motlawa River. The Mannerist-style Green Gate was the official residence of Kings when they visited Gdansk.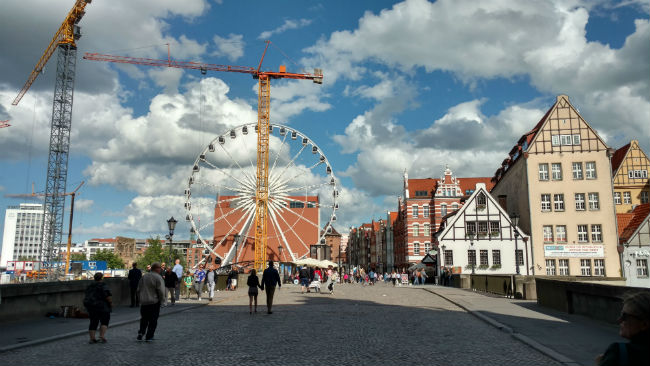 Along the water, more colorful house facades are interlaced with maritime museums, a medieval crane dating back to the 14th century, working ships contrasted with touristy pirate ships and amber vendors galore.
We walked along the water on our way to Hotel Fahrenheit, where we slumbered during our stay in small but fashionable accommodations near the water and the sights.
Of the many sights in Gdansk, perhaps the most enjoyable was simply sitting in the outdoor dining area of the Neptune Milk Bar.
Just across from the statue of Neptune in the courtyard before Artus Court, and enjoying some Pierogi, boiled potatoes, and compote as musicians, marching bands and locals as colorful as the buildings surrounding us passed by.
We loved the many sights and beautiful places we encountered in Gdansk, but simply basking in the atmosphere of the place was an ideal way to end our visit.
Getting to Gdansk
Gdansk does have its own international airport, but chances are that if you're visiting Gdansk, you're also visiting either Warsaw or Krakow or both.
Rates into those airports (Warsaw being closer and more central) are often less expensive than a direct flight into Gdansk.
In Gdansk, we stayed at Hotel Fahrenheit, a nice, clean hotel just a short river-walk from the heart of the city's best sights.
The rooms were small and the breakfast was on the skimpy side, but we were drawn by the stylish exterior and pleased with our stay.
From Hotel Fahrenheit — or any of dozens of other hotels — you're a pleasant 10-minute river walk to all of the old town sights, and an exciting hike from the Solidarity and other sights.
Be sure to enjoy a milk bar, like Neptune Milk Bar, just across from the Neptune Statue. But don't expect service with a smile in this or any other milk bar.
The food and service is good, but in true Soviet tradition, many of the older workers can't be bothered with niceties to strangers as they trade food for money. It's not rudeness — just part of the experience.
Author Bio: Eric D. Goodman enjoys travel as much as he does writing. He's author of Womb: a novel in utero (2017), Tracks: A Novel in Stories (2011) and Flightless Goose (2008). His travel stories and short fiction have been published far and wide. Eric lives with his wife, Nataliya, and children, Alex and Nicole, in Baltimore, where he curates the popular Lit & Art Reading Series. Learn more at www.EricDGoodman.com or connect at www.Facebook.com/EricDGoodman.
&nbsp