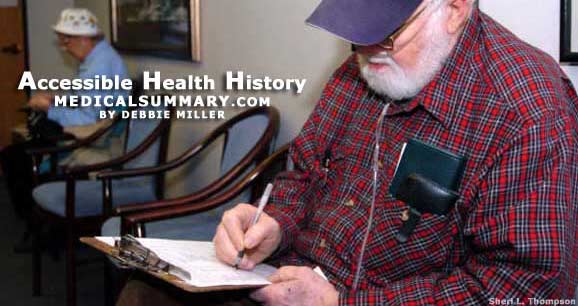 H
ave you ever worried that a mistake would happen if a loved one was hospitalized and you were not available to give their medical history? Are you ever frustrated when medical personnel ask what medications you're on and you can't remember them all? What if you get sick or are injured while traveling? The medical personnel will have no records of your health history.
The founder of MedicalSummary.com, Margie M. Kelly, came up with the concept of an Internet-based health summary after trying to keep her mother's critical health information updated and her doctors well informed. Kelly needed a system to easily record and maintain her mother's medical information. She realized others must deal with the same issues, and decided to take charge and start a company that would offer these exact services she was looking for herself.
MedicalSummary.com states that they are "a secure Internet-based health information service [that] stores vital personal medical information online and allows for the instant retrieval and updating from anywhere in the world."
The MedSum Card provides medical personnel with important health-related information.
Users of the service receive a private user name and a password so that they can edit and manage their digital health records. They also have the ability to print a MedSum Card, which is a portable brief medical summary that gives first responders the vital information they may need in an emergency.
The MedSum Card includes items such as: Contacts, physician's name, insurer's information, blood type, allergies, medications, medical history and immunizations record. The MedSum Card can be printed in three different sizes, in black-and-white or color.
In addition to the MedSum Card, your personal file is accessible online 24 hours a day, seven days a week. This may come in handy if you are hospitalized away from home. Medical personal can access your information with your permission, using a private user name and password.
For security and privacy, MedicalSummary.com uses VeriSign's Secure Socket Layer (SSL), the industry standard for the secure transmission of data. They will not sell or loan your data for solicitations.
If you are not computer savvy, fill out a paper form and personnel at MedicalSummary.com can enter the information for you. They will send you four copies of your MedSum Card. Every six months, the company will contact you by mail to update information.
Founder Margie Kelly states that it is safest to use the generic drug name on your card, as generic names are more known internationally than brand names of medication. MedicalSummary plans to expand their language capabilities, for easier use around the world.
The cost for an individual is US$ 30/year; a family subscription is US$ 55/year (2 subscriptions), and each individual after that is US$ 10/year. Group rates are available for more than 20 subscriptions at US$ 25/year.
I believe this is an excellent service, and the price cannot be beat.
Testimonials for MedicalSummary provided by the company include:
"I am in the golf business, and travel every week. Sometimes by car, often by plane and so I am in different places all the time. I carry the Med Sum card in my money clip. I hope I never need to use it, but it's good to know that all my pertinent information is there. The card will save time in case of an emergency.
I also have a daughter who will be a junior this year in college. She's a cardholder as well. She is headed to Italy to study for the fall, and the card is a must in my eyes. With the time difference and all, the card will allow someone there to make necessary decisions right away."
Don Niepoth
Athens, Georgia
"I am an Emergency Physician who chaired a busy academic department for a number of years, and who more recently has assumed the position of Chief Medical Officer at my institution, the Maine Medical Center in Portland, Maine.
The true value of having privacy-protected, readily available, accurate and patient-focused demographic, medical and contact information is priceless. During my own experience of needing to make immediate and important decisions in the ED (Emergency Department) all too frequently been forced to make these decisions without having essential patient-specific medical data. Obviously, this is not an optimal way to practice medicine.
MedicalSummary provides both the patient and the clinician with the fundamental information that is needed: allergies, medications, medical conditions, important contacts, etc. It is efficiently formatted in a user-friendly way, both in its hard and electronic forms. It can be easily updated to ensure accuracy. And it is readily available to those with a need to access this information.
I have also learned that this product is not just of value to the elderly patient with multiple medical conditions and medications. It is just as valuable for the weekend athlete who might suffer an unexpected cardiac event during exercise.
In summary, I am impressed that MedicalSummary is a well-designed and clinically credible software [Internet] product that promises to fill a much-needed niche in patient-centered healthcare."
George L. Higgins, III, MD
Cape Elizabeth, Maine
Further information
Medical Summary
www.medicalsummary.com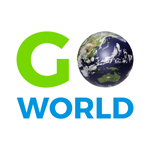 Latest posts by Go World Travel Magazine
(see all)