The harsh, yet alluring, sounds of southern rock-and-roll music fill the air as the sun shines down from a cloudless sky. My skin is slowly turning crimson as I sip my crisp draft beer and observe crowds of people wandering from one artsy vendor to the next. Knoxville's newly renovated Market Square, dating back to the mid-19th century and located in the heart of the city, has come alive with annual festival fun, local crafts and food as the Dogwood Arts Festival comes into full swing.
This city looks like every other burgeoning urban center, but has that air of southernness that you can find only in the southeastern part of the United States. The pace of life is just a little bit slower, the blazing sun that tends to show its face almost all year round leaves a permanent glow on the faces of the locals, and I don't have to listen hard to hear that all-too-familiar sound of Southern accents.
The bright-white blossoms of the surrounding dogwood trees make a welcoming setting for someone who once came from the South then moved to the Northeast, then made her way out West, and is now on a quick visit to her "homeland."
Being a connoisseur of warm weather, for me, springtime is the perfect time to visit the Southeast. With virtually everything in bloom and the sun showing its face almost every day, the opportunities for outdoor activities seem endless.
As I take in my surroundings I think about all that has happened in this growing city with small-town appeal. Although I am surrounded by modern restaurants and trendy shops, I consider for a moment the history of Knoxville and how it has changed so drastically over the years.
Founded by Governor William Blount in 1791, and named after President Washington's secretary of war, Henry Knox, Knoxville is the third-largest city in Tennessee, and it's full of history and traditional Southern culture. With various historic sites dating back to the Civil War and numerous museums and preserved homes, this small city has become a tourist destination.
Some visitors migrate to the South to feel part of history, others visit this city for its burgeoning arts, culture and music scene. With a population of around 175,000 and growing, Knoxville is slowly taking on a more modern appearance while managing to preserve its history.
To pay homage to the beauty of dogwoods in bloom, the city of Knoxville started the Dogwood Arts Festival in 1960, and over the years, the festival has grown into a grand display of local arts and culture. Held annually in early spring ( April 7-30, 2006) during dogwood blooming season, the festival draws visitors and festivalgoers from all over the nation. Almost all the vendors are from Tennessee, and shoppers can find crafts ranging from hand-blown glass to organic potpourri.
Although the festival grounds are located in a relatively small amount of space, I know from the start that I will need my full three-day stay to visit each of the more than 100 vendors located within the festival grounds. I am instantly delighted with all of the art and original handicrafts.
One of my favorite stops in the maze of booths is Genesis Glass (865-539-2359). As I stand in the midday sun, I am intrigued by the pieces of art that Evan Fridge, hot-glass artist, is producing at his makeshift studio in the center of the festival, and before I walk away, I guiltlessly purchase a one-of-a-kind glass bead as a souvenir.
Just a few blocks from the heart of the action is the Foothills Craft Guild Show, named for the surrounding East Tennessee Foothills, and held in conjunction with the festival. As I wander through the show, a friendly vendor explains to me that any artist or retailer can be a part of the festival, but to be a part of the Craft Guild, the vendor must make every part of their product themselves, no hired help allowed. Although only half the size of the festival, the Guild Show has much to offer to those in search of unique, traditional arts and crafts.
After about an hour of meandering from one interesting craftsman to the next, I come upon Jack Martin, of Hockaday Handmade Brooms (www.hhbrooms.com), a fourth-generation broom maker from Selmer, Tennessee. As he displays the tedious, yet intriguing, broom-making process for curious onlookers, Jack tells me about his craft and the long history behind it.
Originally, brooms were made during the winter months, when farming was at its low season; the brooms were used in trade with other farmers for essential items. Jack continues to use the same form of broom making that his great grandfather created in the early 1900s.
He is an example of how culture and tradition remain alive and well here in Tennessee. Today Jack, along with many of the other artisans, travels from festival to festival displaying his impressive and traditional handiwork.
Visiting with the other vendors, I find the same hospitable attitude and willingness to share without the uncomfortable expectation of purchasing something.
For a relaxing afternoon treat, I head to the main stage of the festival located at one end of Market Square, where a variety of local bands and entertainers perform all day long.
The festival also holds a Bluegrass Showdown competition, with an awards ceremony at the end of the final day of the festival. Bluegrass music was formed and influenced by a variety of cultures, including music brought by 17th-century immigrants from Ireland, Scotland and England, as well as African American gospel music and the blues.
It is played primarily with acoustic string instruments, and almost always includes a banjo and a guitar. It has been popular in the Southeastern region of the States since the early 20th century, and it holds special importance in Tennessee culture. Tennessee is known for its Bluegrass artists, and it is not uncommon to find bluegrass music being played at various locations all throughout the city.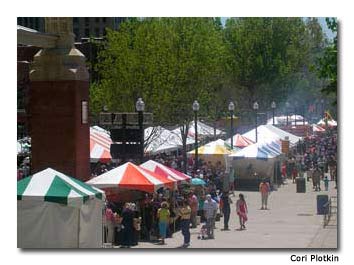 The festival features typical festival fare, such as funnel cakes (delicious fried doughnut-like morsels covered in powdered sugar) and fresh-  squeezed lemonade.
The whole downtown area has recently experienced a renovation and the beginning of a renaissance in art and culture. Knoxville has numerous  art galleries within its city limits, with art ranging from traditional Tennessee handicrafts to more-contemporary works of art. Several new art  galleries have opened recently, and this year brings a new cultural event: the Knoxville Opera's Rossini Festival (April 6, 2006), a celebration of  opera music and Italian culture.
As I explore the city, I come upon the small antique district of Old City, a restored warehouse district with buildings dating back to before the  Civil War. Chock full of funky stores, cute cafes, and antique shops, this section of Knoxville is an enjoyable sidetrack to the more modern  downtown area.
The nighttime scene in Old City is full of life, with bars and nightclubs in turn-of-the-20th-century office buildings and warehouses. Patrick  Sullivan's (on the corner of West Jackson and Central in Old City), one of the oldest pubs in town, is one of my favorite stops.
As soon as I step into the pub, I feel like I have jumped into the 19th century as I observe the long, saloon-style wooden bar and old sepia-toned pictures decorating the walls.
Toward the end of the day, the crowds feel a bit overwhelming, and I take a break for a tour of the surrounding dogwood trees. There are more than 70 miles of scenic drives through picturesque surrounding areas in Knox County and Oak Ridge. These scenic drives, referred to as "dogwood trails," are marked with either pink or green dotted lines in the streets.
In the historic neighborhood of Sequoyah Hills, countless wild dogwood trees in bloom amid the Colonial-style homes are the perfect backdrop to a peaceful afternoon.
If You Go
Knoxville Tourism and Sports Corporation
www.knoxville.org
City of Knoxville
www.ci.knoxville.tn.us
Dogwood Arts Festival
Where to Stay:
Hilton Knoxville
Recently renovated, with average to high-end prices, downtown location.
501 W. Church Avenue
865-523-2300 or 800-HILTONS
Hotel St. Oliver
A traditional inn with historical art and local culture covering the walls, downtown location.
407 Union Avenue
865-521-0050 or 888-809-7241
Where to Eat:
Pasta Trio
Old City Italian restaurant, intimate setting.
119 S. Central Avenue
865-540-3970
The Tomato Head
Lighter fare, with every kind of pizza imaginable, located in the heart of Market Square.
12 Market Square
865-637-4067
Downtown Grill and Brewery
Extensive menu and microbrew beer selection, downtown location.
424 S. Gay Street
865-633-8111
Green Hills Grille
American classics in a casual atmosphere.
4429 Kingston Pike
865-558-0091
www.greenhillsgrille.com