Monet. Cezanne. Degas. Dumas. Hugo. Ravel. Debussy.
It's no coincidence Paris, France has a long history of igniting creativity by seducing the senses on every level. Whether it's the aroma of freshly baked bread, the sight of gardens fit for a king, the taste of chocolat chaud, the feel of rain on your face, or the sound of C'est Si Bon spilling forth from a corner café, there's no better place to nudge yourself out of a mental cul-de-sac than by absorbing the city's abundance of free inspiration.
As my husband attests, I'm never without a notebook when we travel. He'll also say I'm just as likely to put a funny snippet of dialogue overheard in the cookie aisle into one of my plays as I am to build an entire novel around my rubbings of Scottish headstones. It's all about keeping one's eyes open…and inviting one's muse along for the adventure.
You Read It Here First
The French are unapologetic about their reading habits. The night of my birthday, for instance, an older gentleman arrived at Hotel Lutetia's elegant restaurant, Le Paris, with a thick novel tucked under his arm which he proceeded to read throughout his whole meal. During our next day in Paris, we passed two ladies reading paperbacks over morning coffee at a patisserie. When we returned three hours later, they were still there…and still reading. Whether you're enjoying a book – or writing one – French servers never rush you, affording you plenty of time to soak up ambiance and collect imaginative thoughts.
Bookstores abound, especially in the 5th and 6th arrondissements (districts) in Paris. The following gems easily fit our duel quests for amusement and historical research.
Shakespeare & Company (37 Rue de la Bûcherie) – This iconic Left Bank shop dates from 1951 and not only hosts workshops, readings and performances but is imbued with the approving – albeit ghostly – presence of Hemingway, Fitzgerald, Joyce and Stein. (https://www.shakespeareandcompany.com)
Galignani (224 Rue de Rivoli) – Here we chatted with kindred lovers of literature, fine art and pop culture in a bookstore still run by descendents of the Galignani family – 16th century entrepreneurs who recognized the printing press' commercial potential as a way to distribute reading materials to a broader audience. (https://www.galignani.com/en/galignani.php)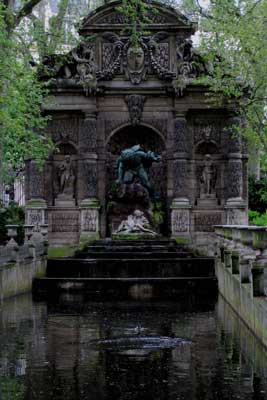 Window Shopping for Plots in Paris

Paris is pricey but not if you're shopping for story material. Strolling past Champs-Élysées florist shops, we speculated what flowers my fictional characters would buy for a first date, an apology or a proposal. The furniture, jewelry and antiques displayed in Le Marais store windows tweaked our intrigue about their future owners. (https://www.parismarais.com/) What do Le Bon Marché (https://www.lebonmarche.com/en.html) salespeople do on their days off? We made up dramatic/comedic/supernatural bios for them.
At outdoor markets such as Rue Montogueil, Saxe-Breteuil or Monge – a Parisian tradition since the 16th century – we eavesdropped on buyers and sellers. ("Non, mon petit, we are not buying this plump chicken as a pet.") And while – contrary to movies – not every hotel room has an unobstructed view of the Eiffel Tower, there's no shortage of plot possibilities transpiring on rooftops and balconies.
Scenic Seduction and Time Travel in Paris

What better place to hit the "pause" button and people-watch than a park bench? The 17th century Medici family is credited with creating botanical havens such as Le Jardin du Luxembourg and The Tuileries (where I'm pretty sure we sat in exactly the same spot where Victor Hugo pictured Marius watching Cosette and Jean Valjean).
Meanwhile, Bois de Vincennes may have more acreage, foliage and watchable characters than Manhattan's Central Park but on an intimate scale we preferred the lush, hidden garden atop the elevated La Promenade Plantée, a former railway line stretching from Bois de Boulogne to Bastille. (https://www.paris-walking-tours.com/promenadeplantee.html)
Equally inducing to our Midnight in Paris visions of an earlier era are the tracks of La Petite Ceinture, an orbital train system dating from 1852 but discontinued in the 1930's. (https://www.messynessychic.com/2013/06/17/a-walk-along-the-paris-inner-city-railway-abandoned-since-1934/).
Will the next Night at the Museum be shot in Paris? I'll want to be there if the statues come to life at Musée National du Moyen Age, a 15th century mansion (formerly Hôtel de Cluny) dedicated to everything Medieval. (https://www.musee-moyenage.fr) If only those walls could talk!
And who'd expect to find a pagoda in the heart of Paris? Across the threshold of Maison Loo, we were transported to both the Far East and the height of Belle Epoque. Can a cross-cultural mystery be far behind? (https://www.pagodaparis.com/la_maison_loo.html)
Dead Men Do Tell Tales in Paris

Upon the recommendation of a couple we met at breakfast, we spent our last morning in Paris on a self-guided tour of Montparnasse Cemetery. (https://www.pariscemeteries.com/pages/montparnasse.html) Open since 1824, it's the final resting place of sculptor Frédéric Auguste Bartholdi, poet Charles Baudelaire, playwrights Eugene Ionesco and Samuel Beckett, and actress Jean Seberg.
For me, the most indelibly haunting images were the memorials of WWI soldiers whose grieving families spared no expense honoring the sacrifices of sons, brothers and husbands.
As we were leaving, a sudden breeze drew our attention to the eerily flapping open door of a Tardis-styled sepulcher. Whatever conclusions might be drawn, a ghost story was already taking shape in my head before we boarded the plane to come home.
If You Go 
Museum lovers? Save yourself time and money by purchasing a 2/4/6 day pass before you depart. (https://en.parismuseumpass.com) This gives you access to 60+ museums and monuments. At both The Louvre and Musée d'Orsay, holding our passes above our heads got us an immediate wave-through to the front of the line.
Paris has 20 arrondissements. If you're not sure of a venue's location, look at the last 1 or 2 digits of its postal code; i.e., 75006 is in the 6th district.
Take Paris Personally by Sally Peabody is an indispensable guide for first-timers, especially those who opt to rent an apartment and buy local produce at farmers' markets. (Book excerpt: www.yourgreatdaysinparis.com/po_takeparispersonally.htm.) Pack an extra cloth bag for your purchases, go early morning for best selection, and don't be shy asking for food samples!
Author bio: Former actress and theater director Christina Hamlett is an award-winning author whose credits to date include 30 books, 155 plays, 5 optioned feature films, and hundreds of articles and interviews. She is also a script consultant for the film business (which means she stops a lot of really bad movies from coming to theaters near you) and a professional ghostwriter (which does not mean she talks to dead people). https://www.authorhamlett.com