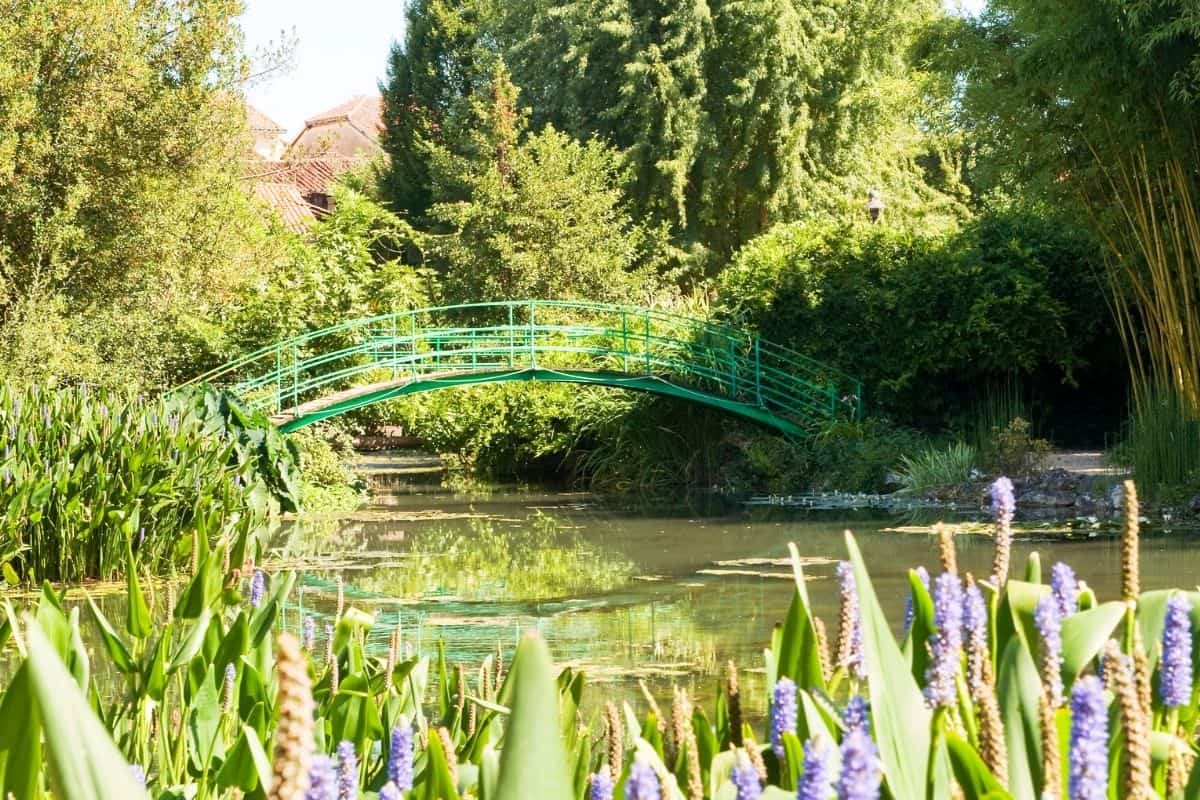 The stage was set when my son finished his French baking program in Paris and I went to help him pack and move back to Chicago.
He suggested we drive up to Normandy after closing his apartment in Paris and before leaving France. Until now, his older sister had been our travel planner. However, this was something he wanted to do.
First Signs of Change
He planned the trip and was engaged throughout. It became quickly evident he no longer needed music and video games to keep him occupied on long drives. In Étretat, he gladly climbed the cliffs with me. He also sat satisfied on the rocky beach watching the waves and engaging in enjoyable conversation over lunch.
On Mont Saint-Michael, he noticed fine details in the workmanship. Furthermore, he marveled at the slave-driven wooden wheel used to hoist loads up from the village to the castle above.
At Omaha Beach, he was clearly moved, as was I, by the solemnity of the place and the magnitude of the violence that had transpired there so many years ago.
An Inspired Detour
But Monet's Giverny Garden is where my parenting heart was warmed. The visit was actually not planned. But when my son said, "Hey dad, Monet's home and garden are pretty much on the way. Let's leave early enough so we can go there." I gladly agreed.
Monet's house was unsurprisingly artful. It sat broadside to the street and was long and narrow. There was a crowd when we arrived so we began by taking the stairs up to the second floor. As they creaked with each footstep, I felt a sense of familiarity and welcome. My son commented on a similar feeling
Touring Claude Monet's Home
As we visited the rooms, he would remark about a piece of furniture or artwork he found particularly interesting. At the time my mind was occupied with the place. But I would soon realize that something about my son was different.
The rooms were each gorgeously furnished and engagingly eclectic in their detail. There were Japanese black and white prints next to colorful paintings adorning the walls.
The walls themselves were painted in a variety of cool comforting colors. Not surprising I suppose, given we were in the house of a master painter.
The rooms, although small, were homey and peaceful. The wooden furniture, some with the most intricate inlays, were pieces of art in their own right. Each room was enticing and visually appealing.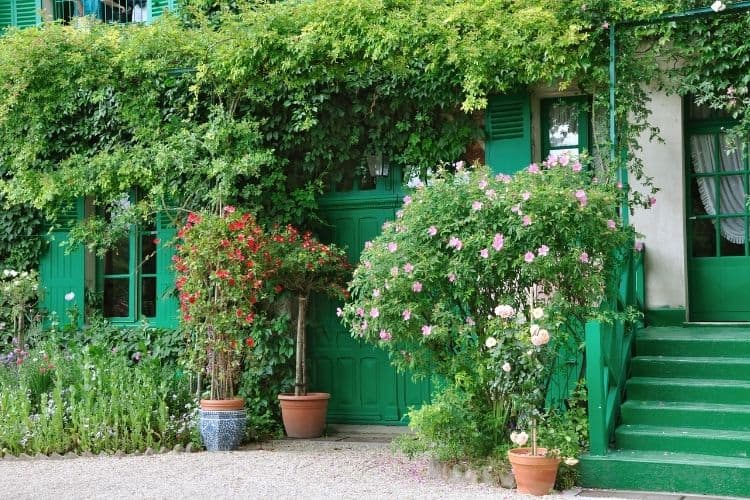 Monet's Inviting Kitchen
Of all the rooms, the most special was the kitchen. That was where it happened. We walked through the dining room with its pale-yellow walls and splendidly set table into the kitchen. It may be the most inviting place I've ever been. You could almost smell the fresh bread and sense the family meals that had been created in there.
The blue tiles were in harmony with the impressive collection of copper cookware hanging on the walls. Oh, the stove. It was a wood-burning masterpiece. My son paused, bent and lovingly examined the intricate and very large stove with awe and passion.
It seemed he was imagining himself at home in his kitchen, white coat and apron on, using a wooden peal to lift a piping hot baguette from the oven. I'm certain he could almost smell the fresh bread.
I must have had a huge smile on my face as I watched my son, oblivious to anyone else. It was there in Monet's kitchen that I realized the boy who I had held in my arms at birth was becoming a man. A man who I not only loved but was learning to respect as the adult he was becoming.
Without a word being spoken about it, I knew our relationship had changed. It had matured, and it was the magic of Monet that made that special moment possible.
Monet's Giverny Garden
When I stepped from the house, I realized, the garden was big; I didn't, however, realize just how big. Monet's Giverny Garden lies on two sides of a road. I saw trees and arbors and off in the distance a large weeping willow, one of my favorite trees.
The willow was part of a water garden, which we eventually accessed via a tunnel cut under the road. I suspect the tunnel was added during the garden renovation that took place in the 70s.
With a panoramic sweep, I saw this was not your typical carefully pruned and manicured formal garden. The walkways were wide, frequent and well-tended so many people could enjoy the garden at once.
The plantings, however, were wild and seemingly neglected. Wild for sure; neglected definitely not. Wild, I found later, was by design. It seems Monet did not like order, other than the order of color.
As we walked, I realized the garden was an intricate work of art. It was planted to one man's vision but growing by a greater design.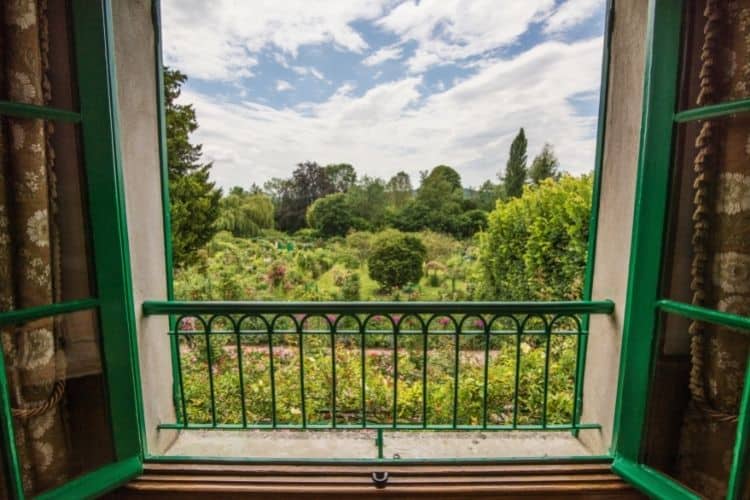 Taking in the Colorful Scene
From the house I scanned the whole; I am the type of person who likes to see the forest before enjoying the trees. The forest, or panorama of the garden, was, dare I say, not all that alluring.
It was only when I examined it closely that I found the hidden gems and details. I highly advise any visitor to do the same. Stop, enjoy the scent and if not from one of the taller plants, seek the source beneath.
It seems that Monet's Giverny Garden was planted to provide year-round color. Whether that be varying shades of brown in the dead of winter or vibrant, bright bursts of color in the spring and summer.
As I bent to look closely at one eye-catching violet flower, I moved it aside to discover another purple yet different flower.
I realized I could spend an eternity examining them all and likely miss many, unlike the bees. They were busy doing what bees do, collecting pollen from every bloom and in the process keeping Monet's art alive.
The garden near the house was a riot of color and a profusion of scents on that summer day. I could only imagine beginning each day by opening the window of the bedroom and taking in this natural potpourri.
Inspiration for Monet's Water Lilies
The water garden was quite another matter indeed, and as it ended up, was my favorite. Why? Simply put, it included water, and slowly flowing waters are calming.
After coming out of the bright, clean and rather crowded tunnel, I crossed onto a vibrant green Japanese bridge. It was bedecked with violet wisteria and a stream laden with fallen flower petals flowed underneath.
Facing me was a small forest of bamboo on an island sitting in a lily-padded pond. I wasn't quite expecting that in the north of France, but there the bamboo stood green and healthy. A path rounded another pond with a bridge from which I stood and gazed back at where I came from.
As I looked across the pond at the breathtaking scene, I realized I was likely standing at a spot where Monet himself once stood. The garden and bridge were mirrored on the surface of the water. Unlike the real scene, the reflection shimmered and swayed with the small ripples caused by a fish or turtle breaking the surface.
Despite not being familiar with the artistic masters, it was clear this view must have inspired a Monet painting. I later learned the scene inspired not only a painting of the bridge but also some 250 works on the lilies themselves.
Precious Memories
All too soon, I'm afraid our original plan took precedent. We had to be returning to Paris and our flight home.
As we stepped back onto the street outside Monet's house and garden, I looked at my son. It was then I realized the man standing beside me had appreciated our short excursion as much as I had.
With contented hearts, we drove out of the French village taking with us a precious memory. I suspect that long after I am gone my son will fondly remember this experience as one of those special moments in his life ─ one he shared with his father.
Go to Monet's Garden and I am confident you too will have an experience that will last a lifetime.
Author Bio: Until his retirement in 2020, Bradley Wilkinson was lead communications strategist in Marketing & Communications at Johns Hopkins Aramco Healthcare, having previously retired from the Saudi Arabian Oil Company (Saudi Aramco) as a senior public relations specialist. His corporate writings have been translated into Arabic, Japanese, Korean, Chinese and Hindi, and he served as Saudi Aramco's strategic messaging team lead for numerous international energy conferences and events including the United Nations Climate Change Conference (COP 18) in Qatar.
He has written and designed an e-book titled A Jail of the Mind: An Alzheimer's Story and written an unpublished novel titled The Weight of Dreams and a memoir on 25 years of living as an expat in Saudi Arabia. Following a 250-kilometer camel expedition into the Empty Quarter in 2010, he published articles published in the company's international magazines, domestic Saudi media and the Saudi Arabian Airlines inflight magazine. He also published a story of the expedition titled "From Farm Land to Desert Sand" in the literary journal The McGuffin. His writing began around 1988, when the Wayne Town Fire Department, then one of the world's largest all-volunteer fire departments, commissioned him to write its official history book.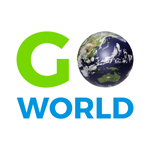 Latest posts by Go World Travel Magazine
(see all)