A merchant hands our guide several rounds of bread while they chat. The fresh, warm bread tastes of delicate herbs and spices, like everything I've tasted here in Morocco. Another round is passed and our group moves on through this mesmerizing dream.
Our guide confidently leads his flock, like lost sheep, herded in a single-file line. He warns us repeatedly that if lost, it will take days to be located. He doesn't appear to be a friendly man, and he seems somewhat pompous, but here today, we must trust him.
A steep, narrow stairway leads to a shop filled with colorful leather goods. I purchase a pair of leather babouches (slipper-like shoes) in bright saffron, a color I will forever associate with Morocco.
We are guided up a staircase onto a terrace several stories about the street, where skilled tanners are crouching and balancing over enormous vats filled with dyes in shades of bright saffron, poppy, indigo and black. This area is where some of Morocco's magnificent, world-renowned leather goods are colorfully adorned. A fellow traveler, eager to visit the leather merchandise one story higher, vanishes, escaping the guide's watchful eye.
Suddenly aware of her absence, he quickly dashes after her. Scolding her on the way down to the busy streets below, he again reminds us all of the danger lurking within these walls.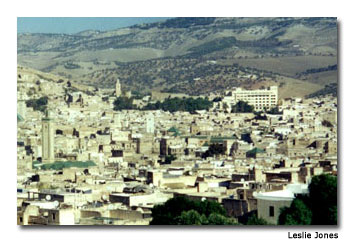 The guides' harsh words have fallen deaf on the ears of those of us with the greatest curiosity. As we proceed down the guide's chosen path, I evasively move to the back of the line, walking a bit slower, to peer into the many intriguing doorways. As I catch brief glimpses of ornately tiled courtyards, I long to wander through one of the stylishly decorated residences.
Gated residences, mosques and palaces here are private, with courtyards open to the heavens. Filled with fountains and trees, they serve as reminders of nature and of Allah's bountiful blessings.
Allah's blessings are recounted daily at the nearby venerable Kairouyine Mosque, one of the oldest and largest mosques in Africa, situated at the heart of the medina. The spectacularly ornamented building was erected in 810. The associated university was founded in 859.
As we are herded around another corner and up a little hill, we encounter a berber rug shop, filled with colorful designs. We are seated and sugary sweet mint tea is served while a rug purchasing "show" begins. Several individuals are suddenly selected from the group and led to a room far above, to be shown more samples.
As quickly as I'm herded upstairs, I sneak back down; I'm not buying their selling schemes. While several in the group purchase rugs, I again venture outside.
Continued on next page