There is very little that can entice me to get up at 4 a.m., but how often do you get a chance to bathe a Buddha? And not just any Buddha, but one that the actual real Buddha is said to have embraced.
Travel in Myanmar (Burma)
The statue at Maha Muni Pagoda in Mandalay, Myanmar is believed to be one of only five likenesses of Buddha created during his lifetime. And the daily cleansing ritual for the hundreds of pilgrims who attend is both literal and spiritual. It's just one of the many unusual experiences embodied in Myths and Mountains' Myanmar Odyssey Tour.
But the face that Myanmar – formerly known as Burma – is a beautiful and fascinating country that deserves to be visited and appreciated cannot be considered in a vacuum. The current bloodshed in the northern Rakhine Province where Muslim refugees are either being persecuted or are themselves Bangladesh terrorists, depending upon whom you ask, is part of the equation. But more on that later.
Yangon's Shwedagon Pagoda
Starting our travel in Myanmar with a visit to Yangon's Shwedagon Pagoda was like beginning a trip to Switzerland at the top of the Alps. There's only one way to go after that, no matter how beautiful the descent. Built in 525 B.C., the immense complex is overwhelming to navigate and disarming to reflect upon – except for the escalators. They were a surprise. Very prescient folks, I thought, some 2600 years ago. It was hard not to feel humbled by the mystique, magic and magnificence of the cosmically vast structure.
We were invited to participate in the nightly candle lighting ceremony, said to promote longevity. We were at first quite honored – until we realized that the expectation was that we would light all 1000 wicks. Fortunately, other visitors chose to participate in the process. Otherwise, we would still be there.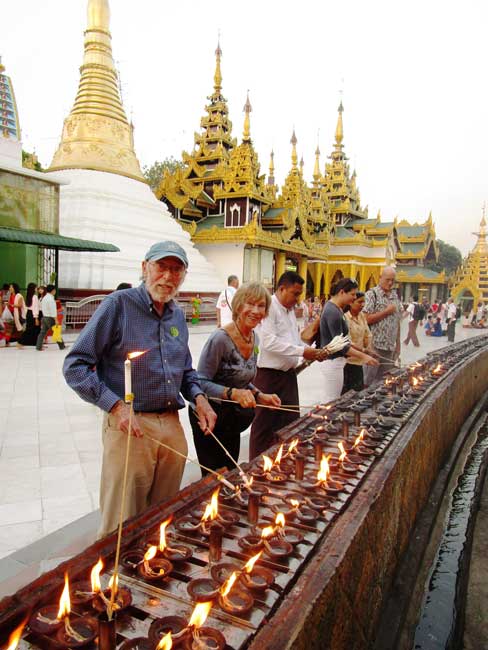 The many shrines, pagodas, temples, stupas and monasteries that followed continued the sense of awe embodied in the attitudes of both the faithful and the infidels who visit there. Golden pagodas are as plentiful as the Golden Arches here, and there are stupas on every street corner instead of Starbucks.
Some pagodas are so lit up with gold-leaf engravings and flashing neon lights that I momentarily thought I might have been at a Disneyworld Buddhaland exhibit. It was sort of the sacred bordering on the sacrilegious. Then humbled returned.
Shan State
A visit to Shan State, home to 34 minorities, all of whom have different cultures, language, foods and clothes, boasted a much more other-worldly and ethereal terrain than Yangon.
If, as our guide Willy kept reminding us, Myanmar has been so "isolated" – always conveyed in a conspiratorial whisper – here the feeling was even more remote. Just the presence of so many water buffalo let us know we were in another world. Perhaps that's why stopping at a vineyard for a wine tasting seemed totally incongruous, but I overcame my initial surprise to happily indulge.
Inle Lake
A visit to Inle Lake was more in keeping with the area. With its serpentine series of canals navigated by long, narrow boats, Inle is reminiscent of Venice and its gondolas, with an equal amount of commerce conducted on water. But even out-Venicing Venice, the houses, shops and schools are all on stilts – plus floating gardens missing in the Italian city. The hill tribe villages as well are very different from Venice's cosmopolitan vibe. Nor have I ever seen a gondolier steer his boat or catch a fish with one leg wrapped around an oar, an amazing feat for which the Inthas are famous.
If every pagoda, shrine and stupa you visit on the ground is impressive, imagine floating over 2200 of them in a hot air balloon. Such was the glorious adventure in Bagon. It was like watching over them all from heaven if only Buddha believed in heaven. Although, at this point, with my eyes glazing over at the mere mention of another pagoda, the thought of actually having to visit any of them once back on the ground made me want to stay in the balloon indefinitely. The champagne breakfast awaiting us perked me up.
Fortunately, there is a lot more to appeal to visitors beyond pagodas. The local markets, small villages and contacts with people leading their everyday lives, usually in the form of making something by hand, greatly contributed to the experience.
Continued on next page