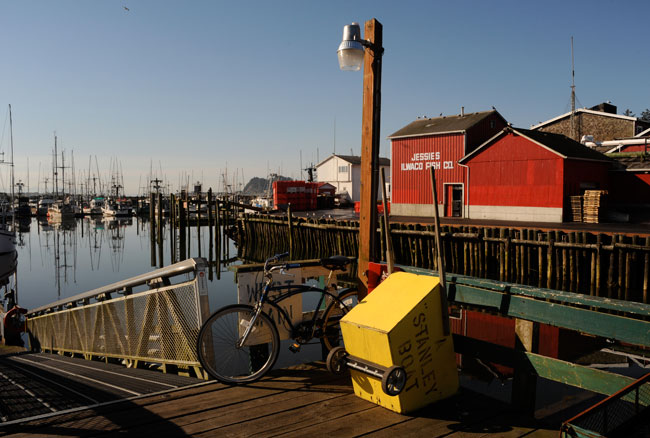 It has begun, my trip down the Pacific Coast. I am filled with anticipation for what is ahead. We leave Seattle and head southwest towards the U.S. Route 101. We enjoy the sun from the open sun roof, but admit there is a little bit of chill in the air that makes me appreciate not having the convertible I dreamed of.
As soon as our car hits the PCH (Pacific Coast Highway, US 101), we make our first stop in Raymond, Washington. Raymond was a former lumber town and is known as the "gateway to Willapa Bay."
Willapa Bay has over 260 square miles of water surface and is the second largest estuary along the Pacific coast. As you head further down the coast, you can stop at Willapa National Wildlife Refuge. But before we pass the refuge we choose to stop in Raymond.
Raymond, Washington is home to the Northwest Carriage Museum. When my husband heard we were stopping at a carriage museum, I have to admit he wasn't overly excited. Classic cars would have drawn a bigger smile.
However, by the time we left the museum, he was quite impressed. The carriage museum has an impressive variety of 19th century carriages, buggies and wagons that go way beyond the typical horse drawn buggies we often see. Their collection even includes a hearse from Vienna, Austria. The museum has become so well known, that carriage owners seek them out to donate a cherished carriage. It's a must-see if you love history and is just a quick stop from the highway.
After visiting the museum, we hop back on the PCH and continue south. Though we didn't stop in South Bend, the Pacific County Courthouse is a beautiful work of architecture. The dock in South Bend features a new oyster bar/shack if you are feeling hungry. Or you can stop to grab a coffee at Elixir Coffee and Flowers before visiting the Willapa National Wildlife Refuge down the PCH.
Eventually, we arrive at Long Beach Peninsula on the southwest coast of Washington. It is a 28-mile long peninsula with the Pacific Coast on the west, the Columbia River on the south and Willapa Bay on the east. It boasts one of the longest beaches in the world, a 28-mile stretch of public beach.
Cape Disappointment State Park on Long Beach Peninsula includes miles of trails and two historic lighthouses, North Head and Cape Disappointment. Long Beach Peninsula is also home to the state's first USDA-certified organic cranberry bogs.
Dining on Long Beach Peninsula is a special treat. The use of seasonal locally-gathered fresh seafood, Willapa Bay oysters, wild berries and wild mushrooms heightens the culinary atmosphere.
Our dinner tonight is at The Depot Restaurant in Seaview, which is housed in an historic 120-year-old Clam Shell Railroad station, one of the last remaining in the region. Try the award-winning, gourmet style clam chowder which includes razor clams from the Pacific Ocean side and steamer clams from the Willapa Bay side.
I have never had any better clam chowder than this. A land-locked Colorado girl, I also enjoy fresh exquisitely prepared salmon. (I'm in heaven.) Owners Nancy Gorsche and her husband, award-winning chef Michael Lalewicz, have done an extraordinary job.
Topping off the day is our stay at Boreas Bed and Breakfast. We are warmly welcomed by innkeeper Susie Goldsmith and her husband Bill, and feel as if we are with friends. We enjoy a walk to the ocean (only 5 minutes), time in the private outdoor hot tub gazebo, homemade goodies and tea, and a very comfortable bed.
The next morning we savor another walk to the beach, coffee, and an over-the-top breakfast that includes local berries and local mushrooms.
After breakfast, we waddle to the car to head to Cape Disappointment State Park. Some visitors might be more adventurous and might want to pick and shuck oysters at the public oyster bed or rake for clams at the bay. I would rather just have someone do that for me. So we head to the park. Before our hike to Cape Disappointment Lighthouse, we walk through The Lewis & Clark Interpretive Center to learn a little more of the history of their expedition and this area. The sun decides to play hide and seek today behind the low lying clouds, but no rain. What a beautiful area! But it is now Day 2 and time to head down the road a ways. We hop back in the car and head south.
Tips: Purchase a Discover Pass for the day at Cape Disappointment State Park at automated stations. Some local stores also carry the pass. It costs $10 for the day or purchase an annual pass for $30 if you plan to be in Washington longer. Add $5 dollars if purchased at a Washington Department of Fish and Wildlife dealer. Visit https://www.parks.state.wa.us/167/Discover-Pass-Fees for more information.
For more ideas of activities, lodging and culinary delights on the Long Beach Peninsula, visit www.funbeach.com
This is part two in our continuing series on Traveling the Pacific Coast Highway. 
Next Up: Sea Lions, Ear Plugs and the Columbia River
Author Bio: Debbie Miller Pond is a freelance travel writer for Go World Travel Magazine, a digital publication covering travel in more than 90 countries. A Registered Nurse, Debbie writes frequently on travel health, as well as travel in North America.