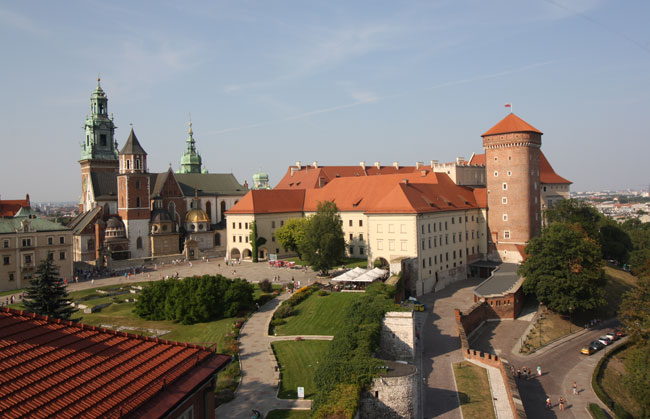 Old wooden floorboards creak with every step as I ascend the narrow stairwells, dodging and ducking under a crisscross of support beams. It's only a 70-step climb up Krakow Cathedral's Sigismund Tower, but at the top hangs an enormous bell – a celebrated national symbol – and the views stretch into the heart of the medieval Old Town spared from major damage during World War II.
Named after a Polish king, the 11-ton Sigismund Bell has tolled for such momentous and even horrific events in country's turbulent history as the 1939 German invasion, and Pope John Paul II's first visit as pontiff to his homeland when still under Communist rule. But seeing where the eight-foot-wide bell first clanged in 1521 becomes even more exciting with a look out the window.
"We see the roofs of many churches because at the time when Krakow was the political capital of Poland, it was also the center of religious life," city tour guide Marta Weigel explains as we look out at a skyline of red-roofed facades capped with Renaissance and Baroque steeples. From up here, I can also see where medieval city walls once ringed the Old Town – the walls long gone, replaced with a leafy greenbelt and statue-studded park called the Planty.
The bell tower is just one vantage point to see Krakow from above, giving the visitor – who's up to the challenge of huffing and puffing up twisting narrow steps – a new perspective on exploring this Polish city. Others include the medieval twin spires of St. Mary's Church and the stand-alone Town Hall Tower, both looking down upon the pedestrian bustle of Market Square, one of Europe's largest.
Krakow Cathedral, where Karol Wojtyla served as Archbishop before becoming pope, sits atop Wawel Hill within a walled fortress described by some as "Poland's Acropolis" or Kremlin. Climbing the 137 steps up Sandomierz, one of Wawel's three redbrick watchtowers, offers an impressive aerial view of the Royal Palace with its ornate tapestry rooms and courtyard, and a broadside look at the Cathedral's signature domed chapels housing the tombs of kings. They include Sigismund Chapel, its gilded dome glimmering in the midday sun, and the adjacent Vasa Chapel with a Baroque, cherub-decorated interior.
In Market Square, I twist and squirm while climbing Town Hall Tower, many of its 130 stone steps staggered and uneven. The view, however, is worth every grunt when looking down upon pedestrians dodging fluttering pigeons near the elongated Cloth Hall market. Diners huddle under umbrellas at outdoor cafés, and crowds cluster around accordion-squeezing and guitar-plucking street musicians hustling a few zloty coins.
Continued on next page