Finland was not exactly the most logical place to end my nine-week backpacking tour of Eastern Europe, but I'd received an invitation from my Parisian friend and former roommate Agathe to come and visit her new place of residence, and I couldn't resist such a golden travel opportunity.
From the moment I stepped off the airport shuttle on the eastern side of Helsinki's Railway Square, I felt small. In front of me, Helsinki Railway Station dominated the square, its arch-shaped façade guarded on either side by enormous, lamp-wielding statues. Everywhere I looked was a succession of large and beautiful buildings, testaments to the creativity of 19th- and 20th-century architects.
Despite the grandeur of the architecture, there were few high-rise buildings. This had the effect of making even the sky seem bigger, as massive gray and white cloud formations drifted overhead in a wide expanse of concave blue sky.
Agathe would be at work until late afternoon, so I would explore a few of Helsinki's cultural and historical highlights before meeting up with her.
For centuries, Helsinki has been a strategic military center, due to its close proximity to Russia, Germany and the Baltic countries. Founded by King Gustavus Vasa of Sweden in 1550, Helsinki remained part of Sweden until Finland declared independence in 1917.
Devastated by fire in 1827, Helsinki was rebuilt bigger and better than ever, giving it the wide avenues and architecture it is famous for today. Although the Soviets heavily bombed Helsinki during World War II, the city emerged from the conflict relatively unscathed, and it was never occupied by enemy forces.
My first stop was one of Helsinki's proudest historical landmarks, Suomenlinna Fortress, a Unesco World Heritage site. The fortress was built beginning in 1748 atop a series of six interconnected islands, just 15 minutes by ferry from the mainland. It was designed to be the "Gibraltar of the North," a stronghold to protect the then-Swedish nation from the growing Russian threat.
To my eyes, Suomenlinna looked more like a peaceful suburb than a fortress. A school, a church, seven museums — most of them related to the military, as well as a toy museum — and several small shops were scattered amid grassy hills surrounding the walls.
Parks and beaches provide numerous opportunities to enjoy the serenity of the islands. I strolled and enjoy the stunning views over the Gulf of Finland. Along the outer walls, aging cannons gazed out to sea, as if defending the islands against some invisible enemy.
The afternoon was already waning by the time I got back to the city center, so I called Agathe and arranged to meet her for a choir concert at the intriguing Temppeliaukio, or Rock Church.
Carved out of a solid rocky outcrop in 1969, the dome-shaped church boasts excellent acoustics for its many free concerts. My footsteps echoed in the cave-like interior, and the many candles burning in sconces along the walls added to the hushed atmosphere.
A local elementary school choir performed a variety of gospel and classical songs. The children were adorable in their identical red frocks, and I was interested to note that most were blond haired and blue eyed, like the majority of people I'd seen in Helsinki thus far. That morning, I'd seen so many tall, blond, beautiful people I'd begun to feel as if I'd walked into a Calvin Klein ad.
After the concert, Agathe and I walked along some of Helsinki's main streets. Sidewalk cafés were filled with people sipping coffee, and the shopping district buzzed with pedestrians laden with bags. Most of the side streets were quiet and peaceful, the lack of pedestrians and traffic almost unsettling to my city girl's eyes.
This quiet proved to be deceptive. As I learned that evening, Helsinki comes alive after dark, when young people head to the city's many bustling bars and nightclubs. By midnight, Agathe and I were standing in a long queue of well-dressed partiers outside Kaivohuone, a trendy night club located just off the park of the same name.
Formerly a restaurant, this 165-year-old building is the summer haunt of Helsinki's young and fabulous, and well worth the wait. Both the indoor and outdoor bar and dance areas were packed with dancing, talking, drinking people, everyone dressed to the nines and ready to party the night away. Agathe and I quickly joined in.
Although the ratio of women to men was about five to one, the legions of beautiful women seemed to have no qualms about dancing together in groups. Agathe and I danced with some Finnish girls most of the night, and had a few giggles about the fact that, even with high heels, we were the shortest of the group.
At dawn, we found ourselves walking barefoot back to Agathe's apartment, our shoes dangling from our fingertips. Next time we go dancing all night in Helsinki, we promised, we'd wear sneakers.
The day before I returned home, I took the elevator up to the terrace bar of the Sokos Hotel Torni, to get one last look of the city from above. Along the waterfront, the choppy waters of the Gulf of Finland reflected the cloudy sky in fragments, as if I were gazing into an infinity of broken mirrors.
In front of me, the streets were silent once again. Yet inside those buildings, I knew, people drank and danced, ate and talked, made friends and fell in love. For those people, Helsinki was not just a place to visit. It was home.
If You Go
Helsinki City Tourist & Convention Bureau
www.hel2.fi/tourism
Finnish Tourism
Finn Guide
www.finnguide.fi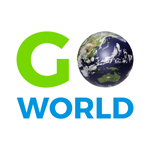 Latest posts by Go World Travel Magazine
(see all)