We were looking for a "different" kind of cruise, so after reviewing dozens of colorful cruise brochures, husband Rob and I chose the seven day Coastal Wine Country itinerary on the Golden Princess. We liked the Los Angeles-Vancouver itinerary and ports. Best of all, it would take us to wine country.
Coastal Wine Country Cruise
After picking up our rental car in Los Angeles, we headed to Pier 93, where it took only 15 minutes to check in. Just back from dry dock refurbishing, the 3,100 passenger ship had a new carpet smell and a renovated Horizon Court buffet. Throughout the ship we found friendly international crew eager to please. We noted today's cruisers are somewhat younger and prefer casual dress.
Many Food Options
We chose "Anytime" dining in the Bernini (main) dining room. Making a standing 7 p.m. dinner reservation enabled us to bypass a long entrance line. While dining with congenial cruisers from Australia, Canada and throughout the U.S., we enjoyed exchanging tips and anecdotes with other veteran cruisers.
Waiters delivered sumptuous meals with smiles and humor. Anyone trying to decide between two desserts got both! One of my favorite meals was a shrimp cocktail followed by artichoke soup, green specialty salad, delicious broiled salmon and a sinful dessert served with humor and flair.
A popular casual dining option, International Café served European-style sandwiches, salads and decadent desserts 24 hours (extra charge for beverages.) Cruisers can find alcoholic beverages in seven venues and food in nine.
Onboard Activities

Music is a big part of the cruise experience. Entertainment venues offered everything from folk and classical to jazz and rock, as well as dance music. The Princess Theater hosted Broadway-style production shows with singers and dancers, plus comedians, a mentalist and more. In the Piazza on deck five things were always happening: a plethora of musicians, fashion shows, spelling bees, games and more.
To work off fat grams, cruisers hit the fitness center, swam, danced, used the sports deck or simply circled the ship on the promenade deck. With a casino, karaoke, trivia, art shows, wine tasting, lectures, spa consultations and treatments, plus onboard shopping and specialty classes, no one was bored.
For us, the highlight was the bridge tour where an officer explained the ship's communication and navigation systems, as well as thruster, stabilizer and crew functions. We were thrilled to experience the same views senior officers have as they control the ship.
The Golden Princess called on four distinctively different ports.
Santa Barbara
www.santabarbaraCA.com
Pretty purple Jacaranda trees welcomed us to Santa Barbara. At the waterfront, we hopped on the white shuttle bus (50 cents, 25 cents for seniors) to attend church services. While there, sunshine broke through the morning fog. From the waterfront we walked past the yacht basin to the Maritime Museum.
Later on the popular Santa Barbara Trolley tour, Richard, our knowledgeable driver, made local history come alive with fascinating anecdotes about the city's architectural styles, celebrities, and local entrepreneurs including Ty Warner, inventor of Beanie Babies.
On State Street beautiful government buildings meld with a plethora of friendly retailers who warmly welcome cruise ships. The trolley tour included a 20-minute stop at Old Santa Barbara Mission. [email protected]
San Francisco
www.sanfranciscotravel
Our ship docked at Pier 27 for a full day. We chose the Woods & Wine tour with San Francisco City Sight Seeing Tours. It was a joy to walk among the giant Coastal Redwood trees in Muir Woods, just 30 minutes from Fisherman's Wharf. The fresh piney scent and peaceful environment are great for the soul.
In the afternoon a different City Sightseeing bus took us to picturesque Sonoma County where vineyards dot the landscape. While tasting award-winning white and red vines at Jacuzzi Family Vineyards, we learned about the Italian Jacuzzi family history, then sampled olive oils and strolled the beautiful grounds. We also tasted wines at Larson Family Vineyards, visited a cheese store and enjoyed a humorous wine tasting at Roche Winery. www.city-sightseeing.us
Astoria, Oregon
www.travelastoria.com
Volunteers warmly welcomed us to Astoria's museums, shops and the 125-foot Astoria Column. At the Maritime Museum we learned when Lewis and Clark camped here in 1805-06, they established Fort Clatsop. This was the first U.S. military post west of the Rocky Mountains, where the Columbia River flows into the Pacific Ocean. Known as the Columbia Bar, these treacherous waters where ocean and river meet cause many shipwrecks.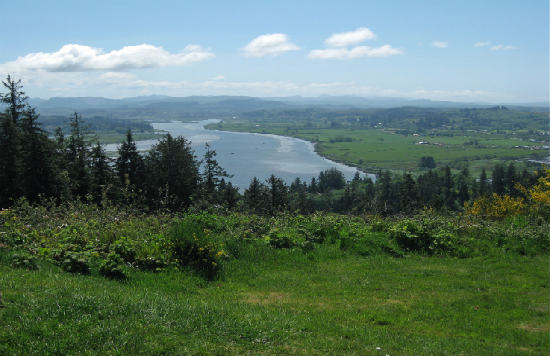 Today the Coast Guard has a major presence in this friendly town of 10,100 where fishing, logging and tourism drive the economy. Buses drove visitors around town and up a 600-foot hill to see the pictorial Astoria Column. This beautiful hilltop provided fantastic views.
Victoria, B.C.
www.tourismvictoria.com
In Canada's island city welcoming hosts deftly directed cruisers to waiting shuttle buses. A CVS motor coach driver (www.cvscruisevictoria.com) narrated passing scenery as he drove us to the world-famous Butchart Gardens, which were ablaze with millions of spring flowers.
Built on a former stone quarry, the spectacular sunken garden elicited a "Wow" factor from everyone. The 55-acre privately owned property blends rare and exotic shrubs, giant Redwoods and other trees, flowers and fountains with Italian, Japanese, Rose and Mediterranean themed gardens.
A special treat was high tea with a delightful medley of delectable tea, tiny sandwiches and sweet treats elegantly presented in a three tier server. The gardens are open all year, displaying seasonal flowers to a million guests. Christmas is a magical time with musical entertainment, massive poinsettia and "12 Days of Christmas" displays plus an ice skating rink. www.butchartgardens.com
We had a delightful Inner Harbor tour on a cute water taxi that resembled a small tugboat. The skipper pointed out houseboats and Fisherman's Wharf, a great place for Fish n'Chips and yummy ice cream. The Inner Harbor also functions as an airport for sea planes. www.victoriaharbourferry.com
We learned about Victoria's famous landmarks, history and neighborhoods on an interesting Gray Line hop on/hop off tour in an authentic London double decker bus. The considerate driver offered to drop off cruise guests just a few blocks from our ship. www.graylinevictoria.com
Disembarking from the ship in Vancouver was a breeze.
If You Go:
With 18 ships in its fleet, Princess sails to all seven continents. Learn more from your travel agent or www.princesscruises.com.
The Pacific Coast cruise by Princess departs from The Port of Los Angeles World Cruise Center. If you drive your own car or book a rental car, parking is available at the port.
Author Bio: A widely published travel writer, Pat Woods encourages readers to SKI (spend the kids inheritance) on a cruise.
Read more: Canada by Cruise Ship
Read more: California Cruising with the Crown Princess