My friend, Melanie, lost her mom this past year. It was a cruel disease that crept in from out of the blue and took away the woman who had been Melanie's rock and best friend.
I have never lost a parent, so I can't begin to know what that feels like. But I can only imagine that such things aren't easy to get over. Perhaps you never get over them. But you try to go on and live your life as best you can, as your loved one would want you to.
That's what Melanie was hoping to do when she decided that she needed to travel. To experience something new. To be with friends and savor life on a journey to someplace new.
That's how we ended up here in Switzerland, sitting in a vineyard just outside Montreux, overlooking Lake Geneva. The sun is  warm on our faces, and the skies a soft blue over the towering Alps. Our host, winemaker Alain Chollet of Domaine Alain Chollet, pours us a glass of his Chasselas Le Daley, and tells us about his life here. We raise our glasses and toast to life and good friends.
For many, travel is salve for the soul. I've often said that travel "does my heart good" and I mean it. Travel brings new perspective. A chance to look at life from the outside for a while, to remember what is important and what is not.
It was the salve my grandfather needed when my grandmother died suddenly, leaving him alone and lost. Not sure what else to do, he packed his bags and headed to Africa, where he taught in a school and renewed his strength.
Sometimes, travel is best because it gives us time with those we love. Travel is about the places we visit, but it's also about those we meet and travel with. They shape our entire experience, and often provide the most cherished memories.
So that's what I'm doing right now. Cherishing this moment with my good friends, Esther and Melanie, in an incredibly gorgeous location. Such moments are meant to be remembered.
Janna Graber has been covering world travel as a travel journalist, editor and producer for more than 12 years. Currently the editor of Go World Travel, she has also written for more than 40 publications. She is the author of three travel anthology books: A Pink Suitcase: 22 Tales of Women's Travel, Chance Encounters: Travel Tales from Around the World and Adventures of a Lifetime. Read more of Janna Graber's travel writing.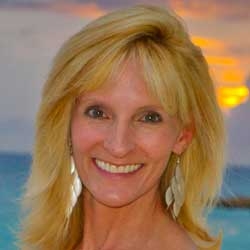 Latest posts by Janna Graber
(see all)