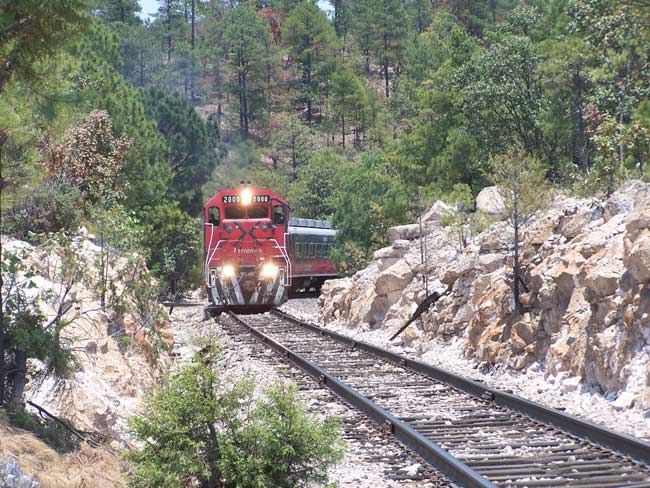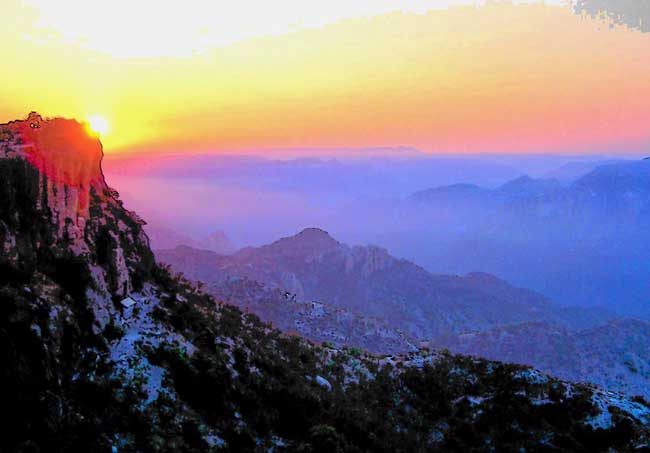 The beat of a goat-skinned drum that sounded like a distant throb awakened me with its magic.
Musicians from the local Tarahumara clan signaled the start of another day for families living in caves throughout Mexico's Copper Canyon.
During the night, my ever-present insomnia slipped away while the only thing piercing the darkness was the silence of a shooting star.
I stumbled from the hand-hewn pine bed laden with two comfy, woolen blankets and felt drawn toward the open balcony door.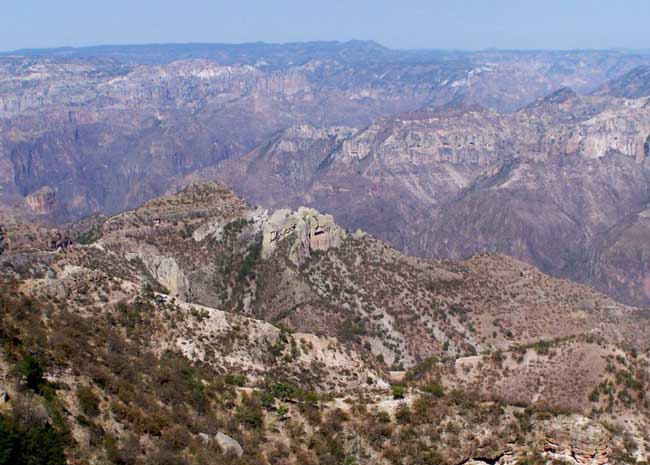 Crisp air filtered inside when I stepped onto the terrace. I couldn't describe what unfolded before my eyes, as the image burned into the recess of my mind.
Words would have shattered the sanctity and miracle of sunrise over Mexico's Copper Canyon.
Chihuahua – Pacific Railroad (CHEPE)
Ten years ago, we had marveled at the magnificent vistas on the north-south train route from Chihuahua, Mexico, which lies across the border from El Paso, Texas to the train's mid-point, Creel, aboard the Chihuahua al Pacifico Railroad.
Enthralled by this vast stretch of wonderment, four times the size of the Grand Canyon, we returned for a different look.
This time, we boarded the train in El Fuerte, Sinaloa, Mexico, and disembarked at Posada Barrancas located deep inside the Copper Canyon.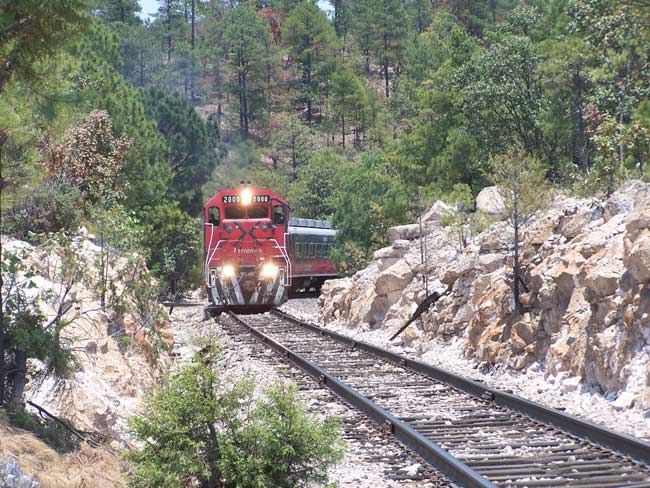 Balderrama Hotels and Tours
We booked the entire independent trip through Balderrama Hotels and Tours, which owns and operates a series of resting places along the train route.
This well-oiled machine emerged as the most efficient operation I have ever experienced in traveling throughout 50 countries.
Flying from Guadalajara to Los Mochis located on the Gulf of California, we left without one document, train ticket, hotel or transfer voucher – nothing.
Everything would be available when we arrived, we were told.
We didn't even have a phone number to call if our unidentified pick-up failed to materialize. We live in Mexico. What could go wrong, right?
Copper Canyon Adventure
With a blind eye and a faith-filled heart, we set off on our Copper Canyon adventure.
Within five minutes of arriving at sleepy Los Mochis Airport, including three minutes to collect our bags, Lupita from Balderrama Hotels spotted us. She asked if I was Bowman Carol.
I surmised by the way it flowed off her lips with such confidence, that this was going to be my name throughout the trip. I didn't feel the need to correct her.
Lupita directed us to a waiting taxi, handed the driver a voucher and he whisked us away. Where we were going remained a mystery.
Outside the Balderrama Santa Anita Hotel in Los Mochis, tour manager, Jerry, spied our taxi and sprinted from the hotel lobby to greet us.
"Are you Bowman Carol?" he asked, handing me our packet of travel documents, train tickets, hotel vouchers, etc., before I could even nod.
Our bags mysteriously found their way onto a luxury 40-passenger, empty bus, onto which they also ushered us for a private one-hour drive to the hot, steamy, colonial city of El Fuerte.
Chihuahua Estacion-Pacifico Estacion
Here we spent one night at another Balderrama hotel, Posada del Hidalgo, to rest up for our morning train departure on the CHEPE (Chihuahua Estacion-Pacifico Estacion) into the Copper Canyon.
The hotel staff knew the process of fast check-in down pat. They whisked us to the front desk, handed us icy cold margaritas, and asked, "Are you Bowman Carol?"
They snapped the hotel voucher from my document packet and handed two keys to me without so much as a signature.
Normally I wouldn't drone on about a tour agency, but we were in Mexico, land of mañana mentality. I felt whiplashed from this unusual efficiency.
The Balderrama Corporation, which owns and operates hotels throughout Copper Canyon, reserves all accommodations, and coordinates transportation with the train schedule, which made this the easiest, most seamless travel ever.
We headed off into the canyon, carefree and ready for adventure.
The first-class train hadn't changed since our last venture, with comfortable reclining seats, adequate overhead luggage storage, dining and bar sections.
The open-air platforms between the cars provided an electrifying place to hang out while the train click-clacked back and forth.
The hot steam from the engine blew in my face and I could feel the uneven texture of the rock as I brushed my hand against the walls when the train entered pitch black tunnels.
Elevations rose quickly, as we had climbed from sea level to 3080 feet at Temoris within two hours.
The landscapes changed from parched, dry plains to verdant ponderosa and apache pines. Since most of the route's 86 tunnels and 37 bridges occur from El Fuerte to Creel, this route has earned the distinction of the most exciting train ride in the Western Hemisphere.
Emerging from tunnel blackness repeatedly, we plunged deeper into Copper Canyon. The vistas going from west to east far exceeded those in the other direction.
Mountain lakes reflected towering cliffs and the word "wilderness" took on life. The train switched back and forth toward the summit at 8000 feet.
Posada Barrancas
After six hours of these incredible vistas, we disembarked at Posada Barrancas. Here the true test of Balderrama readiness loomed.
As other than a run-down deserted stationhouse and a few Tarahumara women sitting on the platform weaving palm and pine needle baskets, we stood smack dab in the middle of the wilds.
Not to fear, Balderrama is here! Within seconds of landing on the platform, I heard the familiar "Are you Bowman Carol?" and I knew we were home free.
Rugged looking cowboys scooped up our bags and placed them in the back of a pick-up truck. A waiting van collected its two passengers and ascended one bone-jarring mile, rut after rut, to our canyon retreat.
What kind of hotel could be built up here, I wondered? We were ready for rustic, but we were not prepared for the surprise as we crested the hill.
These 40,000 square kilometers of uplifted, unforgiving volcanic terrain are home to 50,000 Tarahumara Indians, living in communities of about 100 residents each.
From our perch, we watched three families who nestled their homes into a mountain crevice below. Tarahumara women sold intricately woven pine needle and palm baskets to travelers to sustain their families.
Hotel Mirador
Balderrama's Hotel Mirador package included three sumptuous meals per day since there was not one hovel or hut anywhere nearby to buy food.
The dining room also overlooked the canyon rim, allowing uninterrupted viewing of awe-inspiring vistas.
Hummingbirds that flocked to the sugary feeders hanging from the rafters added to the ambience. We hiked trails down the mountainside, meeting Tarahumara families along the way.
Recently a cable car for daring souls that shoots across the canyon has been added to the list of auxiliary adventures to explore the area.
We inhaled the canyon air and majestic images one last time from our terrace, before heading for the nine-hour train ride back to Los Mochis.
The Balderrama Santa Anita Hotel, where we could ease back into the world of email and traffic before returning to Guadalajara, served as our journey's final stop.
The vistas on the return trip provided different perspectives of the tunnels, bridges, and peaks.
We disembarked from the train at 10:30 PM, wondering if Balderrama Tours could have a perfect record.
A young man quickly approached, taking my suitcase in his hand. "Are you Bowman Carol?"
If You Go
Note: Independent travel can be booked through [email protected], or website www.hotelesbalderrama.com/en/coppercanyon.html . Call 1-800-896-8196 US or 1-866-780-2813
Author's Bio: After a life-long profession of treating the mentally ill at a PA psychiatric hospital for 33 years and also serving as its Director of Admissions, Carol retired to Lake Chapala, Mexico in 2006 with her husband, to pursue more positive passions. Her family thought that she, too, had 'gone mad.' She's been teaching English to Mexican adults for ten years, in a program operated by volunteer expatriates and writing for local on-line and print publications. Using her adventures experienced during visits to over 80 countries to capture a niche in travel writing, Carol also dabbles in 'memoir.' A frequent contributor to Lake Chapala English magazine, "El Ojo del Lago," she's won several literary awards from that publication, including Best Feature in 2010 and Best Fiction in 2014. She also netted a story regarding her psychiatric field work in the published anthology, "Tales from the Couch."
Latest posts by Janna Graber
(see all)