Searches for vacation destinations have dramatically increased as travelers embrace the comeback-cation
"Revenge travel" is an unusual phrase that evoked all sorts of untold creative interpretations in my mind (and they'd better go untold). But Next Vacay, one of those online "best flight"-type platforms, defines revenge travel as the massive increase in online searches in the United States for vacations following the loosening and then lifting of lockdown restrictions. Searches for revenge travel have, according to Next Vacay, increased 1025% since last June as travelers have embraced the concept of comeback-cation.
"People are craving for a change of scenery and a first post-covid trip that exceeds expectations as people embrace the freedom to travel," Next Vacay's CEO and founder Naveen Dittakavi told me.
But where are the top destinations for revenge travel? Dittakavi shared some search results, which I will highlight for you with my tips on how to best enjoy and enhance your trips based on my personal experiences. I took revenge and gorged on visiting a number of these sought-after spots.
New Orleans, Louisiana Was the Most Sought-After Destination
Go marching in like the saints to the center of the Big Easy by enjoying the unique, themed Higgins Hotel – Curio Collection by Hilton. It's situated perfectly between the Garden District and French Quarter – both of which you'll want to stroll and soak in – and right across the street from the National World War II Museum – the astonishing, interactive experience after which The Higgins is themed. Party like it's 1945 in Rosie's Rooftop Bar providing a panorama that stretches from the Super Dome to Bourbon Street.
You can experience every inch of the Crescent City, and its gritty history, with one of Robert Florence's NOLA Historic Tours exploring music, haunts, cemeteries and more.
Commander's Palace is the century-old, grand dame of New Orleans restaurant experiences, and like Café Du Monde, it is both time-honored and worthy of your time and appetite. Commander's Palace invented the modern "celebrity chef" by creating Emeril Lagasse and you can wash down your turtle soup and fried catfish with 25-cent martinis. Palace Café, on Canal Street (the widest in America), is a culinary carnival where, since 1991, you can crunch creole dishes like crab meat cheesecake and cool off by sipping a decadent "Bananas Foster."
Confess your sins at the stately St. Louis Cathedral and then make some more – venial, not mortal, on Bourbon Street jamming to jazz at and sipping a power-packed Hurricane at Maison Bourbon. I mean, this is what I would do.
San Diego, California
Known as "America's Finest City," San Diego's world class climate isn't the only cool thing it has going for it.
The Fairmont Grand Del Mar is an opulent yet tasteful Mediterranean oasis overlooking the Penasquitos Canyon Preserve. Staying there is like living in a sprawling palace where everyone drives a Lamborghini and steps off of the Tom Fazio golf course or out of the pool with a glass of champagne in hand to walk the manicured grounds, chill to live music, or dress for dinner at Addison, Chef William Bradley's Michelin-starred, gastronomic experience. Having opened in 2007, Fairmont Grand Del Mar is a "new money" kind of resort with golf, tennis, and the kind of ornate, luxurious sitting areas that make one want to…sit.
When I must leave the hotel grounds, I like to wander The Cove – a natural park along the Pacific in La Jolla – checking out the artists, sea lions, divers, kayakers and kite-fliers who spend the day on the lawn, beach, rocks or trails awaiting the sunset payoff. Restaurants and shops are one-street up the hill for "commercial breaks."
The famed San Diego Zoo isn't the only place in town for kids to cavort if Mission Bay Resort's waterfront firepits and s'mores and location next to Sea World are any indication. Mission Bay has plenty of waterfront acres on Mission Bay and a marina with which to make way over the waves. It's a fiesta every day and, also being close to I-5, is a good spot for those intent on steering their way to sightseeing San Diego's Gaslamp Quarter, Coronado Island, Old Town, and more.
Chicago, Illinois
I don't go to the Windy City without stopping at one of Lou Malnati's Chicago-style deep dish pizza restaurants. The Gold Coast location is my preferred location but it's surrounded by some of Chicago's other famed food forays including Gibson's Steakhouse, Hugo's Frog Bar, and others. Be sure to break out of the Rush Street triangle there and try a power lunch at The Dearborn, an urban American tavern run by Irish sisters Amy and Clodaugh Lawless. Big windows keep the city inside at the corner of Dearborn and Randolph in the Chicago loop.
The most talked-about restaurant in the city right now is Virtue, serving southern-style staples in the Hyde Park neighborhood where Barack Obama met his future first lady Michelle for their first ice-cream date. There is a plaque marking the spot right across from the SOPHY Hotel, a cool boutique property with hints of "Barry" here and there. The former President's library and museum will be built very nearby, and Virtue's chef Erick Williams has served the President and collaborates with Chicago's city leaders
Get out from between the architecturally-diverse skyscrapers and see the sweeping skyline from Lake Michigan aboard a working piece of nautical history – the Fred A. Busse – via Chicago Fireboat Tours departing from DuSable Harbor. Captains Ray Novak and Erich Totsch, Navy veterans, will also steer the vintage boat through the Chicago River while you learn about – you guessed it – the infamous fire of 1871.
Miami
My Miami includes the undistilled sunshine fun of a cigar and a mojito on Calle Ocho – Eighth Street – in Little Havana in the afternoon while listening to live Cuban musicians. I try to score a table for dinner at Joe's Stone Crab Restaurant, which has been serving its claws and key lime pie to presidents and glitterati on Washington Street for more than a hundred years very near South Pointe Park Pier, which provides a panorama of both the Caribbean seas and the Bayside skyline of downtown Miami.
After you catch a glimpse of giant a cruise ship passing out of the Port of Miami or the Thriller Miami Speedboat Adventures embarking on hourly joyrides from Bayside Marketplace you can walk right up the sands, or take a boardwalk bike ride on pavement past the bikinis (or less) of Miami Beach. This will take you straight to the strip (pardon the pun) of fun nightclubs and day clubs like The Palace for clean, colorful streetside drag show entertainment, and Art Deco-style hotels on Ocean Drive. The apartment building used in the movie Scarface is recognizable and marked by a plaque even though it is now a drugstore.
I recommend the Cadillac Hotel and Beach Club, Autograph Collection, a stylish, boutique beachfront gem that allows you to wake up over an Atlantic Ocean sunrise and swim and swing with the stars under Miami's moon. The hotel provides bicycles…if you can get your hands off one of the cocktails they craft in their super swank bar long enough to grab the handlebars.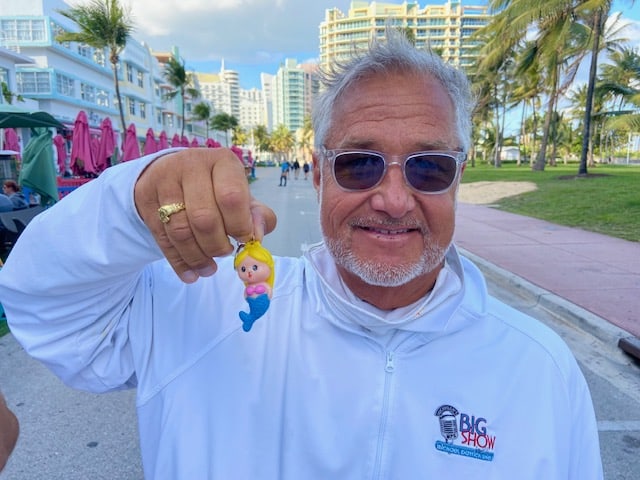 Gulf Coast, Mississippi
There is plenty to enjoy throughout the 62 miles along the Gulf of Mexico comprising what is called the "Secret Coast," including Biloxi and Gulfport, without using the c-word: casino. Hotel Legends, a creative, Hollywood-themed property is right across the street from the Hard Rock Casino, and at Hotel Legends I enjoyed fountains and a glamorous swimming pool setting in sight of the sea without my wallet being engulfed in the gambling. By day I walked right past the casino, stayed in the sun, and climbed aboard Captain Mike Moore's Biloxi Shrimping Trip experience to see, at sea, how it's done!
The shrimp boat ride provided laughs and a life-sized "ship in a bottle" added wonder and the nearby Maritime and Seafood Industry Museum which worked up my appetite. Over two days I satiated my hunger at diverse, gulf-to-table restaurants other fruits of the sea from the French Hermit Oyster Company: Blind Tiger Biloxi Beach; White Pillars; Chimneys in Gulfport; Patio 44; Mosaic in quaint Ocean Springs; and a fresh-made pimento cheese biscuit at Greenhouse Biloxi.
Padron the seafaring pun, but the Gulf Coast, including the kid-friendly, innovative Mississippi Aquarium, is a navigable destination – and a short drive from New Orleans if you're looking for a fresh-air place to recover from overindulgence.
Orlando, Florida
When one thinks of Orlando, Walt Disney World obviously comes to mind, but you needn't get caught in the mouse's trap – or feel forced to stay within the Disney system of hotels, busses, trams and traffic. Two nearby, family-owned resorts, in different directions, can allow you to chill in the heat of the Sunshine State close to the action but not get swallowed up by it – each of them about 30 minutes by car from Cinderella's Castle but worlds away in terms of relaxation.
Balmoral Resort Vacation Homes, near Haines City, offers up to four-bedroom/four-bathroom stand-alone vacation homes each with its own private, screened swimming pools, attached garages and full kitchens. The gated neighborhood makes guests feel at home, but unlike an unmanaged Airbnb, Balmoral Resort, founded amiable by Irishman Garrett Kenny, has a front desk, resort swimming pool with waterslides, jacuzzi and poolside restaurant and bar with live entertainment. There's an arcade, free fishing poles, a banquet and event center, and extensive sports and training facilities for prep football and soccer teams.
Another relaxing, rural option is the Mission Inn Resort, Club and Spa in Howey in the Hills, a charming, Spanish-style gated resort and community with two esteemed golf courses which hosts significant professional tournaments each year. The restful resort, run by second-generation visionary Bud Beucher and his family, has tennis, billiards, shuffleboard, swimming, biking and fishing and pleasure boat rentals on the expansive Lake Harris. The Spanish-style architecture, fountains, and flowers and manicured grounds make Mission Inn a scenic spot for dreamy weddings. I loved walking the trails and grounds to burn the calories I consumed at the resort's big breakfast buffet and gourmet dining options, and like a monastic retreat, seeing how many days I could go without using my car.
Grand Canyon / Grand Junction
The thought of getting swallowed up kayaking, riding a burrow, or hiking into and around the Grand Canyon feels a little overwhelming to me, so I was delighted to discover Grand Junction, Colorado's "mini Grand Canyon," the Colorado National Monument. The "monument" is 20,000 acres of reddish, sandstone mesas 7,000 above the Colorado River which you can see via the 23-mile Rim Rock Drive by car, bike or on foot. You don't have to get out of the car, but there are plenty scenic platforms or trails to hoof, including the moderate climb (believe me if I was capable of it, you likely are too) I took with guide Zeb Miracle to Devil's Kitchen, a shaded space amidst one of the collections of red rock spires and boulders that create astonishing, accessible panoramas.
Hotel Maverick's rooftop Devil's Kitchen Restaurant, named for the spot, has hot and haute cuisine, such as bison tamale stack; elk burger; and sweet potato pupusas, served around fire pits. You should stay at the hotel, but do get off campus (literally since it is at Colorado Mesa University) and consume Chef Josh Niernberg's cheeseburger at Bin 707 Foodbar. I have thought about its grass-fed beef patty, potato bun, truffle aioli, local frisee, white onion, and beefsteak tomato every day since I dined there months ago (as of this writing.) Don't worry – there are fancy dishes, too, such as the and the unique dessert you'll be talking about is the Milk Bar Crack Pie: a salty, sweet pie with an oak cookie crust and vanilla alchemy ice cream.
Wash it all down while taking in the mountain views at Two Rivers Winery and Chateau; or sink putts at Redlands Mesa Golf Club, but with the scenery the course provides, it will be hard to keep your eye on the ball.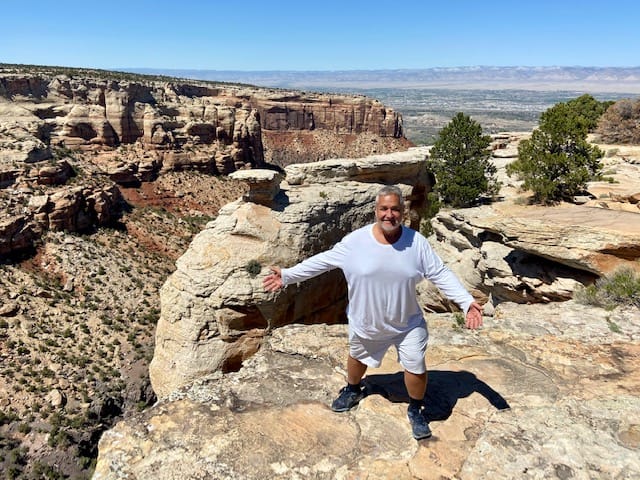 Read more on Michael Patrick Shiels' travel blog, The Travel Tattler. Contact Travel Writer Michael Patrick Shiels at [email protected]