Mexico City is a beautiful place to visit if you love city breaks. It is full of UNESCO world heritage sites, has numerous fascinating museums and art galleries, and you also get to enjoy local culture and cuisine every day of your stay. If you are wondering about the must-see attractions and things to do in Mexico City, we have prepared an ultimate list.
Traveling to Mexico City is a fantastic experience if you like Mexican culture, as this is the biggest city in Latin America and the capital city of Mexico. This high-altitude capital was home to the Aztec empire until Spanish colonizers came to this part of the world. This is why the city is incredible for history lovers who could keep discovering new things every day of their trip.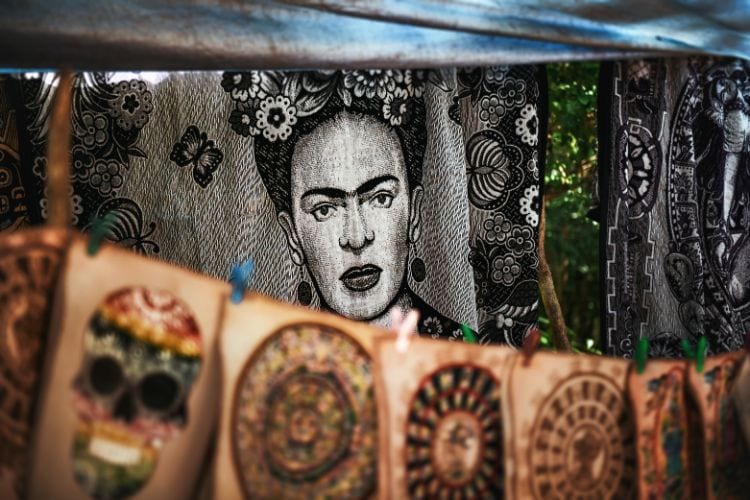 With mild winters and warm summers, Mexico City is a perfect place to visit at any time of the year. The most interesting fact about the city is that it was built over Texcoco Lake, which Aztecs found as a sign they were looking for from their god Huitzilopochtli.
However, when the city was built on the little island in the middle of the lake, they could not have predicted what an amazing and enormous city it would become.
Planning a last-minute trip to Mexico?
Top Experiences and Tours in Mexico:
Where to stay in Mexico:
1. Frida Kahlo Museum
World famous Mexican artist and wife of another great artist Diego Rivera, Frida Kahlo has left her mark on Mexican art and history. The Museo Frida Kahlo not only honors Frida Kahlo's life and contributions but also sheds light on Mexican history and culture.
Visitors can better grasp the social and cultural setting in which Kahlo and Rivera lived thanks to the artifacts. The museum is in the blue house that locals call Casa Azul, a recognizable home of two artists in CDMX.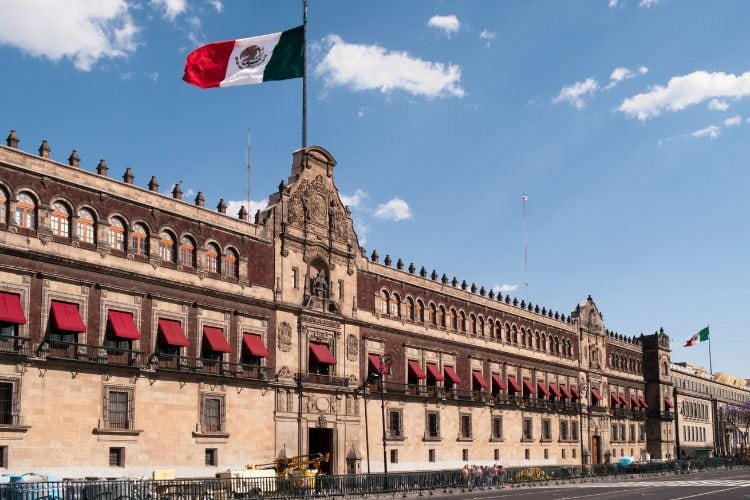 2. Palacio Nacional
The National Palace or Palacio Nacional serves as a seat for the Mexican president, but it is much more than that. This wonderful building has one of the most important libraries in the country, the Biblioteca Miguel Lerdo de Tejada.
In addition, there are fantastic murals on its walls. Most visitors come here to see artwork by Diego Rivera, which made this building famous.
3. Mercado
There is no better way to see the local culture than to visit a local market. The Mercado de Coyoacán is such a market where locals sell food, art, clothing and so much more.
Affordably priced unique souvenirs made by local artisans are available for purchase and are a much better option than mass-produced souvenirs from tourist streets downtown.
4. Chapultepec Park
The park contains two of Mexico City's top attractions: Chapultepec Castle is the only authentic castle that was home to royalty in North America. It is adjacent to the National History Museum, which was the former home of Emperor Maximilian I and Empress Carlota.
You can spend the whole day here if you decide to visit the entire Chapultepec Park which contains nine museums, an amusement park, a zoo and gorgeous natural areas.
5. Zócalo
Zócalo once was the center of Aztec culture and society in the 16th century. Now, it is the historic center of Mexico City, or centro historico as it is called in Spanish.
The Palacio Nacional, the presidential residence, and the Catedral Metropolitana are among many attractions that surround the main square. This is why you will often see protests on this square. It is formally known as the Plaza de la Constitución.
6. Food Tour
The city center is a great place for a food tour that includes tacos al pastor, tlacoyos, tostadas and tortas accompanied by cerveza (beer), tequila or mezcal.
You can book a  guided tour of the largest city in Latin America to try street food and see the most popular cafes, or you can explore by yourself and for a few pesos try so much great food in every corner of the city.
Mexican food is world famous and visiting Mexico City without enjoying its authentic food would be a huge mistake.
7. Tenochtitlan, Templo Mayor
The Templo Mayor is a noteworthy archaeological find even by itself. Nearly five centuries ago, when Hernán Cortés and his Spanish companions first arrived in Tenochtitlan, the Temple, and other current monuments, were among the first sites they saw.
This is one of the city's most significant historical landmarks and one of the greatest museums for Aztec artifacts.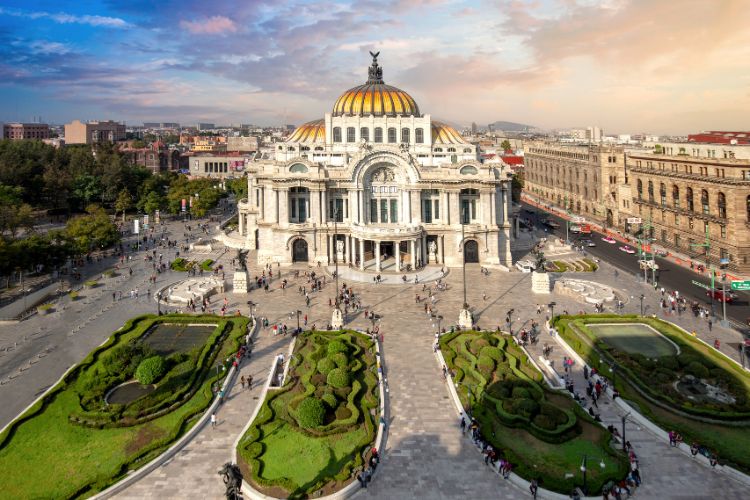 8. Palacio de Bellas Artes
True art lovers cannot visit Mexico City without stopping by the Palacio de Bellas Artes. This is the largest art museum in Mexico.
The Palace of Fine Arts is home to the National Symphony Orchestra, the National Institute of Fine Arts and Literature's administrative center, the National Opera Company, the National Theater Company, the Mexican Folkloric Ballet and the Chamber of Fine Arts Orchestra. Up to 1700 people can fit inside to enjoy performances.
9. Roma Neighborhood
The city's hipster quarter is centered in the thriving Roma neighborhood. If you want to shop at charming boutiques, have easy access to many of Mexico City's main attractions, and peruse gorgeous shops, Roma is the perfect place to stay. It is close to the Condesa neighborhood and is situated immediately west of Centro Historico.
Roma, formerly a wealthy neighborhood in Mexico City, went through economic difficulty after the 1985 earthquake. Fortunately, the area has lately undergone a renaissance and is now one of the safest areas in the city. Locals appreciate Roma's blend of colorful street art, art deco houses and the hipster atmosphere in the area.
10. Museo Nacional de Antropología
The National Museum of Anthropology has the world's largest collection of Mexican artifacts and is in the spectacular Bosque de Chapultepec. The museum showcases pre-Hispanic history, from the Olmecs through the Toltecs to the Maya and Aztecs, in 23 display halls.
You could spend hours there and still not see everything. This museum is so large and interesting it warrants several visits and is the most popular museum in Mexico City.
Mexico City As a Home Base or Starting Point
Mexico City is a great starting point for your trip to Mexico. From here you can rent a car, fly or take a bus ride to other fantastic tourist places, beach towns and cities. It also makes a great home base for 1 or 2-day trips to places like Puebla, Xochimilco, Teotihuacan Mayan Ruins, Grutas de Cacahuamilpa National Park (Taxco Caves) and Las Grutas Tolantongo Hot Springs.
Author Bio: Danijela Horvat is a travel writer with a passion for discovering new destinations. With a background in journalism and photography, she is trying to translate her own experience into articles.
Latest posts by Go World Travel Magazine
(see all)