Driving south from Kentucky, my husband Kent and I found ourselves lost on Highway 28, a two-lane road sprinkled liberally with switchbacks. We were in the mountains alright.
Only two road signs were visible. One read "Reduce speed to 10 mph" and the other was "RTR" (runaway truck ramp). The latter looked like a huge off-road skateboard ramp. They are strategically placed for trucks going too fast to brake on the curves. We had never seen one before.
Our destination was Franklin, North Carolina, population 4, 000. The hub of western North Carolina.
Things to Do in Franklin, North Carolina
Franklin offers an abundance of outdoor activities like fishing, rafting and hiking. It's also an easy access point to the Appalachian Trail.
Additionally, this small mountain town is surrounded by streams and waterfalls. You can rent a raft for five dollars a day and take on the Little Tennessee River.
Then there's that famous southern charm and hospitality. Add to all this a plethora of festivals, arts, crafts and delicious southern cooking and you have an idea of why we were heading there.
Southern Hospitality
As we neared the town, we hugged the road as it paralleled the Little Tennessee River. On the banks was a lean-to where Mr. Ken sells seasonal fresh produce, hot boiled peanuts and live bait.
Every afternoon a small group of Franklin seniors camp by Mr. Ken's riverbank and "catch up". We stopped for a couple of apples, took their picture and chatted before continuing on into Franklin.
Within an hour of strolling down Main Street, we had become "friends" with three others who were sitting on benches outside local businesses.
Ritchie was a volunteer at the town dump, (Franklin recycles everything) while Bruce and Robert were proprietors at the Franklin Museum.
Franklin History
Bruce pointed out that it was in front of the Franklin Museum that the last surrender of the Civil War took place about a month after Appomattox.
The Museum building was constructed in 1904 as a commercial store and is now listed on the National Register of Historic Places. During its commercial lifetime, the store offered grocery staples, dry goods and other necessities of everyday life in the early 20th century.
Franklin Museum is supported by donations and covers history from the Civil War through the two World Wars. Admission is free, although there is a receptacle for donations. Visiting the museum is one of the interesting things to do in Franklin, North Carolina.
Back on Main Street we stopped at The Confederate War Memorial, the shining point of the town square. The full-length figure of a uniformed Confederate soldier stands on a tall column holding the barrel of a musket with both hands.
About a quarter-mile from the heart of Main Street, surrounded by 21st-century businesses, is a grass mound. It stands about 30 feet in height and is half a block around. It is the site of a long-ago Cherokee community: The Nikwasi Indian. The Cherokee Indians have a Franklin history that goes back 1,000 years.
Southern Handicrafts in Franklin, North Carolina
Linda McKay, owner and operator of "NC Mountain Made," has been a professional artisan for over 30 years. NC Mountain Made, she told us proudly, features the work of over 200 mountain craft people and artisans.
"By Mountain Hands" is a locally owned craft consignment store filled with hand-crafted items. My favorites: the alpaca scarves and a bench created out of an old headboard
Gwen at "Stitch in Time" told me, "It's simply ingrained in our culture. We are self-sufficient and we take pride in that."
Appalachian Trail
Anxious to see a part of the Appalachian Trail, we took Highway 64 out of Franklin eleven miles to the Winding Stair Gap. It was here that we met Scott and his Boy Scout troop as they were about to cross Highway 64.
Scott told us the troop average about eleven miles a day. They had already completed 55 miles at the time we met.
A winding stairway, part of the Appalachian Trail, curves down to the road. Here you may stand and declare that you have been on the Appalachian Trail, as noted by the diamond-shaped sign.
Be prepared for these little hikes with some comfortable hiking shoes and layers from Sierra Trading Post. Check out their selection and deals here.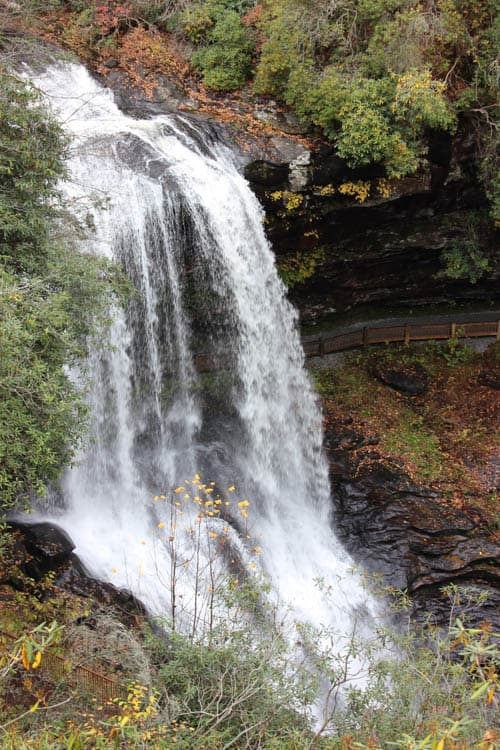 Dry Falls
The twenty-five-minute drive out of Franklin to Dry Falls is certainly a highlight of the area. License plates noted visitors from all over. Kent, a biker from Florida, showed off his three-wheeled, forty-two mph, vehicle. His remote camera on the handlebar recorded everything.
The photo opportunities are incredible. From the large parking lot, we walked down to the falls, being sure to hold on to the handrails between the numerous viewing stops. You can even walk under the Falls if you dare.
Bring the Canon PowerShot ELPH 190 IS Black for the best quality photos at the falls. Find the powerful pocket-sized digital camera here.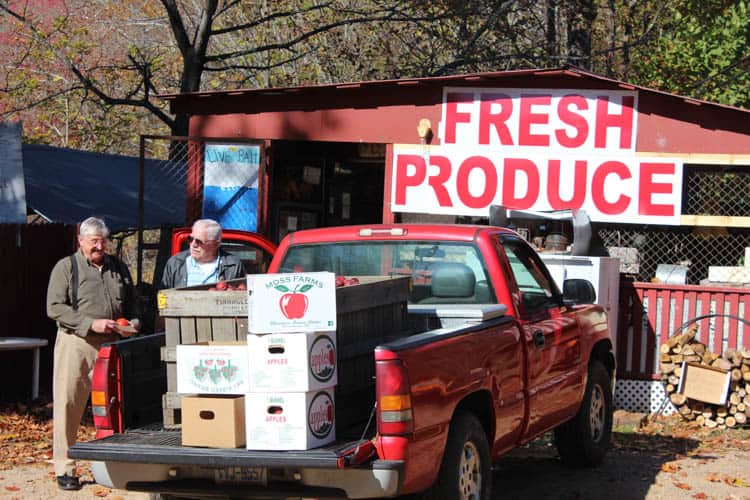 Southern Cooking
Finding a good meal to fortify after all the sightseeing is not a problem. Two sisters, Wanda and Cathy, have run Stameys Café for ten years. Its slogan: "Down Home Cooking Just Like Mama Did". The promise of southern home cooking did not disappoint.
Another delicious option is Café Relwhich is one-half of theHot Spot Gas Station.
Gem Mining in Franklin, North Carolina
Franklin, North Carolina is nicknamed the "Gem Capital of the World." The town boasts gem shows, rock shops and gem mining.
"It's the luck of the shovel as to what appears," said an employee at Mason's Gem Mine, one of nine local mines to explore.
Mason's, which opened in 1952, is located just outside of Franklin. The site sits on a natural deposit of gems and is a prime example of how the area got its name.
Tourists can dig their own dirt from the mountainside and then sift for gems with a provided screen. The dirt goes into the screen, the screen goes into a trough of running water and the mud is washed away exposing any gems.
It is touted as a great event for all ages. Says Regan, a local teen, "It's just so much fun!" Panning for gems is definitely one of the most unique things to do in Franklin, North Carolina.
If You Go:
Restaurants:
Motor Company Grill "out of the 50's diner" Milk Shakes and burgers
Café Rel at 459 Main Street (Half of the Hot Spot gas station) Snails and tails, lamb lollies
Stamey's at 1111 E. Main Street "Down Home Cooking Just Like Mama Did". Shrimp and grits
Rockin'Roli Bollies: "Southern Fusion" i.e. fresh beef bison or veggie burger (bison, like a buffalo)
Getting to Franklin:
The nearest airport is Asheville, an hour's drive from Franklin. Atlanta International is two hours away.
Driving distances: Franklin to Atlanta, Ga …130 miles: Knoxville, TN… 134 miles
Additional side trips:
Cherokee, NC is 31 miles away. This Indian Reservation is a gambling mecca.
Bryson City, NC is 34 miles away and the headquarters for the Great Smoky Mountain Railway. Visitors are taken on a four hour trip through mountain scenery
Find everything else you need to plan your trip to Franklin, such as the best hikes, local shops, hotel or VRBO reservations and more through TripAdvisor and Travelocity.
Author Bio: Wynne Crombie has a master's degree in Adult Education. Her work has appeared in: Travel and Leisure, Go World Travel, Alaskan Airline Magazine, Get Lost (Au) Yours (UK) Air Force Times, Catholic Digest, Dallas Morning News, Birds and Blooms, Senior Living