EDITOR'S NOTE: WE ONLY SHARE PLACES, PRODUCTS AND ACTIVITIES WE RECOMMEND. IF YOU MAKE A PURCHASE USING A LINK ON OUR SITE, WE MAY EARN A COMMISSION.
In the foothills of the Appalachian Mountains in eastern Tennessee, Chattanooga is known as an outdoor adventure destination. So when Grams and Opi (what our son calls his Grandpa) asked to spend some quality one-on-one time with our son Everett, my husband TJ and I hopped on a flight east to see what kind of trouble we could get into messing around on mountain bikes and rock walls.
We were not disappointed.
Chattanooga delivered exactly the kind of hard-core active vacation we used to gravitate to before our kid hit the toddler stage. Here is how we spent our weekend in this outdoor oriented city:
Mountain Biking in Chattanooga
My husband TJ is serious about mountain biking, so when we ride somewhere he likes to put his ear to the ground and find out what the locals ride before committing. Luckily, Chattanooga offered exactly what he was looking for.
We headed to Enterprise South Nature Park for our ride with Rock Creek Outfitters. Our guide Evan, who was seriously talented, drove us about 15 minutes to the trailhead.
Even if you aren't a super experienced rider like TJ, the terrain around Chattanooga is varied enough to offer trails for all skill levels. For beginners, the Enterprise South CCW trail system offers rolling and flowy trails, with punchy climbs, speedy descents and plenty of views.
Experienced cyclists looking for a technical challenge will want to ride Atlas and TNT where the technical features will give riders a taste of some of the expert terrain here. We wanted the full experience, so we decided to link them all together.
Some spots were too tough for me to ride, which meant walking my bike at some points, but it was fun to watch Evan and TJ stomp the tech. Along the way, you can expect a fun surprise ripping through a few WWII bunkers hollowed and cleaned. Make sure to save up some vocals for the shouts as you pass through.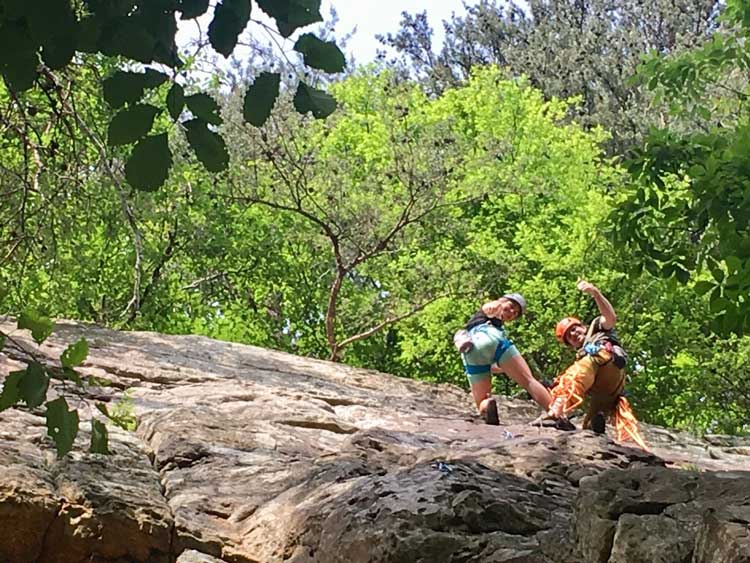 Rock Climbing in Chattanooga
After our bike ride it was on to our next adventure: rock climbing at Leda with our guide, Mike, who works for High Point Climbing and Fitness. Chattanooga has a multitude of boulders and crags ranging in difficulty from challenging beginners to pushing you beyond your limits.
We drove about 30 minutes from the city to see the sandstone bluffs of Leda, which offers both sport and trad lines. We followed the "gigantic route," which is a 5.7 and about 80 feet tall. After Mike set the route, I climbed first, with TJ completing the route after.
Find all your climbing gear for Chattanooga here.
The climb started off with holds that were defined and easy, allowing us to pull ourselves onto a few ledges along the way. The climb became gradually more challenging as we neared the top with smaller holds, but with tips from Mike we were able to find the right positions to make it to the end of the route.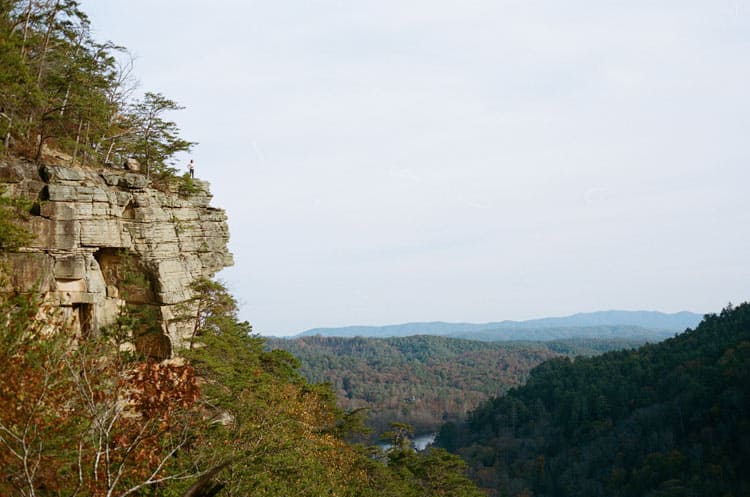 After clipping into an anchor at the top, we were rewarded with a treetop view overlooking the lush green valley. The sun slowly disappeared on the horizon cuing that it was time to rappel down with a sense of accomplishment.
Before the trip ended, we also headed back to High Point Climbing Gym for some indoor climbing. We stuck to the routes with auto belays and especially loved checking out the outdoor walls, which gave us a unique view of the city.
I could have easily spent the whole day here because, in addition to dozens of bouldering and climbing routes to try, there are yoga classes and a decked out gym you have access to with the purchase of a day pass.
Experience Ruby Falls
Another awesome outdoor experience in Chattanooga is Ruby Falls. It is the deepest commercial cave and tallest underground waterfall open to the public in the U.S. I wasn't quite sure what to expect, entering the cavern beneath Lookout Mountain, but the thundering 145-foot-high waterfall located some 1,120-feet below ground really impressed me.
Leo Lambert and an excavation team discovered the falls in 1928. Lambert named the falls after his wife Ruby and the area opened to the public in 1930.
Following the underground guided tour, we climbed to the top of Lookout Mountain Tower for awesome views across the Tennessee Valley. There are also options to zip line and to rock climb a 40-foot tower with five different routes at this eco-friendly attraction.
Explore Rock City
Hands-down my favorite non-adrenaline attraction in the vicinity of Chattanooga, Rock City is located atop Lookout Mountain just 6 miles from downtown. One of the most popular natural attractions in the South, Rock City is known for its one-of-a-kind geological and botanical wonders with some 400 plant species.
This place really blew me away and I could have spent hours more wandering the Enchanted Trail, which is nearly a mile long and reveals magic with every step. Along the walk you'll pass massive ancient rock formations, a 140-foot waterfall tumbling down a side of Lookout Mountain and a panoramic view of seven different states from Lover's Leap, which is a rock jutting out of the side of the mountain. Another standout spot was the Swing-A-Long Bridge spanning nearly 200-feet.
One of my favorite experiences was the Fairyland Caverns, created by one of Rock City's founders who loved European folklore. Inside a cave, you will find several neon colored dioramas of fairy tale scenes illuminated by a backlight.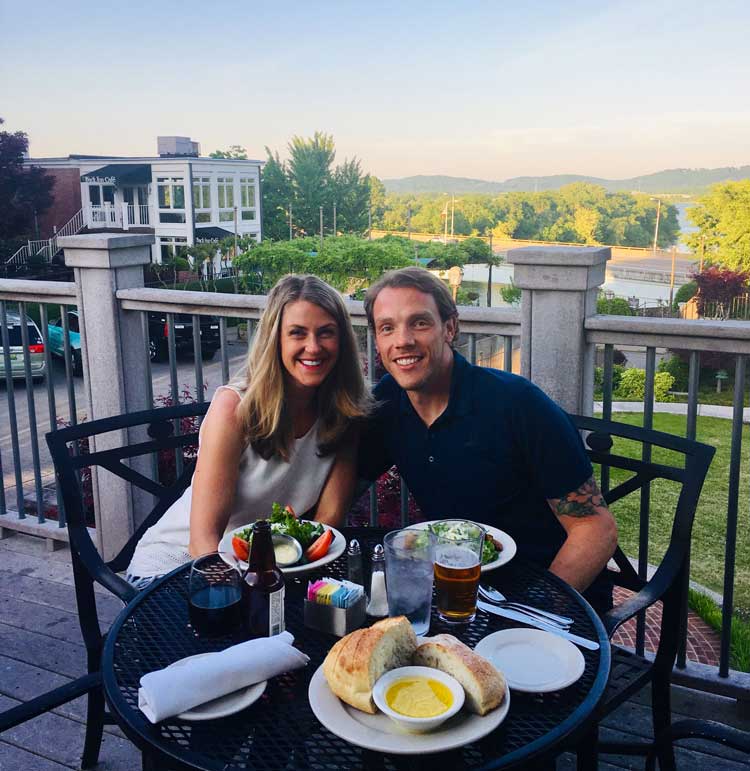 Bluff View Arts District & Tony's Pasta Shop
We also loved the Bluff View Arts District, a historic neighborhood in downtown Chattanooga. The city's first arts district covers 1 1/2 city blocks atop a bluff facing the Tennessee River and hosts an outdoor sculpture garden, two museums, a coffee house, gallery and a number of restaurants.
We ate at Tony's Pasta Shop, set inside a Victorian mansion's carriage house. Tony's serves up classic Italian in casual environs with fabulous river and mountain views. This is one of the most idyllic settings I've paused at. We didn't want to leave after dinner, so we sat savoring the views while sipping on generous wine pours.
When it comes to ordering, everything is delicious and portions are heaping. But the house-made pasta dishes really stand out. I loved the signature Low Country linguine, made with black pepper linguine, sautéed crawfish, Cajun Alfredo sauce and mushrooms.
TJ enjoyed another one of the signature dishes, the chicken tetrazzini with rigatoni pasta, chicken, alfredo sauce and mozzarella cheese. Don't skip the bread, baked with chunks of garlic and loaded with flavor.
Walnut Street Bridge and North Shore Adventure
The Walnut Street Bridge is one of the world's longest pedestrian walkway bridges, stretching across 2,370 feet. It connects downtown Chattanooga with the vibrant, historic North Shore District.
The oldest surviving truss bridge of its size in the South, the Walnut Street Bridge was built in 1891 as the first multi-use structure across the Tennessee River. Crossing on foot, it was hard to believe that for almost three decades, it served as the only way across this mighty river.
TJ and I opted to walk, but you can also bike. Once across, the North Shore District is filled with eclectic boutiques, art galleries, book shops and restaurants, as well as Coolidge Park, home to 20 acres of green open space that is well worth a wander.
Southside District
The Southside District, south of downtown. is another fun up-and-coming area in Chattanooga. We began on Main Street and stopped in at the Frothy Monkey for a couple of lattes. Other attractions here include the Chattanooga Whiskey Experimental Distillery across the street from the Chattanooga Choo Cho, which has a micro-distillery and tasting room.
And then there is the main attraction, the Chattanooga Choo Choo, which has undergone major renovations including upgrades to its 108-year-old Terminal Station lobby and additions of shops, entertainment and restaurants.
It once served as the city's train station for Southern Railway, but the company ceased operations in the 1970s and the redo saved it from demolition. Here you will also find a fun comedy club, Songbirds, and Station Street, which is filled with bars and clubs.
Where to Stay in Chattanooga:
Read House Hotel
When it came time to sleep, we loved our stay at the elegant luxury Read House Hotel. The historic property just underwent a $30 million renovation and has an upscale 1920s vibe that screams Great Gatsby. The hotel also has a haunted past when it comes to one room: 311.
Annalisa Netherly, who was a Chattanooga prostitute in the 1920s and 1930s, supposedly lived here for an extended time and died in the room. How and why remain a mystery, but she is said to haunt the hotel and room to this day. Guests who stay in Room 311 report all sorts of otherworldly activity — TJ and I were too chicken to stay ourselves, but we did do a tour and the phone rang while we were in it.
Maybe it was the front desk punking us journalists, but maybe it was the previous occupant.
Find your perfect hotel in Chattanooga here.
TJ and I can also recommend the house restaurant, Bridgeman's Chophouse. It is a classic, upscale chophouse featuring an extensive steak selection, seafood and an awesome craft cocktail list.
I recommend the old fashioned to begin and watch it being prepared in the smoker. You will have a heads up it is ready by the smell of the mesquite permeating from the smoker.
For food, I ordered the dry aged NY strip and TJ tried the wet aged NY strip. It was the first time I had tried dry aged beef and I couldn't resist after our server, Byron, told us the aging process takes two weeks and creates a buttery tender flavor. There is nowhere else in Chattanooga to try this, so I was sold. It truly was one of the best steaks I have ever had.
Also on-site, just off the grand lobby, TJ and I had a fun few nightcaps at the Bar and Billiards Room. It has a speakeasy vibe and more handcrafted cocktails and small bites. We had a fun time playing a few rounds of pool. And while there were a lot of missed shots, it was still a fine way to spend the evening before going back to our room.
See a little bit of everything you can experience in this quick video guide of Chattanooga, Tennessee:
Author Bio: Living across Europe and South America unlocked Carri's passion for traveling. Never shying away from a new adventure whether swimming with the pigs in the Bahamas, bird watching in the Galapagos or Heli-Hiking in British Columbia, you never know where you will catch Carri Wilbanks next. She resides in Colorado between freelance trips with her husband and son where they enjoy hiking, mountain biking and skiing.