" 'The Big Easy,' " on my first night, didn't come easy."
Were it not for the photos that accompany this column you might think some of what I'm about to describe is inaccurate or embellished or the result of an absinthe-fueled foray down Bourbon Street (which is not named for the liquor, by the way.) Trust me, though, and let's wander New Orleans together where, for me, "The Big Easy," on the first night anyway, didn't come easy.
Opening Night Jitters
I arrived in New Orleans by car late in the day and checked into the new Higgins Hotel situated in the Arts District right between the Garden District and the French Quarter. The deco-style, WWII period-themed-yet-modern hotel was perfectly located for me to take an unscripted evening walk, which I considered my duty as a travel writer, for a bite and some sites in one of the world's most infamous party playgrounds: the French Quarter.
My march in was unsaintly based on what I witnessed, including, but not limited to, musician drummer buskers banging on buckets while a weathered, gray bearded man lying in the middle of Bourbon Street on his back (with a skull on the front of his shirt) mustered enough strength to wave his middle finger at another disheveled man who was stomping around him and on him while trying to set him on fire with matches. Nobody seemed too bothered by this scene which took place near a Hustler strip club called "Barely Legal."
I was intrigued and spooked by the candles, craven images and statues inside the authentic Voodoo shops (no photos allowed); and couldn't avert my gaze – even though I feared making eye contact – with a small group of roving revelers dressed like gothic, roaring 20's flapper bat-people cavorting to live music in the Maison Bourbon corner jazz bar.
And because they are by now cliched I hesitate to even mention witnessing the ritualistic release of the wannabe bad girl tourists from places like Kansas City suddenly having license to prance in the street like runway models past overhanging balconies of men hooting, whistling and urging them to uncover their breasts in return for a string of plastic beads.
All of this, I admit, was psychologically fascinating and should have been titillating…but I think I just wasn't yet ready for it that first night. I am not sure what I was expecting but the grit and authenticity of it all (this is no Epcot Center) seemed intimidating and overwhelming.
I was also making the mistake of going into one of America's top "foodie destinations" without having my restaurant ducks in a row so I wandered and waited too long to find a table in any of the notable restaurants. My only option after dark was to grab a bag of late-night carryout food from Willie's Chicken Shack, one of the town's many "chicken, daiquiri and cold beer" joints while someone on the curb out front was losing their lunch (or the one-too-many Hurricanes she likely swilled.)
The combination of queasy sites and questionable cuisine made for a sleepless night of weird Fellini film-like dreams. Or were those nightmares what I had actually viewed?
Sugary Morning Music and Breakfast Beignets
Dawn broke and I got started early in search of a re-set. I needed a kinder, gentler New Orleans, and I found one, as many do, via a traditional beignet and café au lait on the patio under the green and white-striped awning of Café Du Monde – the original French Market coffee stand. The street was damp but the sun was out just after 8 a.m. when a sidewalk musician named Tubad scored this lovely scene by playing and singing the classic song Do You Know What It Means to Miss New Orleans? Listening to this tune at the classic, time-honored café on tree-lined Decatur Street between the Mississippi River and stately Jackson Square park gave me a palpable sense of place and appreciation for it.
Visible across Jackson Square the Cathedral Basilica of St. Louis, with its white façade and three black steeples, would be my next destination. But being in no hurry I was sipping the coffee and soaking in the setting – and apparently the powdered sugar, because when I looked down on my black sweater it had become powdered too! It looked like a black and white tie-dyed top. Try as I might I could not dust off the remnants of the sugar so for the rest of that day, like the forehead of a Catholic on Ash Wednesday, everyone would be able to see the evidence that I'd made a pilgrimage and paid homage to Café Du Monde.
Mass Appeal
The St. Louis Cathedral, the oldest in North America, is, inside, as you might expect, inspiring, artistic in its Renaissance and Gothic design, and open to the public. I happened to walk in while a special Mass was being said for a group of traveling faithful foodies led by Fr. Leo Patalinghug, a priest, chef, and television host from Maryland who calls his multimedia ministry "Plating Grace." He once threw down celeb chef Bobby Flay on a Food Network show.
"New Orleans is really a city of faith. I take people around the world to show them some of the most beautiful cathedrals imaginable. That takes me on the road a lot," Fr. Leo told me. "And my job is to make sure people are fed: body, mind and soul. That takes me on the road a lot. If there's anything that can bring this world together, it's food. I talk about it in a spiritual way."
Football in New Orleans, on the other side of town, is sacred, too.
"Sundays in the Superdome is like a religion," said Mark Romig, the second-generation stadium announcer for the NFL's New Orleans Saints. "It's one of the league's toughest places to play. It's a great atmosphere."
The atmosphere outside the Cathedral Basilica is inspiring, too, any day of the week. It's where I heard the best music of my visit – a seemingly impromptu full Dixieland jazz band that had set up outside the church and was doling out the ditties including, of course, When the Saints Go Marching In.
Saints, sinners and street performers are all welcome including Ronald Major and his performing, sunglass-wearing dog Coco. "Only in New Orleans. Only in New Orleans," Major exclaims for the cell phone cameras of tourists who tip the bedazzled dog for a trick. A group of Bachelorette party-goers in matching t-shirts and Mardi Gras eye masks didn't go into the church but they did jazz up the scene.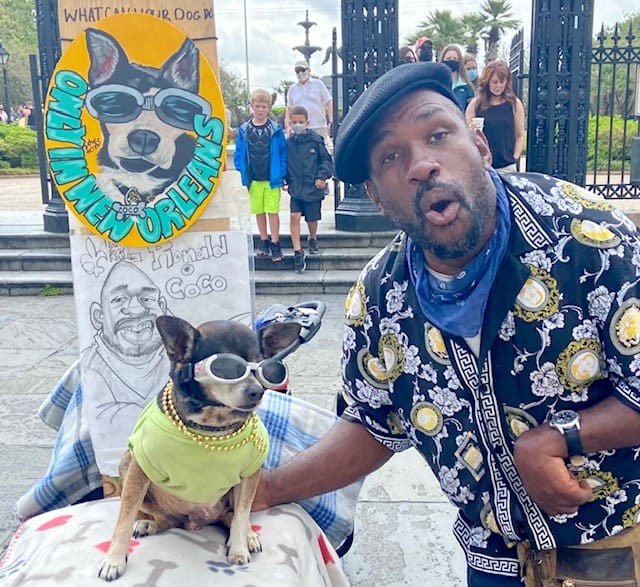 For a bird's-eye view the second-story balcony dining at the new Dickie Brennan's Tableau Restaurant and Bar (reportedly haunted) offers a sweeping, St. Peter Street corner view of Jackson Square and its entertaining inhabitants. But in terms of a different kind of view, the Huffington Post picks another of Brennan's restaurants, Palace Café, as "the most visually stunning restaurant in New Orleans."
Eyes Bigger than my Stomach
It may be the visually bright, warm, white Parisian-style lighted, all-caps Palace Café sign out front on Canal Street that first gets the attention of hungry visitors to New Orleans. Or maybe the colorful, fanciful green and yellow neon sign four stories up that can be seen all the way from the Garden District, but for 30 years locals, conventioneers and vacationers have been coming back for the food.
"Palace Café invented the crabmeat cheesecake 30 years ago," and the white chocolate bread pudding (white chocolate baked inside bread pudding with warm, white chocolate ganache) has been on our menu just as long," said Lindsay Ross, the director of sales and marketing.
"Are they both desserts?" I asked, at a table between a fanciful, swirling spiral staircase and big windows letting light into the opulent Parisian-style café.
"Crabmeat cheesecake is a savory appetizer. It's denser than a quiche with a pecan crust – because pecans are in abundance here – and a mushroom saute, onions and creole meuniere. We sell it by the slice or the entire cake."
The creole (sometimes confused with cajun) cuisine doesn't stop there.
"I also suggest the Andouille-crusted fish. Our chef pan roasts the freshest Gulf fish we can get in andouille breadcrumbs.
Ross said the tableside Bananas Foster (bananas sautéed in brown sugar and cinnamon and flambeed with liqueur, rum and vanilla bean ice cream) is a locally popular dessert, but a decadent, portable version of treat comes from the Palace Cafés Black Duck Bar, featuring exotic rums, up that spiral staircase. "Our 'Bananas Foster' comes in a glass. It's decadent. It's so rich we can even serve it in a tiny shot glass tasting size on request," she said of the frozen daiquiri-style drink."
Palace Café has a marvelous sense of place, plus outdoor seating, that keeps diners in the New Orleans action. Ross and I learned it to speak over the live jazz music being played in the late afternoon…on a weekday!
"There really is live music on every corner in New Orleans. People think when they see it on television it's a gimmick. But it's true. New Orleans is about three things: food, music and architecture."
Customers get all three at one time at Palace Café.
The Insider Skinny
The claim that New Orleans is all about food, music and architecture needs one addition, in my opinion: history. A man who knows where all the bodies are buried is Robert Florence, president of NOLA (short for New Orleans, Louisiana) Historic Tours. His company is renowned for authentic tours of the French Quarter and Garden District as well as music, haunted and voodoo tours.
"I know some people who practice voodoo. It's a real, sincere thing that had its origins under the duress of slavery by blending Catholic and West African cultures," he said. It's sublime and ominous and a little spooky, but sticking pins in dolls is not pure voodoo. There is an element of it that's been commercialized and sensationalized."
Florence is a preservationist, documentarian, and cemetery expert who authored New Orleans Cemeteries – Life in the Cities of the Dead.
"The attitude and the approach toward death in New Orleans is more celebratory. Sure, you have the ritual, but just think of the song When the Saints Go Marching In. Someone once said New Orleans put the 'fun' in 'funeral," said Florence, who cited the dancing Dixieland band funeral scene shot on Royal Street in the 007 movie Live and Let Die as an example.
The dramatic Lafayette Cemetery, opened in 1833 and still in use, is in the Garden District, where plenty of movie stars have lived. The cemetery and the front sidewalk of homes of Hollywood's Sandra Bullock, Brad Pitt, Nicolas Cage, John Goodman, are part of the NOLA Historic Tours Garden District Tour. And while celebrities have moved in, franchises have not.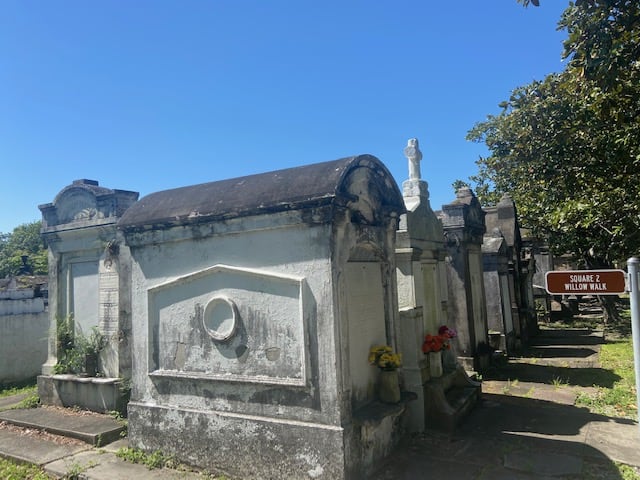 New Orleans, by design, has a lack of franchises. Starbucks wanted in, but the city is very into preservation. You won't see an M&M store here like you will at Times Square," said Florence. "We sacrifice some economic impact but the city is very into preservation."
Who would want M&M's instead of Southern Candy makers pralines?
Would someone really want to eat an egg McMuffin instead of a muffuletta at Central Grocery?
Please tell me no one would slurp their turtle soup from Zoup or eat Dairy Queen Bananas Foster?
A Tale of Two Cities
After all the aforementioned rich eating, I got my steps in and burned calories by taking both of Florence's NOLA Historic Tours Garden District and French Quarter walking tour. David Higgins, who gave the French Quarter tour, was especially animated. But it was appropriate since the French Quarter, with Bourbon Street, is more animated than the genteel Garden District. In fact the two districts, both within the Crescent Cities population of 450,000, could not have been more different.
"They're like two different cities because they were, at one time, two different cities," he explained. "Canal Street, the widest street in America, was the dividing road. In some ways it still is."
The Garden District is literally shady; while the French Quarter is figuratively so.
That isn't to say the roads between the Garden District's stately, landscaped, manicured antebellum homes are all smooth. It's common to stop over uneven sidewalk blocks or crumbling curbs.
"There's an aesthetic here where you'll see that people have left things in a state of decay. Even Preservation Hall has a layer of grime on the windows," Florence explained. "New Orleans itself is a contradiction of elegance and decadence. It's beautiful, lyrical and poetic, but it's also kind of sketchy and a little nasty," said Florence. He understood my first night shock and trepidation on Bourbon Street. But there is only one Bourbon Street in the world. Sometimes it's a little much. It gets wild. It's not for everybody. It's a mashup of human beings."
EMT Holly Sherman is a first responder featured on A&E's Nightwatch – a reality series set in New Orleans. Deals with the worst of what I saw every day. When I had the opportunity to describe some of my Bourbon Street mental "snapshots" to her, she, too, was not surprised.
Now I Know What It Means To Miss New Orleans
By my third and final night in New Orleans I had finally succumbed to the sensuality of the city and took it easy in the Big Easy. I relaxed my inhibitions and let myself go. I smiled at the wild and shrugged at the fun. Spooky became kooky. A swamp town dripping with delicious dread became a feast for the senses. This 'fraidy cat became a pussycat and let New Orleans stroke me.
I was sitting, at closing time, back in Maison Bourbon Jazz Bar drinking a Hurricane and listening to the five-piece band belt out the St. James Infirmary Blues. A white bearded fellow in a tie and chapeau alternated between playing his horn and singing the lyrics of the funeral dirge:
"Then keep me six crap-shooting pallbearers
Let a chorus girl sing me a song
Put a red-hot jazz band, we raise
Hallelujah as we go along, well"
I took a swig, shrugged, contemplated my eventual, unavoidable demise and thought to myself, "Well, that sounds about right."
Evidently I had learned to experience Bourbon Street in a different light…or delicious darkness, as it were.
Read more on Michael Patrick Shiels' travel blog, The Travel Tattler. Contact Travel Writer Michael Patrick Shiels at [email protected]