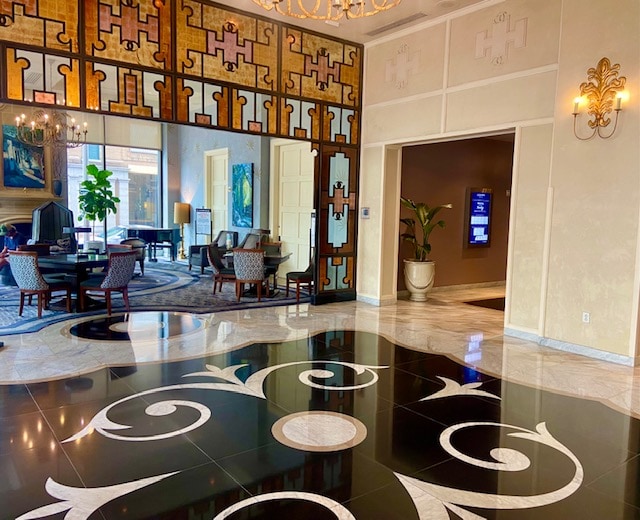 "It's always a challenge to speak the Gospel here in the French Quarter but it is what I am called to do."
-Archbishop Emeritus Alfred Hughes at New Orleans' Cathedral Saint Louis.
I looked out an 11th story window in the Loews Hotel at part of the New Orleans skyline. To my left I could see the imposing, soaring shelter-like structure of the National World War II Museum. Down at street level I saw unsheltered people lined up in the light rain to get into Mother's – a no-frills, decades-old po' boy-jambalaya-red beans-and-rice restaurant on the corner across the street.
"I think they pay people to stand in line there," deadpanned Drew Mills when he saw me notice people waiting. Mills is the food and beverage director for Loews New Orleans Hotel.
"I ate there twice yesterday," I then confessed to him. And sensing a bit of competitiveness from Mills I asked him if it was difficult to be the chef at Loews – or any hotel – and its Peters at Poydras brasserie in a city with such compelling cuisine?
"No one comes to New Orleans to just stay in the hotel, so we get our guests started and end the night with them. And if it rains or something they're good," he admitted. "In New Orleans when you're eating breakfast you are wondering what you're going to have for lunch. At lunch you're thinking about dinner. During dinner you're discussing where to go for drinks."
A week before my visit I'd heard television food critic Andrew Zimmern say New Orleans is the only city that, at the mere mention of its name, you can taste.
New Orleans New Cuisine
Even though he is in management, Mills loves pouring handcrafted cocktails in the hotel's comfortable, elegant bar on the spot where the Poydras Market stood in 1838.
"The bar is where I get to meet guests and find out what they're here for and where they want to go. When I can give people hints on where to go it's fun. New Orleans has its own personality," explained Mills. A number of classic cocktails were invented in New Orleans, but Mills insists, despite the uber-traditional simple dishes slung at Mother's Restaurant, the New Orleans food scene has evolved.
"The whole culinary background for New Orleans is a giant slow-moving cycle. It got very popular as a melting pot city. You had all kinds of demographics and cultures coming together and it became a food scene. But New Orleans cuisine has been recreated. The door is open now. There are no rules. Chefs are being as creative as they can."
I told Mills that, in addition to Mother's, I'd made pilgrimages to some of New Orleans oldest and most time-honored restaurants Arnaud's; Napoleon House; Galatoire's (where I had to endure dining room-wide wait staff singing "Happy Birthday" to three different tables during the span of one meal); Commander's Palace and Antione's (1840).
"You can still hit the old spots but the new restaurants opening are refreshing. If you came here expecting everything covered in crawfish cream sauce you will be surprised to find even Asian influenced dishes and restaurants," he countered. "Creole food is being refined and the flavors cleaned up, but it scratches the itch for the dishes you remember."
In terms of culture Mills described New Orleans as the "Northernmost Caribbean City."
The City That Care Forgot
Due to its storm-ravaged, sometimes weathered, authentic condition, Mills calls New Orleans the "City that Care Forgot." But he never forgot The Big Easy.
"I know what it means to miss New Orleans," he said, invoking the lyrics of the famed droopy jazz ballad by the same title. "I lived in New York and I moved to the Philippines and while I was there the only thing I could think about was coming home."
As difficult as it was to tear myself from the luxurious Loews, I left Mills and set out on foot for the day hoping to, James Joyce-style, come back later with a stream of consciousness head full of stories. New Orleans, of course, in all its historic, eccentric, musical glory, turned out to be a page-turner.
I started the day in the best possible way with a café au lait at Café Du Monde. With the coffee and a bag of three hot, crunchy beignets I found myself completely at ease in the covered, open-air patio under the green and white-striped awning between Jackson Square and the Mississippi River.
There was a sidewalk casual quintet pumping out jazz-versions of tunes such as "You Are My Sunshine." The music made my morning but annoyed some a type-A stress-ball with a red Ohio State shirt on who, right in front of his kids, barked at the attendant at the coffee stand. "This music is driving me crazy!"
He'd truly come to the wrong place, because "music" and "crazy" are two of the main reasons to come to New Orleans!
Everyone else was applauding the band…or were they trying to dust the white powdered sugar from the beignets off of their hands. (There was a pile of powdered sugar left in the bottom of my beignet bag, which I poured into my coffee.)
When the clapping stopped one of the band members, holding a plastic bucket, shouted a rhyme:
"Applause is nice…but it doesn't get us beans and rice."
He was, in his funny way, reminding the crowd to tip the musicians.
"Don't forget Phillip…fill-up the bucket!"
The ragtag band struck up an instrumental while he went around the railing allowing people to toss pennies or pence into the pail.
They passed the basket, too, at my next stop: 9 a.m. Mass just across Jackson Square at the Cathedral-Basilica Saint Louis – the white, triple-steepled, iconic landmark. Masses were first celebrated on the site in 1718 and the current structure is America's oldest cathedral in continuous use.
The Devil Made Me Do It
After Mass in the gloriously decorated cathedral under its soaring ceiling and chandeliers, I chatted briefly with New Orleans Archbishop Emeritus Alfred Hughes.
"Your Excellency you know you are now sending the faithful out onto Bourbon Street and into one of the most tempting cities in America," I posited.
"It's always a challenge to speak the Gospel here in the French Quarter but it is what I am called to do. Even here inside the cathedral Satan can be at work in subtle ways trying to get a hold of us and feed our ego by tempting us to misuse the gifts of God," he warned.
How did he know my plans for the day?
"Well, it's all in the pursuit of experiential journalism," I justified to myself.
After Mass Absinthe
I then, myself, processed down Bourbon Street looking for just the perfect place to have my pre-noon first drink of the day. I passed the gate of civilized, gentrified Musical Legends Park, which I recommend as a very easygoing, open-air, family-friendly jazz listening experience among life-sized statues of legendary musicians.
Just a block from there a guy sat on the curb banging noisily on upside down plastic buckets as if they were a drum set. Of course, he had one bucket right-side up to collect tips from passersby. Who's to say what is "music," I suppose.
In order to evade the noise, and because it appeared to be a unique experience, I ducked into Jean Lafitte's Old Absinthe House. It was dark and quiet, the walls covered with thousands of business cards. I ordered a traditional Absinthe Frappe to find out if the worm-wooded, hallucinogenic "green fairy" might enhance my James Joyce "Dubliners" day in the French Quarter.
As the absinthe in my glass was just turning milky after soaking through the sugar cube spoon I thought I was already hallucinating when a gentleman seated down the bar with his wife and another couple offered to pay for my $18 drink.
The resulting conversation revealed – again, maybe a hallucination – that the man was a Canadian from Houston who once drove Route 66 from Chicago to St. Louis in a 1950's-era car while wearing a zoot suit. (He showed my pictures on his phone to prove it, unless they were also part of a hallucination?)
I began to feel as if I were in a movie, a sensation encouraged by the fact countless movies and television shows are filmed around New Orleans at any given time, according to Marybeth Romig, an assistant vice-president with New Orleans & Company, the city's tourism organization. I had coffee with her in the Loews Hotel lobby as she was on her way to meet with the producers of the NBC Today Show to plan a live broadcast from Jackson Square featuring Jenna Bush and Hoda. It was a busy month for Romig. Mardi Gras had just finished and NCAA Basketball's Final Four was on the way.
No Business Like Show Business
TV, movies or not, I found constant amateur entertainment just walking the streets. Little pop-up bands played for tips on curbs and in doorways, and even individual soloists sang for their suppers. Each afternoon there was a rousing band in front of the cathedral that played until dark and wrapped up with an extended version of the requisite hit "When the Saints Go Marching In."
Just as they concluded a "second line" wedding procession paraded around the corner and down the street dancing and cheering and whooping it up with a marching jazz band. I've never attended any wedding reception anywhere in which the guests had more fun than this moving wedding party. Here's the kick – it was exactly like the jazz funeral procession I'd seen on the streets earlier in the day! The "mourners" held photo placards of the deceased, and some had bouncing parasols over their heads as they danced and paraded down the streets between people with python snakes around their necks and iguanas on their shoulders offering selfies for money.
Jazz It Up
If you take your jazz seriously, take in a 45-minute, pure, professional performance at tiny, hidden, historic Preservation Hall – the beating heart of New Orleans music. The intimate sessions run all day long with timed-entry tickets. Preservation Hall is like French Laundry in Napa where there is no artwork, flowers, or ambient music to distract from the food. Preservation Hall is a no-frills, music appreciation listening experience. It's like you've been allowed into a dilapidated laboratory to sneak a peek at master craftsmen preserving their art by sharing it.
Maison Bourbon bar is my favorite live jazz venue because it's on the corner which allows for people watching while listening to the Lee Floyd Band's banjos, drums, trumpets and Satchmo impressions. I ordered a Hurricane and settled on a stool. In between songs, during a quick conversation with some people next to me, I mentioned the phrase "south of the border." Someone on the stage heard me, thought it was a request, and the quartet spontaneously struck up a bluesy version of the song South of the Border!
"I'd better be careful what I say," I joked!
When the band took a break, I asked Lee Floyd if that song was part of their repertoire?
"We've never played it before," he said.
I was astonished that with no advance warning and no conversation between them, they were able to perform that song, each playing their own instrument, from scratch.
Drinking and Dancing
After starting with absinthe, I decided I'd "drink for the cycle" that day and consume the cocktails New Orleans was famous for (not counting the giant daiquiris sold at the countless chicken shacks throughout the French Quarter.)
At Dickie Brennan's Bourbon House – maybe the most beautiful bar and restaurant in New Orleans on the corner of Bourbon Street and Iberville – I tried a milk punch.
"What's a milk punch?" I asked the bartender.
"It's like a milkshake with bourbon," the bartender barked as if he wanted to milk punch me!
My own "research" revealed a milk punch has spicy brandy, bourbon, sugar, vanilla extract and creamy, cold milk.
I walked to Antoine's, the oldest restaurant in New Orleans, for a gin fizz – complete with an egg white mixed in – something I would likely not have occasion to drink anywhere outside New Orleans.
I sat for soup in the darker, big, back room (very different from the smaller, gentle, bright street-front entry room) with its walls full of generations of photos of celebrities who'd dined there. My server, a gentleman named Murphy Ruiz, had encountered some of them during the decades he worked at Antione's while his wife ran the wine cellar.
Murphy was training a new, also tuxedoed server named Meghan who was nevertheless plucky and attentive. She already seemed to know her way around, and it turns out she should. She, as his daughter, was literally raised in the restaurant. Megan encouraged me to explore the wine cave and the rabbit warren of various private rooms – one was once a jail. While I did so I met her "Uncle Skeeter" aka Ernest Jack, who has been working at Antione's for 40 years.
In the Interest of Journalism
Having walked through the antique Court of Two Sisters very old, open-air dining space – known for its jazz brunch and turtle soup – I was looking for Fritzel's European Jazz Club on Bourbon Street when, almost in front of Sinners and Saints Restaurant, I met a young woman who, lord have mercy, smiled, handed me a card, and asked me to come see her perform.
15 minutes later I found myself stage-side in Rick's Cabaret – one of, it seemed, Bourbon Streets' more respectable, so-called "gentlemen's clubs." (I hardly think one can describe a strip bar named "Barely Legal" as a "gentlemen's club.") But I digress. And I guess I confess, that at Rick's Cabaret I sipped a Bud Light and watched a woman named Billie (maybe) who danced around a pole. Standard stuff for that type of entertainment until she managed, using the pole, to get herself about six-feet up off the stage and, like a David Blaine levitation trick, seemed to be hovering in the air!
I finished that one, quick beer and, on my way out, over by the bar, told Billie how amazing her dance was. Then I asked Billie how she did it?
She wouldn't reveal her secret but Billie did tell me, "The trick is practice and confidence. I've only fallen twice."
She seemed proud of her talent and pleased that I'd noticed.
"New Orleans is different," she said. "We are all performers."
Tricksters
Back on Bourbon Street I met another performer of sorts – a trickster. He was amicable enough when he approached me and asked me, "Will you give me $20 if you tell me only your first name and I can then spell your last name? Only tell me your first name….and I will be able to spell your last name."
I don't know if I was tired or just enjoying the spirit of his enthusiasm, but I agreed.
"My first name is Michael. Now you're telling me that you will be able to spell my last name?"
"Yes, Michael, I can," he nodded, and then continued: "y-o-u-r l-a-s-t n-a-m-e."
He was as proud of himself as Billie was, so I happily handed him the $20.
Walking My Body Back Home…to Loews
I succumbed to one more guilty pleasure that evening.
I had been out all day and into the night exploring and, in doing so, strolled about 10 miles according to my pedometer. On my way back to Loews Hotel I passed, not far from Café Du Monde where the day started, a storefront massage service offering foot-rubs and massages.
I'm not sure, for $12, whether it technically qualified as reflexology, but the man out front woke up a woman who was sleeping in the back of the room to give my feet a 10-minute recharge. But I gave her $20, too.
Read more on Michael Patrick Shiels' travel blog, The Travel Tattler. Contact Travel Writer Michael Patrick Shiels at [email protected]