"A hot-buttered lobster roll with fresh meat and Vermont butter on a toasted brioche bun is an uncomplicated, lazy man's feast. And fresh oysters are a transportation to heaven."
Were you a "picky eater" as a child? As an adult I endeavor to evolve and expand my menus, and a recent experience opened my eyes…which are often bigger than my stomach.
The Maine Catch is a naturally nautical-themed new restaurant opened by savvy area operators in Ogunquit, Maine – just south of Kennebunkport and 60 miles north of Boston. What's on the menu was likely swimming earlier the day before you dine on it, according to Chef Kelli Thompson.
"It's our mission to honor the ocean and keep every ingredient fresh and get it from ocean to table as fast as possible and we work with local purveyors and fishermen in order to do that," she said. The title "chef" means "chief" of the kitchen, and in terms of honoring the ocean, Thompson insists on even using a responsible, humane way to harvest the fresh, live lobsters that come in. "We respect them and keep them in seaweed in a quiet, dark place. Then, when it's time, rubbing a live lobster down its back six times hypnotizes it before it goes into the boiling pot," Thompson explained.
I queried the lobster theory with two of the dockhands who were steaming them beside the boat at the Langsford Road Lobster & Fish Store, an authentically unglamorous operation a few miles north in Kennebunkport. One of the boys answered, "I don't know if it really hypnotizes them…but it makes us feel a little better before we drop them in."
The Best Way to Eat Lobster
Eating lobster makes everyone feel better and while whole-steamed lobsters are on the menu at Maine Catch (along with baked-stuffed), Thompson suggested that ordering a lobster roll is the best, least-messy way to go since pulling apart a whole lobster is not for everyone. "You can't beat a hot-buttered lobster roll with fresh meat and Vermont butter on a toasted brioche bun. It's an uncomplicated, lazy man's feast."
During the trip I ate both a lobster roll at Maine Catch and also dined on a whole-steamed lobster – carried out from the Langsford Road dock – at the oceanfront home of friends Stephen and Alicia Spenlinhaur. This time I found the chef's theory on the relative simplicity of eating a lobster roll vs cracking up a whole-steamed lobster was 100-percent correct.
Hooray for the Half Shell
The Maine Catch is in walking distance to the ocean on Shore Road, and before I sat down to an early lunch, Chef Thompson walked me around the 160-seat, two-story, indoor and outdoor rustic restaurant with a fireplace and a lively bar. It is dark-paneled but bright with lots of windows, natural light and an event space.
"You're going to try the oysters, right?" she asked me with what doubled as a statement and a question.
I swallowed hard (which, it turns out, is what I would have to do if I ate an oyster) before answering her question with a question. "Should I?"
"If people visit the area, and this restaurant and they eat just one thing, I highly recommend they try the oysters. We have raw bar eight-to-12 varieties of New England oysters on a daily basis constantly rotated," Thompson explained. "With that many varieties you get a chance to taste the different sea waters and the variance in taste that can come between an oyster just upriver from another. It's like you're swimming in those areas."
I nodded, wide-eyed, and then, as she showed me the iced-down raw bar, Chef Thompson continued. "We shuck them to order. We serve them on the half-shell on ice, with house-made mignonette with shallots and some other secret ingredients, including a very spicy horseradish cocktail sauce and a squeeze of lemon…it's a transportation to heaven."
But…How?
It was then I confessed that I'd never tried oysters. It was their appearance, texture, color and, well, alien yuckiness that had always stopped me from diving in. In some way I knew this would disqualify any esteem she may have had for me, but she didn't let it show…and…she didn't blink.
"Don't be intimidated. Be open-minded," she insisted. "Oysters aren't for everybody…but they're for more people than they think."
Translation: I would be eating oysters.
"Take one bite and swallow. Don't try to chew the whole thing," she advised. "…Imagine you're swimming."
With that Chef Thompson left me at a table near the window at 11:30 in the morning on a rainy Monday and in the attentive care of Garrett, a transplanted Californian who brought me a pewter plate shaped like a clam shell with granules of crushed ice piled in it like a snow cone. Sitting atop the ice were two small metal cups, one with red cocktail sauce with horseradish on the surface; the other with the caramel-colored mignonette sauce. There also were two slices of bright-yellow lemon. And beside it all were two oyster shells – brownish gray rocky-looking on the bottom, and pearly white on the side facing up – the side acting as a tiny bowl containing the, the, well, well the oysters. Let's leave the description at that. Each of the two had a small, wooden plank stuck into the ice next to it to designate which variety of oyster they were. One read Moshier and the other Moon Dancer.
No Turning Back
I mean they were only oysters. We weren't exactly wandering into exotic, Far East, Anthony Bourdain territory here. Nevertheless, I stalled by making small talk with Garrett and asking more about the menu. He told me about an occasion upon which a newlywed couple ordered an "Oyster Tower" off the menu for just the two of them. This was remarkable because the "Tower" menu item contained a voluminous number of oysters meant for table sharing.
"They must have had some night," I joked, referring to the old cliché about oysters being a natural, libidinous aphrodisiac.
"Well," Garrett replied, "Eating the quality of fresh oysters we serve is definitely rejuvenating."
By then he'd tired of my delay tactics and, like a caring but firm schoolteacher, turned to reassurance.
"Mr. Shiels, tip the shell so the oyster slides into your mouth, take just one bite to release the flavors, and then swallow. I won't watch. I realize this is a vulnerable thing to do," he said. As he turned and walked away, Garrett added, "I believe in you."
Redemption
I hope Chef Thompson was proud to see Garrett bring back the emptied pewter plates. She is originally from Pennsylvania, and she admitted she found redemption in cooking when, at age 16 she described it as a bad path. "I found I loved the noise and action and smell of the kitchen," she said – with the light of battle in her eyes. She trained at a culinary school in Pennsylvania and then learned on the line at the prestigious Ocean Reef Club in Key Largo, Florida where, ironically, the aforementioned Spenlinhauers, of Kennebunkport, are members and spend the winter. By the way, at dinner the Spenlinhauers, in addition to the whole-steamed lobsters, insisted I try the…clams.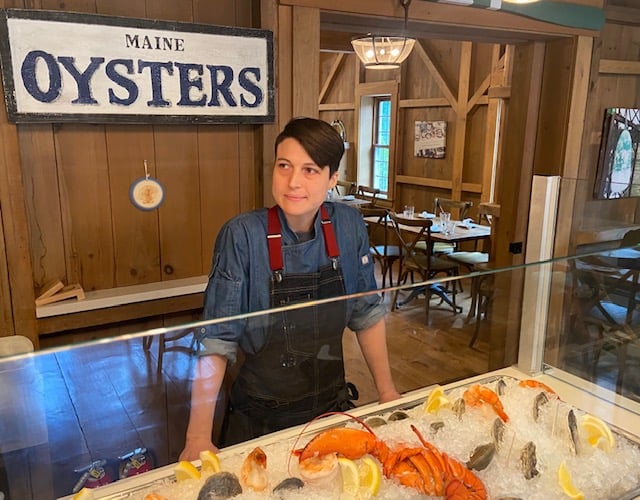 Read more on Michael Patrick Shiels' travel blog, The Travel Tattler. Contact Travel Writer Michael Patrick Shiels at [email protected]