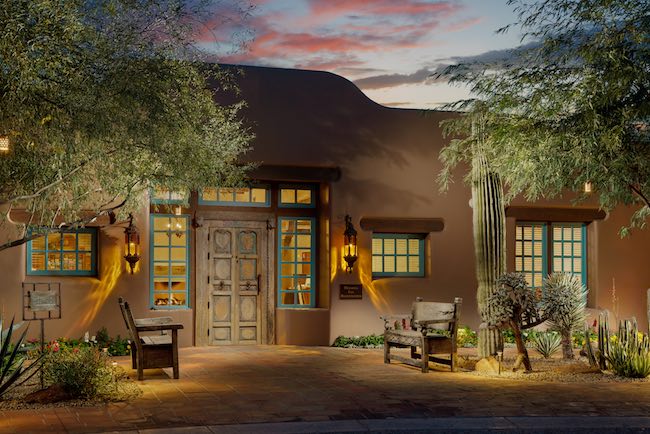 To call The Hermosa Inn a hideaway is an understatement. It is that, yes, but its history together with its captivating setting makes it more of a sanctuary… an enchanting ode to its creator. 
History of The Hermosa Inn
Philadelphia-born Alonzo "Lon" Megargee made his way west as a teenager in 1896 after becoming enamored with cowboys and their rugged way of life. He held various jobs before succeeding as a bonafide cowhand on an Arizona ranch. But it was his artistic ability that brought him fame—that and his charming carefree but irresponsible attitude about life, money and those around him. Indeed, he had at least seven wives and numerous women throughout his career, he was in debt most of the time, and he was a great storyteller, most of it untrue. His braggadocio was either loved or disdained, but he always had a good time. As a cowboy artist, he depicted a romantic west—the way he saw it. His most famous work, "The Last Drop From His Stetson," is used as a logo by the hat company, and his murals still grace the state capitol building. 
Building The Hermosa Inn
When Megargee was looking for a place to settle in the 30s, he found a plot of land far removed from Phoenix city life and built an adobe home and studio. He called his Mexican/Spanish-style home Casa Hermosa (Beautiful House). By 1941, another divorce forced him to sell the secluded hideaway, furnishings and all, to a couple who turned it into The Hermosa Inn. He left behind one of the largest collections of his artwork in the world. Over the years various owners have added a pool, hot tubs, a spa and casitas to the lush property on six acres. In 2015, Ron and Joyce Allred, who put Telluride, Colorado on the map, bought it and turned it further into the romantic desert oasis that we discovered in Paradise Valley. 
"We're all caretakers of Lon's original home," said Keeley Ast, a spokeswoman for the resort.
Casitas at The Hermosa Inn
The handsome reception area of the original home reflects the splendid southwestern decor found throughout the property.
We stroll on a path through gorgeous gardens of spring blooming flowers, 100-year-old cactus, and olive and mesquite trees to find our home for the night among 43 casitas and guestrooms. Except for the birds chirping, there's not a sound, despite the resort being fully occupied.
Our casita has a shady patio by the front door where we would sip morning coffee and listen to the sounds of the desert.
Our deluxe casita is a charming slice of the southwest, with leather chairs clustered in front of a kiva fireplace, warm pine furniture, and wood floors dressed in Native American rugs. A vaulted ceiling resembling the top of a teepee holds a skylight that can be opened or closed. All the comforts of a luxury hotel are here: large-screen TV, two cabinets with coffee/tea service and fridge, and a large closet with a safe and iron/ironing board.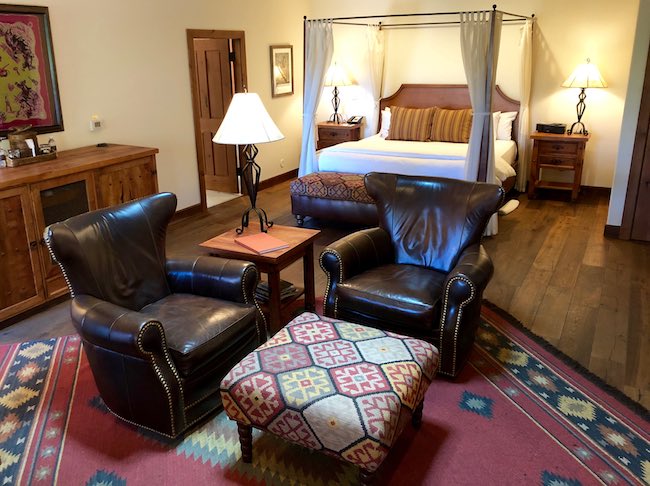 The bathroom is super snazzy! Two sinks, large marble countertop with drawer and shelves, great lighting, and a luxurious soaking tub. A separate all-tile shower with two shower heads and seating is off to the side.
The best part of the bathroom is Megargee's famous humorous painting "Cowboy's Saturday Night" above the tub.
Dining at The Hermosa Inn
People come from all over Arizona just to dine at the beautiful outdoor patio of LON's or soak in the Arizona ambiance with a cocktail at aptly named LON's Last Drop adjacent to the restaurant. During the day umbrellas shade tables from the sun, and in the evening Kiva fireplaces cast a romantic glow while music from the 1930s plays softly. Lon himself would have loved it! Longtime maître d' Andrew grew up near the property and used to climb the old tree still growing on the patio. He can regale you with stories from back in the day and maybe show you the much cooler wine cellar where private parties are held.
Four sommeliers manage more than 700 bottles of wine to accompany the "globally inspired Arizona fare," a combination of classics like pecan wood grilled filet mignon and innovative dishes like ahi tuna seared on a block of Himalayan salt. But the pièce de résistance is LON's signature Cowboy Candy Bar, a confection of chili-spiced ganache, Marcona almonds, crispy feuillentine, caramelia ice cream and salted caramel sauce. We pair this with an Icewine from the Niagra peninsula. Heaven!
Amenities at The Hermosa Inn
Befitting an intimate boutique resort, the pool is not large nor noisy or crowded. It's perfect for a quiet respite any time of day (cabana rentals are $75 for the day).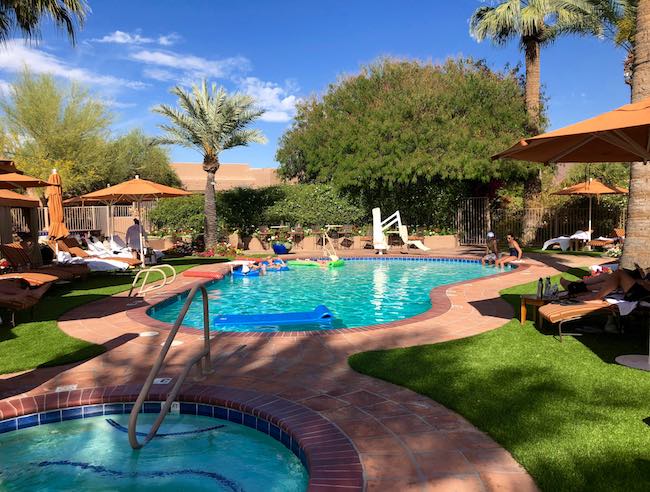 A separate casita houses the Blue Door Spa, which unfortunately I don't have time to experience (next visit!) There's also a small fitness room, a lovely library for meetings and private parties as well as a couple of other event spaces. Cruisers bikes are free to guests to ride around the Paradise Valley and Arcadia neighborhoods. And there's always Megargee's delightful cowboy art around the buildings to explore.
"it's what we don't do that makes us special," says Melanie Volkers, director of sales and marketing, when I remark to her how peaceful it is. Meaning, there are no elevators, no crowds, no noise!
Summer is a great time to visit (yes, it's hot but we find plenty of shaded spots). The Summer in Paradise Getaway starting at $149 per day includes $25 daily food and drink credit, two welcome cocktails and daily poolside treats. it runs from May 13th through September 30th.
What To Do Near The Hermosa Inn
Though we are surrounded by desert wilderness, less than 20 minutes away are shops (with unparalleled Native American art and jewelry), art galleries, museums and restaurants of downtown and Old Town Scottsdale, as is Phoenix Sky Harbor Airport. More than 200 golf courses are spread throughout the Phoenix and Scottsdale area. Camelback Mountain and Piestewa Peak for hiking and biking are five minutes from the resort. For more information on what to do in the Valley of the Sun, visit www.experiencescottsdale.com
The Hermosa Inn, 5532 North Palo Cristi Road, Paradise Valley, Arizona, 85253; 
844-423-3981; www.hermosainn.com
Claudia Carbone is an award-winning travel writer based in Denver. Read about other hotels she's visited in Sleepin' Around.