The legacy of George H.W. Bush is pervasive on the fringes of Texas A&M college campus. Those who visit College Station to explore the late 41st U.S. president's museum and final resting place there will be delighted to rest their heads at The George, a hotel that's almost too exciting to sleep in.
The George is no white-powdered wig lodging option: it has all the local swagger of the type that originally provoked the phrase "Don't mess with Texas."
The George Hotel's Connection to George Bush and Beyond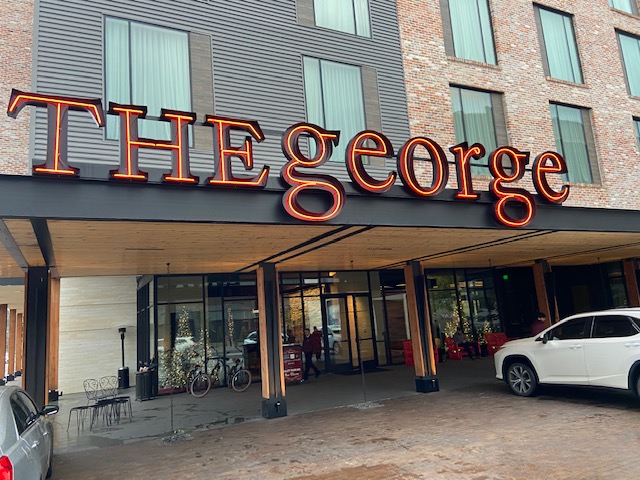 The 162-room luxury boutique hotel insists it is named for "notable Georges throughout history, but there are nods to George Bush. They are subtle. The fun farm-to-fire restaurant beside the courtyard swimming pool is called "Poppy," which was Bush's nickname.
As a Texan transplant from the effete northeast Bush proved over time he wasn't "all hat and no cattle," so he'd have loved quail and grits or tacos available at the self-serve breakfast. Bush's presidential snack was pork rinds with hot sauce, as opposed to his predecessor Ronald Reagan's jellybeans, and across campus at very casual C&J Barbeque they still talk about the time former President Bush came by for brisket.
Fancy Pants: Like Denim With Rhinestones
But on the other side of The George's courtyard swimming pool, just beside the lobby and beyond the wall-mounted boot pegs, rustic meets refined in a decidedly contemporary craft cocktail lounge called 1791 Whiskey Bar. Bartender Jack Landingham, perhaps better described as a "mixologist," invented a drink called "Speyside Script" by pouring scotch into a glass with ginger syrup and lemon bitters before adding "peated spray."
The spray is the mist of Laphroaig, a peaty single-malt Scotch whisky he squirts over the surface of the drink from a mister – a technique he said he invented. It's one of a number of dreamed-up drinks on the bar's "1791 old-fashioned list" headed with the phrase "Imbibe with ambition." In the fashion of a "spaghetti western," Landingham also authored the "Hombre Urbano" with spicy Italian bitter, sweet vermouth, rye whiskey, and tequila.
An evening in 1791 Whiskey Bar is vibrant and cozy. The comfy couches, mismatched chairs and coffee tables provided for gathering were full of hip, professional locals from campus or local businesses. There is room to stand and mingle at the bar but no barstools…which is great because it prevents people from bunkering in and blocking the performance put on by the bartenders who are squeezing, muddling and mixing potions.
The George Salutes Also Bush's First Lady Whom he Called "The Silver Fox"
First Lady Barbara Bush is saluted in a bolder way. Immediately upon arrival guests a massive pile of floor-to-ceiling, shelved books – the red, white and blue covers of which create a giant mural of the Lone Star State's flag. The work of art by Thedra Cullar-Leadford is named "Go Big or Go Home" and is dedicated with a plaque and photo of Mrs. Bush…a champion of literacy. (Donations for her literacy foundation are accepted at the front desk.)
Mrs. Bush, who was known to wear colorful (and mismatched) Keds sneakers would also have liked The George's boutique of bejeweled purses, scarves, and accessories in the gift shop – right in the middle of the lobby. There are no pearls for sale, but they do sell colorful men's socks – which Mrs. Bush's husband was known to sport.
Sophistication With a Smile…Grand With a Grin
The Bushes were fun people who dispensed with formality in favor of humor. The George's luxury western-themed décor is dolled out with a dash of irreverence. For instance the mural sprawled across the white tiles above the commode in my guest room read: "Don't squat with your spurs on."
Throughout the main floor there were statues of sheep randomly roaming the lobby areas.
And the statue of the big bull next to the rocking chairs and bicycles near the covered porch entrance is life-sized…large and noticeably anatomically correct.
Speaking of rawhide the headboard in my guestroom at the top of bed had a leather strap/belt buckled to it and stretched across vertically. "Whoa, Nelly!" as college football broadcaster Keith Jackson used to say. A colorful mural beside Poppy reads: "Howdy From AggieLand;" and each guestroom has a copy of former A&M football coach Jackie Sherrill's book about the team's legendary "12th Man" tradition.
On the way to the guestrooms, each floor, in the darkened area next to the elevator, had a black and white Western movie projecting onto the wall…otherwise there is lots of natural light though the full-length windows and the light fixtures and chandeliers are artsy.
Eye Candy in College Station
The George, inside and out, has eye-candy around every corner. The hotel is designed to be a physical part of the local scene it blends into in the middle of 60-acre Century Square – a collection of mixed use retail with restaurants and bars adjacent to campus. The triumph of this property is that it is fun and welcoming whether you're in some way connected to the university or visiting the Bush Presidential Museum…or not. It's a fun place to spend a weekend where – on property – you can enjoy pastimes as diverse as listening to live country music or playing chess in the lobby. Or, as George Bush would suggest – horseshoes, anyone?
Michael Patrick Shiels is a radio host and travel blogger. Follow his adventures at GoWorldTravel.com/TravelTattler. Contact Travel Writer Michael Patrick Shiels at [email protected]