Editor's Note: We share places, products and activities we recommend. If you make a purchase using a link on our site, we may earn a commission.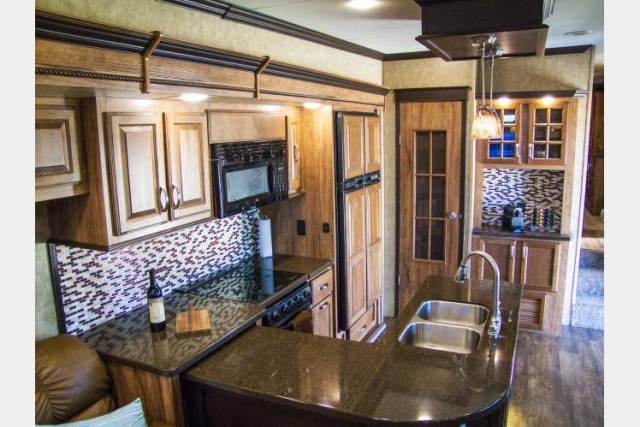 Best Ways to Remodel an RV
Aesthetically, RVs can often be pretty bland or generic off the assembly line or maybe you have purchased an old one that needs updating. There are some small items you can tackle in an RV remodel that will improve the look dramatically.
Window Coverings in an RV don't always make you think of home. They cry "camper." New window coverings are one RV remodel that can really make it feel like it has a touch of home. Our RV has fabric-covered wood valances that I plan to take down someday and recover with fabric that I like. Maybe that will be my next blog.
Back-Splash in an RV
What we have done, however, is to put a new back-splash in the kitchen area. Our back-splash was really only behind the stove top and felt cold and uninviting.
I did some research on peel and stick back-splashes. There are so many out there. Some are actually made of real stone, just very thin. One maker of those is Aspect Stone. Since this home bounces up and down the freeway, we decided to stay away from any real stone or ceramic that could crack.
We also didn't want to add much weight to the fifth wheel. We found these beautiful pieces of faux tile from Smart Tile. Unless you touch them, you may not even realize they are not ceramic.
Tackling the Project
Our first step was to take down the old back-splash. I was worried about what I would find behind or if I would tear up the wall. But, the trim was just stapled into the wall and came off easy. The little decorative studs pulled off with a little help from a flat head screwdriver.
Next step was to clean it all with some soap and water. Make sure you get every bit of grease off the wall. If you have heavy grease, you might need to use something a bit stronger to get it off.
Then, my husband began to peel and stick the tile. There were some areas that he needed to measure and trim the tile before placing it on the wall, like around outlets. Take care to place on the RV wall correctly. Sometimes it is easy to peel off and redo and sometimes it is not.
It took my husband 2 hours to complete the remodel project. We loved the new look.
We couldn't believe what a difference it made in the RV with just one project.
Beyond the remodel, Camping World has a huge selection of RV accessories and utilities. Check out their selection here for your next RV addition.
Next project: Window coverings.
Latest posts by Debbie Miller Pond
(see all)