Summer Palace Restaurant
Summer Palace is the popular Cantonese restaurant located inside the Island Shangri-La hotel in Hong Kong. Holding one Michelin star, the restaurant focuses on a classic, Imperial style of Cantonese food, as one might have been served in a royal palace. Chef Leung Yu King offers diners a thorough menu, with wonderful, changing seasonal selections mixed with classic Chinese dishes. There's also an extensive dim sum lunch.
The dining experience is formal yet comfortable, the room is very ornate and intricately decorated, again giving that Imperial vibe. Service is formal and seriously on-point, with multiple servers always around the table, bringing new things and clearing finished things away. During my last visit, the luxury hotel chain was celebrating their Shangri-La Festival of Gastronomy, featuring food from eight of the hotel's Michelin star-holding chefs.
Luxury Dim Sum Menu
We had items from the dim sum menu, wonderful versions of standards like pork buns and soup dumplings, along with full entrees like stir-fried Japanese Kumamoto Wagyu beef in homemade XO sauce.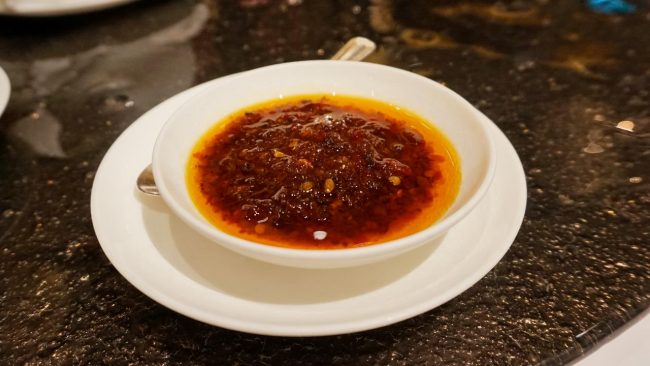 We also had a little portion of barbecued, suckling pig, served with roasted honey ham on toast. There were also creative dishes like double-boiled chicken soup with abalone and matsutake mushrooms served in a young coconut.
Luxury Hotels in Hong Kong
The Island Shangri-La is one of my two favorite luxury hotels in Hong Kong, the other being its sister hotel, the Kowloon Shangri-La, located just across the harbor. The Island Shangri-La is in a high-rise building in the Admiralty area, on Hong Kong Island. It's directly above the fancy Pacific Place shopping mall, which is filled with shops, great restaurants and all the top luxury brands. Aside from the mall being right under the hotel, there's also an MTR (subway) stop there, making it easy to travel around the city.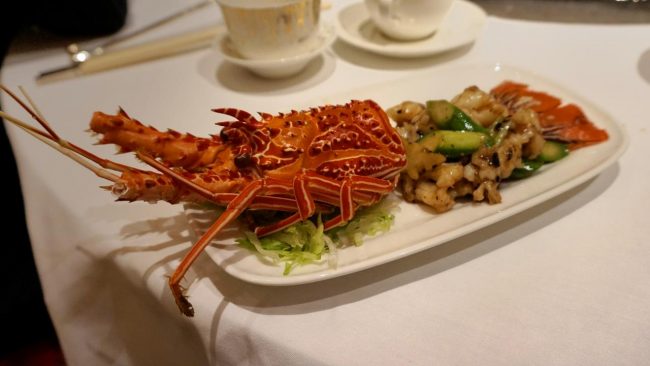 Overall, lunch at Summer Palace was a delicious experience that included two wine pairings and Champagne before the meal. We started with a Perrier-Jouet Grand Brut which was light and refreshing. The chicken and abalone soup came with the first wine pairing, a glass of 2009 Le Clos de la Roche from Pouilly-Fuisse in Burgundy. The second wine pairing came with the steamed king prawn, a 2013 Crozes Hermitages from Domaine des Lises in the Rhone Valley.
Getting to Hong Kong
To get to Hong Kong, I try to always fly the foodie-friendly Business Class service of Cathay Pacific. I'm always impressed with their consistency, having flown them probably 50 times. New, clean aircraft, relatively few flight delays or cancellations (I've never experienced one) and professional, attentive flight and cabin crews. Food and wine is always on-point with a seasonally changing, creative menu and excellent wine list.
It's easy to get from HKG to the hotel, Shangri-La has a greeter on duty who can meet you on arrival and assist with luggage and getting you to transportation. The hotel can have a car waiting or you can take the Airport Express train to Hong Kong Island, then there's a free shuttle bus at the train station that drops you off at the hotel.
Read more of Freddy Sherman's take on travel on his Go World Travel Blog. You can also follow more of his adventures at luxuryfred.com, on his luxuryfred Instagram feed and on his YouTube channel.