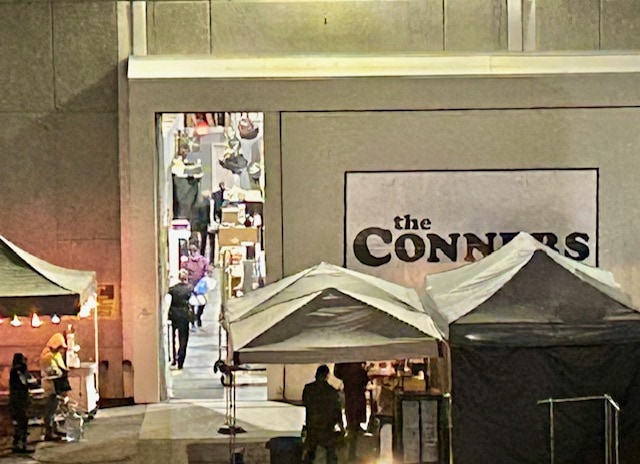 I also met a stylish young woman who was alone – and paid to be there – who'd said she'd never been on a plane or even out of California ("Other than Las Vegas," she noted.)
The opportunity to attend television tapings in Hollywood and be in the studio audience just a few feet from the stars you've seen on the little screen is easier than you might think. If you're patient and don't mind clapping and laughing a lot, being in a studio audience is free, live entertainment for you and your family or a date. Some people, as I did, attend alone…and make friends fast.
The website 1iota.com provides tickets for shows, concerts, screenings, and events across America.
I checked out "The Connors," the sitcom that resulted as a revival of the hit show "Roseanne," which is now, though, absent its star Roseanne Barr, who exited, stage left, after making a politically incorrect comment. John Goodman, who has, in addition to starring in the original "Roseanne" series, built an amazing film career including The Big Lebowski, and Argo, now, gets top billing on "The Connors," which continues its comedic, original, dysfunctional family storyline.
Lecy Goranson is the show's other bright light; the actress is more than a shiny object – the Vassar alum writes some of the episodes, and, after being behind the scenes at a taping, appears to me to be the "captain" of the cast of characters.
See For Yourself – A Sitcom
The day before the taping, I received a confirmation email inviting me to attend the taping. I'd applied late – just the day before that – so sometimes even last-minute requests can get you in! The email was full of all the relevant information such as the time to be at the soundstage address in Studio City – adjacent to Hollywood; free parking instructions; vaccination requirements; what to wear, etc.
The 1iota team are thoughtful and friendly to the attendees and seem appreciative for the time you are willing to spend on the set. In my case, I arrived at 2:30 pm (45 minutes before the deadline) and drove away after 6:30 pm. I was told by producers the seven scenes I saw taped went unusually smoothly and efficiently.
What it's Like
The process of arriving at the Radford Studio Center was very well-organized. I pulled into a parking deck and showed my ID at a gatehouse. I was directed to park and take an elevator to the basement level of the garage. It was there my ID was checked again by 1iota staffers and cross-referenced against my name on the list. Staffers also checked my vaccination card to make sure I was "fully vaccinated," the specifications of which we explained in the initial email. I was led through a metal detector where, one last time, I was reminded that you may not take cell phones into the taping. You must leave mobile phones in your car or in a small locker in the parking garage if you arrive by cab or rideshare. For this reason, I snapped some photos of the studio setting from the roof of the parking deck knowing it would be my only opportunity.
What did I see? I saw the iconic "CBS Eye" logo.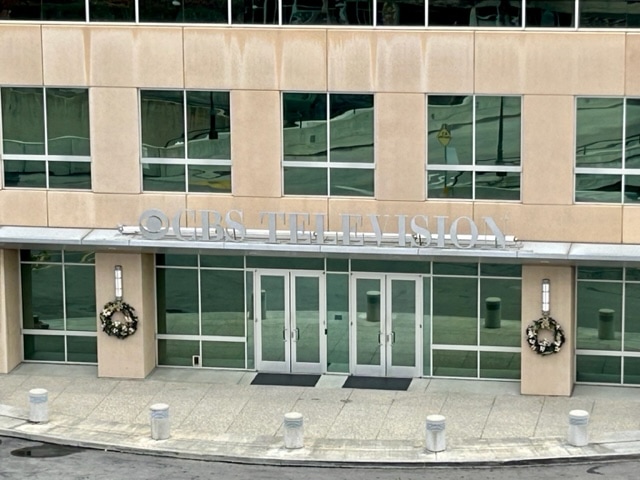 An engraved plaque at the parking garage elevator read: CBS Studio Center, December 1997, and listed nine names. The modern, four-story office building below was emblazoned with the words: CBS Television. As the elevator descended below ground level, I spotted a "walk of fame" of sorts with sidewalk bricks etched with film stars and movies, some from the Republic Pictures era. Many westerns were filmed on and around the studio property. Gilligan's Island, Gunsmoke, Leave it to Beaver, WKRP In Cincinnati, and Mary Tyler Moore are among the many TV classics created here.
TV Tapings Today
Beside the parking deck, across the concrete ditch called the Los Angeles "River," I saw big, airplane hangar-like studio buildings with billboards on the side indicating what is currently being produced inside: "The Connors" were in Studio #22; while Studio #23 housed "Seal Team Six." "The Talk" and "Dancing with the Stars" are some of the other shows shot on the grounds. Beside those buildings were trailers and tents servicing the working studios with everything from catering to laundry.
Speaking of catering, the 1iota welcoming staffers offered each of the 120 or so attendees a small, wrapped sandwich and bottled water for consumption while they waited and assembled on concrete benches in the parking deck – which has a bathroom – before being walked into the studio.
Short Wait and Small Talk
During the 30-minute wait, attendees made small talk. Some were tourists, some were locals, and some were even paid to fill out the studio audience. One woman was obviously a studio audience junkie because she made sure a couple from Kentucky heard all she knew about attending the show and her past experience. Her tone was boorish and ruining the anticipation and surprise of attending, so I tuned her out.
I met a woman who'd come from Amsterdam to take classes in California and was spending her last day in LA. I also met a stylish young woman who was alone and paid to be there who'd said she'd never been on a plane or even out of California ("Other than Las Vegas," she noted.) She had long, polished fingernails and said she knitted hats, like the one she was wearing, to alleviate her anxiety.
There was a small group from England, and two unrelated couples from Spain – one pair was on their honeymoon. Another pair of people were from Japan and others from Pittsburgh, some from Israel, British Columbia and Miami. Some of them, during their trip to La La Land, had attended other shows, including Jeopardy, Jimmy Kimmel Show, and James Cordon.
After one final offer to use the restrooms, we were led, single file, from the deck, across the river and into the sound stage.
Seats and Showtime!
Once we were perched in the studio seats – very close to and slightly above the six staged sets – everything moved quickly. There was a DJ behind us pumping loud, invigorating music – often the lyrics were selected to match the situations.
A man in a dark red velvet blazer stood in the front now of the riser seats with us to serve as the emcee and guide us through the taping. Most shows have a comedian like him to warm the audience up and make sure they are lively and loudly laughing into the hanging microphones. This fellas name was Bill Sindelar, originally from Cleveland, Ohio.
"You're not here to 'watch a show.' You can do that on your couch at home," he reminded us. "You're here to be involved in the production of a show."
Indeed, as we came to see, there were times during the taping the director and writers did retakes with rewrites based on the timing of the lines, audience reaction, and laughter (or lack of it.) Sometimes we were asked not to sigh when a line was touching, for instance.
A woman behind me seemed to take this responsibility a little too seriously when she laughed at everything with a high-pitched whooping that sounded like some exotic jungle bird laying an egg! "Woo hoo hoo hoo hoo hoo!"
"What I see working this job each week is a masterclass in acting," Sindelar stated. "The way the actors adjust to re-writes and then are able turn lines written on paper into comedy gold on the screen is amazing."
The audience cheered loudly as each of the show's stars were announced and introduced to the crowd before the taping and came running out for a bow as the DJ played music. It was a sweet way to acknowledge there was an audience in their working environment.
As for that working environment, Sindelar, while taking questions from the audience, explained how the birth of an episode begins on Monday when the cast conducts a "table read" of the script, and then spends the week rehearsing, setting up the camera angles and positioning the actors on stage, plus shooting some scenes ahead of time. By Friday, the day The Connors tapes in front of the audience, it is "go time," and every second counts.
We were in the seats for about two-and-a-half hours for this particular episode.
Seeing Behind the Curtain
It was perhaps most interesting to see the mistakes and the missed lines when the actors occasionally forgot what to say in a scene. While working, performers feed off the audience reaction, and so it seemed natural they'd be miffed at themselves for causing a scene to stop in front of a crowd. The actors would sometimes apologize to the crowd or make a self-effacing joke. Ultimately, they found an audience full of fans to be patient and supportive.
It is also intriguing to see how the production team can pick up shooting in the middle of a scene when warranted.
With four actors on the stage, I counted 35 production people surrounding them with moving microphones, monitors, clipboards, cameras, lights, I-pads, make-up brushes and more. It was indeed a production platoon! And each time a scene was deemed satisfactory, and the production was "moving on," that platoon rolled across the stage to a different set and repositioned with precision and speed. Not that there isn't a lot of waiting during production pauses – there is – but I was curious to see how the actors spent their time during these delays. Goodman, for instance, alternated between hibernating on the couch and doing stretches.
Sindelar, during these periods, tried to keep the attendees entertained by running around with his wireless microphone asking audience members where they were from and teasing them with jokes – sometimes a bit off-putting, politically sensitive and harsh, but that's comedy, I guess. He gave away t-shirts and conducted "Name that TV Show Theme" contests.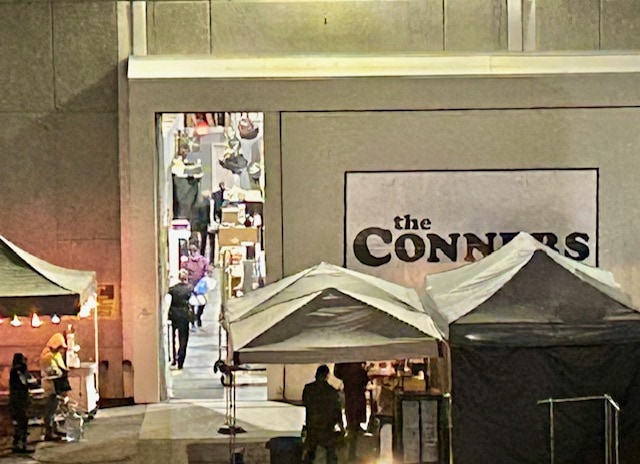 Back in the Stands
Sindelar said he is from Cleveland, and when he moved to Hollywood, got discovered by an agent accidentally when, out of boredom, he was singing the orders out loud while working a McDonalds drive-through window. (Perhaps that's why he chose to downplay the wild popularity and quality of the California regional fast food burger chain "In-N-Out.")
For 20 years Sindelar's been warming up audiences for shows such as "Wayne Brady" and "Hannah Montana," where he performed in front of stars Larry David and Tom Cruise, who'd brought their kids into the studio audience seats to see the show. "Celebrity Circus" was one of the hardest shows I've ever worked on," Sindelar revealed.
He also gave examples of television stars with their own shows who began their careers warming up audiences like he does, including Richard Simmons and the late Bob Saget.
He's in show business…just like everyone on that set is. And you can be, too, for a day, by participating in a taping.
Read more on Michael Patrick Shiels' travel blog, The Travel Tattler. Contact Travel Writer Michael Patrick Shiels at [email protected]

Latest posts by Michael Patrick Shiels
(see all)