One of the world's best hotels since opening in 1912, The Beverly Hills Hotel is unique for Los Angeles in that it sits amidst 12 acres of lushly landscaped gardens and greenery. Among the lush vegetation, the hotel has 23 residential-style bungalows, beyond-suite level accommodations that are like mini-mansions. You have the privacy, security and luxury of being part of the world's best hotel, but with your own personal space. Another key amenity, enjoyed by long-time residents like Howard Hughes and Marilyn Monroe, is the fact that hotel guests (and their guests) can access the bungalows discreetly directly from the street. Pathways lead to the bungalows, meaning you don't have to go through the lobby.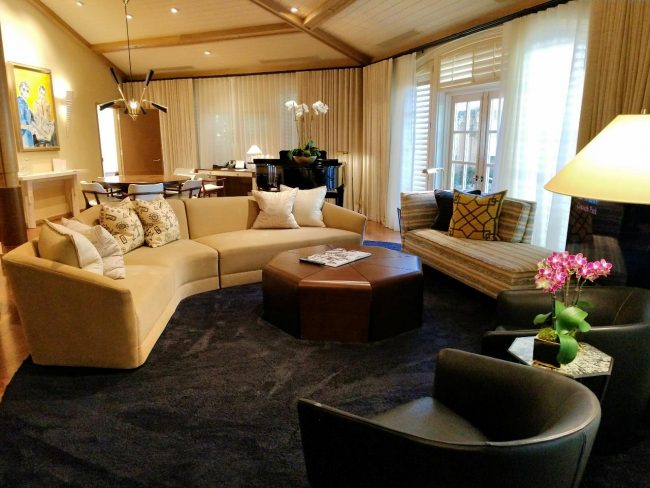 Bungalow 22
The luxury hotel has several signature bungalows, and I had an opportunity to stay in one of their best. Formally known as Bungalow 22, the amazing space is inspired by Frank Sinatra. Sinatra and his Rat Pack buddies would often stay and party in the iconic bungalows. The 1,200 square foot space has a hip, mid-century modern vibe, including a grand piano, vintage record player and soaring ceilings.
There's a spacious foyer, a powder room for guests and a huge master bedroom with a beautifully crafted wood dressing area. There's a spa-like bathroom done up in grey marble and a large outdoor patio space with a large fireplace. The main living area has another wood-burning fireplace, along with a large TV viewing and conversation area. There's a dining area and dining table, a work desk and large windows looking out on the patio. All this about five steps from the Polo Lounge.
For convenience, there's a little kitchen, with its own door to the outside. This allows the hotel to deliver food without disturbing the guest. If one bedroom isn't enough, the bungalow can be connected to the one next door to create a two-bedroom luxury space.
The People
Whenever I write about The Beverly Hills Hotel or any other Dorchester Collection property I visit, I always need to point out the people who work there. Any hotel can spend huge amounts of money on a great location or expensive interiors, but it's the people that make a hotel special. Everyone I encounter on every visit to the hotel seems to really enjoy their job and enjoys making guests feel special. It's why people pay more to stay here compared to LA's corporate luxury hotels and why they keep coming back. Many of the hotel's employees have been there 10, 20 or even 30 years.
The Food
The food at The Beverly Hills Hotel is always spectacular. Fresh, locally sourced ingredients and products mean even basic things like breakfast fruit or orange juice or waffles are just amazing. I enjoyed a few delicious room service meals and also had a great lunch at the poolside Cabana Cafe.
When you want to venture outside your bungalow, there's the iconic pool and surrounding social scene. The pool is surrounded by luxurious cabanas, which can be rented for the day.
Getting There
To make sure I arrived in style, I drove the 2018 Audi S5. This sleek two-door coupe comes with Audi's smooth 3.0T engine and their amazing quattro all-wheel-drive system. I spent a week in the S5 and had a lot of fun behind the wheel exploring Southern California.
Read more of Freddy Sherman's take on travel on his Go World Travel Blog. You can also follow more of his adventures at luxuryfred.com, on his luxuryfred Instagram feed and on his YouTube channel.