Recently jilted and single, I am desperate for a trip. I have always wanted to travel alone, but I've always ended up in relationships that are both codependent and consuming, leaving no room for a solo adventure.
We always ended up taking couples trips, which were full of hijinks and mishaps. Later, when the relationships inevitably ended, I was left with memories of travel blunders and dreams of a do-over.
So, now that I have the chance (re: Jilted and Single), I am more than ready to take this very womanly leap into spinster travel, and I know exactly where I want to start: New England.
New England: Filled with Quaint Seaside Towns
Chock full of quaint, tiny towns, New England is perfect for the spinster traveler. With tons of cute hotels, bed and breakfasts, and Airbnb's, there are plenty of ways to affordably (and safely) enjoy a trip, even if you're all by yourself.
Best Tips & Tools to Plan Your Trip
After my last bad breakup in 2020 (re: My Very Toxic Ex), I chopped off my hair and spent four days exploring Mystic, Connecticut with my best friends. We strolled the streets, ate pizza and ice cream and oysters, and immersed ourselves in the nautical charm of worlds gone by.
Mystic healed my heartache and filled my stomach. I left with a pizza on my lap and a newfound love and appreciation for the charm of New England towns.
Mystic, Connecticut
Yes, the home of Mystic Pizza – as well as the 1988 cult film of the same name. For the spinster traveler, Mystic is a dream. This historic maritime village is located on the Mystic River, which flows into Fisher Island Sound. Cutesy shops and cafes line the main road, with marinas and waterfront views on both sides.
Spend an entire day eating ice cream and strolling down cobblestone streets, marveling at beautiful historic homes? Yes, please.
Top 6 Things to Do in Mystic, Connecticut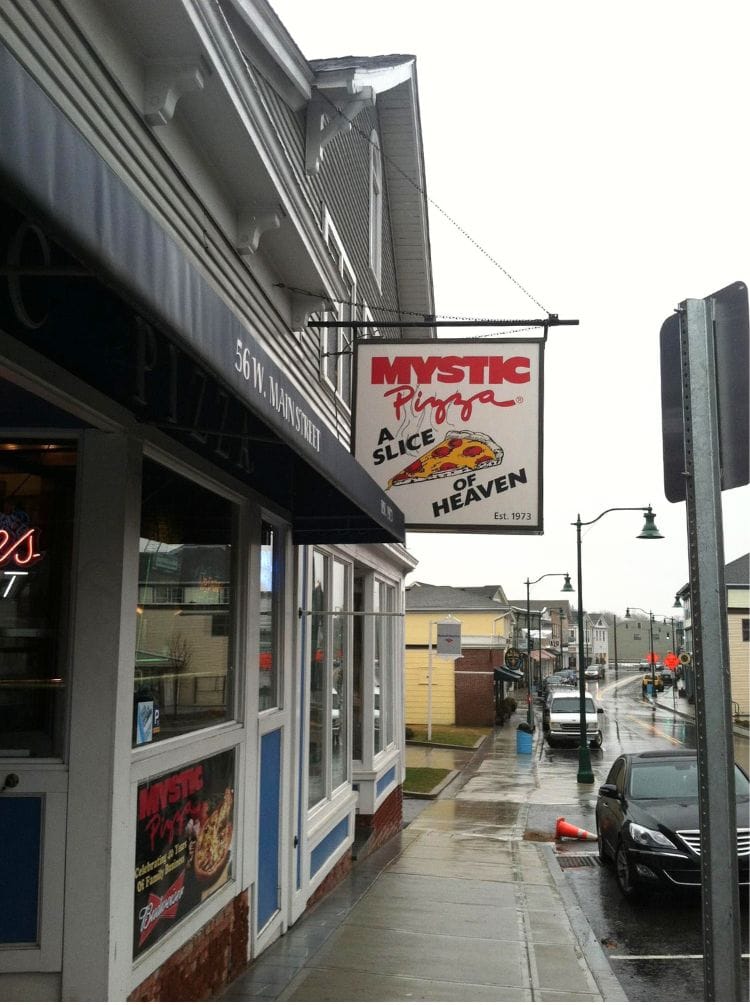 Mystic Pizza has been in business since 1973 and boasts a top-secret recipe that merits their well-known slogan, "a slice of heaven."
Stop by for a mysteriously mouthwatering slice (the clam pie is their specialty!) while taking in tons of nostalgia from the 1988 movie.
If you don't leave with a T-shirt and a pie to go, you're doing it all wrong.
On top of being adorable, this lakeside trinket-filled town is adorned like a giant New England doll house. Spend the day tooling around this idyllic delight, popping in and out of stores and sweets shops, followed by a lovely dinner at one of the Olde Mistick restaurants.
Don't forget to feed the ducks!

For a walk through Mystic History, head to the Mystic Seaport Village. This recreation of a 19th-century seaport village is part of the Mystic Seaport Museum and features maritime trades, including woodcarvers, riggers, and more. A perfect way to get lost in time for all of you history-seekers.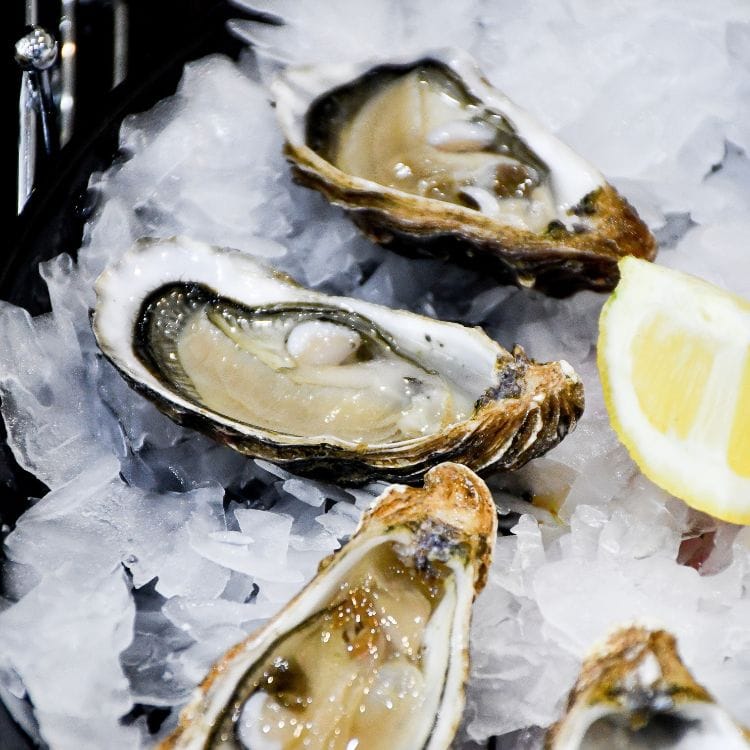 If gorgeous waterfront views are not enough to make it worth the rest, the oysters and butternut squash risotto certainly make up the difference.
When you've finished dining, walk across the drawbridge on Main Street for a panoramic view of downtown Mystic. Make sure to stop for ice cream and fudge on the way!
A huge tourist attraction, this nano brewery and bar uses locally sourced ingredients and has a wide selection of beer, wine, and cider (hooray for gluten-free options!).
They also host local events, including the 2023 Barley Head Art Series. Stay tuned for more events!
For a spooky evening adventure, walk through the Elm Grove Cemetery, which sits directly on the Mystic River. Take in waterfront views as you brush up on the history of Mystic's original residents.
The ornate headstones and mausoleums date back as far as the early 1600s, so get ready for a fascinating – albeit morbid – stroll through years gone by.
Where to Stay in Mystic, Connecticut
Haunted historic estate? Sign me up. Comprising five buildings featuring five points in Mystic history, this nautical manor is located on the downtown waterfront. It's hard not to get lost in the charm of this grand (and possibly inhabited by the undead?) lodging.
Always wanted to try a cozy B&B? Look no further than this country-nautical bed and breakfast, located within walking distance of downtown Mystic. Each room has its own personality (The Rose Room, The Mermaid Room) and its own special quirks and charms. Enjoy tea and sunset on the gorgeous wraparound porch, then walk to the marina for sunset on the water. What more could you need?
Want a little more action? Located directly on the Mystic River in downtown Mystic, this historic waterfront hotel definitely gives off those nautical, houseboat vibes you've been craving. Enjoy a beautiful view while curling up next to your wood-burning fireplace. Wait, a fireplace in your room? Absolutely.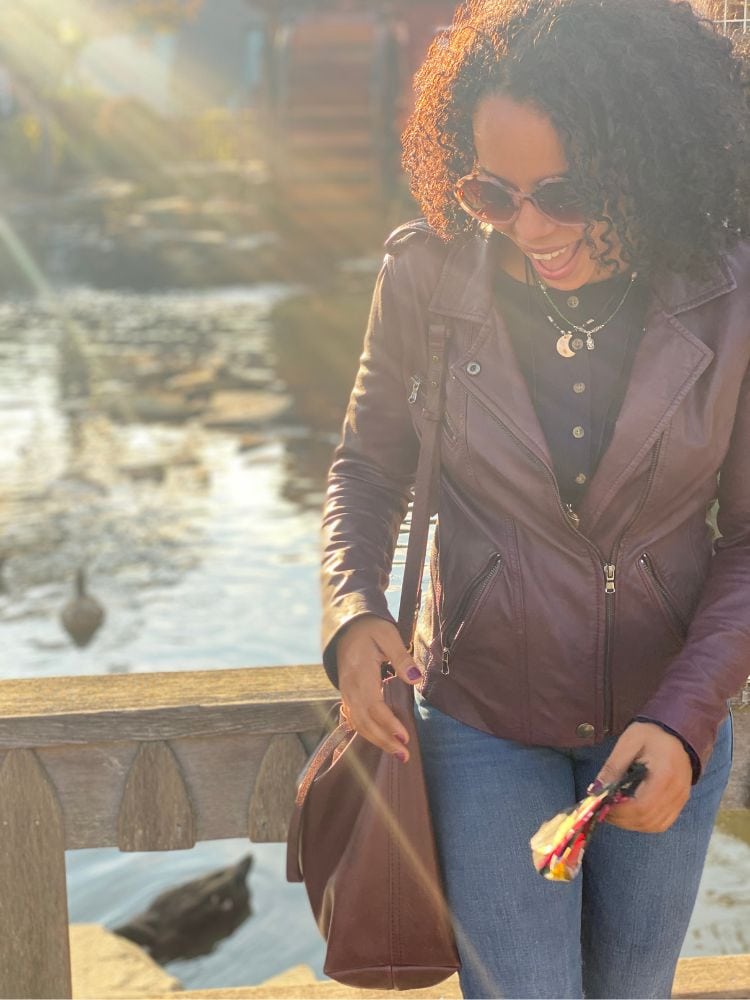 Final Thoughts
Even as I write this, I'm getting excited to plan my next trip to Mystic. I loved every single thing about it, and it was such an incredible rush to jump into JOY in the midst of such a difficult time. Now that I am freshly and awkwardly single (again), I am craving those moments of spontaneity and happiness.
Maybe I'll plan another trip…who knows? Whether it's with friends, or as a solo spinster traveler, I know that I have all the tools (and pizza) I need to have an adventure.
What are you waiting for?
If You Go:
Read More
Author Bio: Aurie Ceylon is a writer, reader, and traveler from New York, NY. A quirky and self-proclaimed "spinster", she writes detailed exploits of her travels, favorite eats, and love & relationship blunders on her blog – Spinster Stories. Aurie is finding joy and healing through her travel adventures. Stick with this spinster as she fills her heart – and stomach – in small towns across America.