After taking a day off due to my continuing tire problems, the first thing I did when I woke the next morning was to see if they were still inflated. I was in luck. My tires were full, and I was rested and ready for another day in the saddle.
A few other cyclists had pulled into the campsite late the previous night. We never had proper introductions, but in the morning, we gave each other a friendly nod while we began to breakdown our campsites. For some reason it felt like a competition. We were in an unspoken race to see who could leave camp the fastest.
They had the advantage. Three of them shared a tent and they were sharing the work. While I fumbled with my tent poles, they had a well-oiled assembly line packing their gear onto their bikes. I never stood a chance. They took off long before I finished getting my bike loaded.
Riding with a group seemed like it would make everything so much easier. Having some company along the way would be nice. I could share some gear with other people and we would all split the load so our bikes would be lighter. We could share in the chores. It would be easy.
On the other hand, maybe the grass wasn't always greener on the other side.
It was nice to only have to worry about myself. I didn't have to try and keep up with anyone else. I was traveling at my own pace, taking breaks when I wanted and calling it a day when I saw fit. Sharing the gear would also mean sleeping in the same tent and I can only imagine how the inside of a tent with three cyclists must smell after a long days' ride. And if you got sick of them, you would still be stuck together the whole way. I wondered if they were riding out ahead of me thinking it must be nice to be going alone.
I wasn't sure where my day was going to end, but I was heading to Tillamook, Oregon for a bike shop that I had heard about. I set off alone with my thoughts and took in a scenic ride across the country. My tires were holding up and my spirits were high when I pulled into town. I was looking for Trask Mountain Cycle. I put the name into Google Maps on my phone and headed into the town. When my phone finally told me I'd arrived, I was in front of an empty shop.
It was midday and there were people walking around, so I asked a local if he had heard of the bike shop. To my dismay, he told me they had moved to a new location across town. It was only a minor inconvenience, but adding unnecessary mileage felt like a punishment.
I made my way to the new location and found the shop. I was filled with excitement, finally I was going to get to the bottom of what had been causing my excessive flats. I brought my bike in with me and asked the guy behind the counter if he wouldn't mind taking a look at my bike to see what the problem was. I was explaining that I had been having a lot of flat tires, when he cut me off and told me the mechanic was out sick for a week.
My heart sank. I was convinced the universe was in fact out to get me. I was never going to find a bike shop that could help me. I picked up a spare tube and asked him if he had any recommendations of campsites along my route. He recommended a spot in Pacific City near the beach and next to a brewery. I was sold.
I set out again with no luck at figuring out the tire problem, but I had a place to head and it sounded like paradise. As I was pulling into Pacific City, my knees were starting to hurt but I hadn't had a flat tire all day and I had pedaled 50 miles.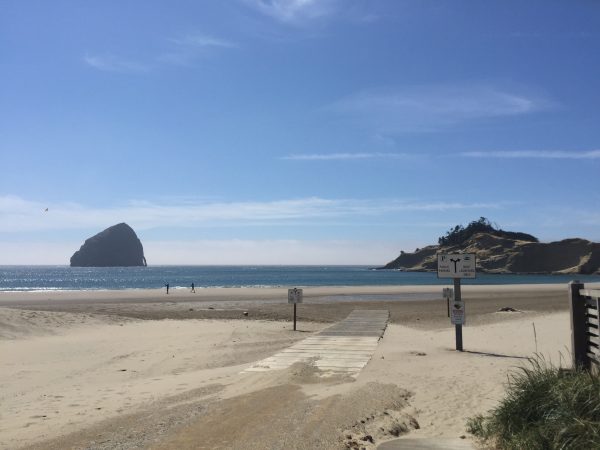 I found the campsite, and true to the clerk's word, it was right next to the beach and a brewery. I set up my camp quickly and headed to The Pelican Pub and Brewery for a beer and some grub.
The food was delicious and the beer was just what I needed after a long day of riding. It was a fancy establishment and they had prices to match. I knew I wouldn't be able to eat like that often with my budget, but I felt I had earned it.
I made my way back to the campsite and I noticed that my arms were starting to turn red. I had applied some sunscreen in the middle of my ride, but it was too late. There were other cyclists at the camp, but the sun burn was hitting me hard so I went to my tent and crashed without talking to anyone.
When I woke up the next morning, I had a serious sunburn and two more flat tires. I was frustrated. I made it 50 miles the day before with no problems, but overnight they had gone flat and I still had no idea what was causing it.
It was only my fifth day and I had already taken one day off and I was going to need to take another day to deal with the flats, let my sunburn heal a bit and rest my untrained legs. I wasn't sure how I would ever make it across the country.
Author Bio: Sterling Stowe is a 26-year-old Colorado native and journalist with a passion for the wild. Follow his solo bicycle trip across the United States in his blog: America at 10 MPH
Latest posts by Go World Travel Magazine
(see all)