Is The Pad a boutique hotel? A hostel? A shipping container?
Check! It is all these things and more.
Sitting in the heart of Silverthorne along the Blue River, The Pad offers an alternative concept in lodging in the epicenter of Summit County's outdoor recreation.
Shipping Containers
When husband and wife team Lynne and Rob Baer decided to settle in Silverthorne as owners of a lodging property, they took inspiration from their travels all over the world. While in Argentina, they saw shipping containers used in hotel construction. It seems "container architecture" is a thing.
And why not? After all, the strong metal boxes were built to withstand long crossings on the open seas. Now they are being upcycled as homes, retail stores, food trucks, and a myriad of other purposes, reducing the need for more building materials. Eco-friendly, for sure.
With their commitment to sustainability, the Baers knew this is what they wanted to do. With their plan starting to hatch, they bought the former Robinson Dairy building and began deconstructing it, salvaging and repurposing most of the wood and scrap metal. Then they rebuilt, adding 18 shipping containers that makeup 20 percent of the building spaces.
"It took only seven to eight weeks for the green demolition," said Lynne, " and about two years to rebuild."
Rooms at The Pad
Rather than cookie-cutter rooms in most ski area hotels, this hotel/hostel has a variety of room types, appealing to a wide range of vacationers—from the solo traveler to family reunion members to ski clubs. Rates start at $50 for a dorm room and go up to $350 for a private suite. In all, there are 36 rooms and 101 beds.
The Pad as a hostel
Shared dorms rooms feature custom-made twin XL bunk beds, large storage lockers, privacy screens, and individual reading lights and charging outlets at each bed. Guests in these rooms share bathrooms and showers with private changing spaces.
If sleeping with others keeps you awake, you can book a Micro Room—a single bed with an open closet. You can share a bathroom or request a private bath. Aptly named, The Family Room is a combo of bunk beds and a queen with shared bathroom.
All shared rooms have access to a spacious community kitchen where guests store their food in individual bins on shelves and in a large fridge. I visited with a Masters downhill ski racer eating breakfast and preparing a sack lunch for a day of race training. "Staying in a hostel keeps my costs down, and I don't have to eat all my meals out," he said.
The Pad as a boutique hotel
For traditional lodging, The Pad offers lovely, modern private rooms with bath, desk, and mini fridge; the deluxe private adds a king bed, sleeper sofa, and balcony overlooking the river or mountains.
My room was an efficient full-sized container, which I requested. Besides a nice private bath at one end, the room comes with an equipped kitchenette, desk, open closet, TV, sleeper sofa and a comfy queen bed at the other end.
A floor-to-ceiling window overlooks the Blue River and a path leading to a bridge that takes you to the hub of Silverthorne activity. Moreover, the path is lighted at night, and I couldn't stop staring at the magical winter scene outside.
Community space
Walking into The Pad is like walking into a friend's living room—with a really big bar! They call the spacious lobby the A-BAR, and it's open to the public for community events or just hanging out. Plans are for a restaurant, Graze & Torreys (a wordplay on the nearby 14,000-foot mountain peaks), to open soon in the A—BAR.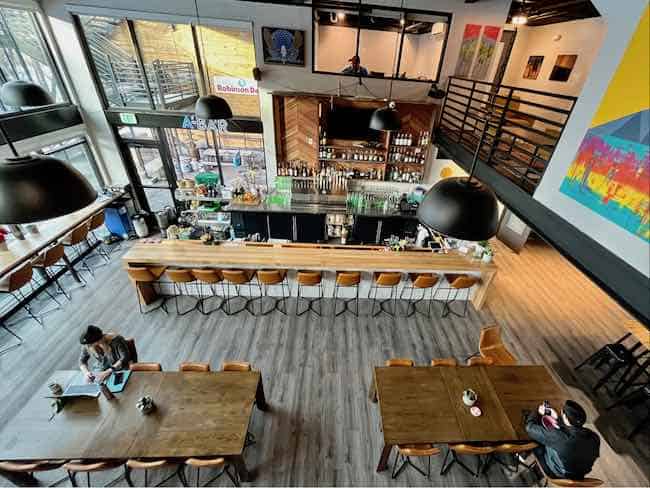 As I explored, I found lots of separate spaces—indoor and out—used as common areas.
"We want The Pad to be a home base and a launching pad for both visitors and locals to create new adventures and shared experiences," said Lynne.
Amenities
To that end, The Pad offers Yoga classes every Saturday, a backcountry class once a month, and monthly female-led open mic nights. Guests who play hard on the mountain can store their gear, then relax with an in-room massage or outdoor hot tub, or chill at the rooftop A-BAR, or read a book at an upstairs nook. It is like staying at a friend's home!
Artwork of local artists—like this piece made from reclaimed wood in the demolition—grace the walls.
And the sweetest girl will greet you as you enter The Pad. Paddy will not hesitate to jump into the elevator and help you find your room.
What to do in Silverthorne
Silverthorne has the distinction of being the palm of a hand whose fingers lead to some of the best ski areas in the state. Copper Mountain, Breckenridge, Keystone and Arapahoe Basin are just short drives away. Vail is about a half-hour's drive and Beaver Creek is another 15 minutes. For summer recreation, beautiful Lake Dillon is only a mile away, and the surrounding mountains make a fantastic playground for avid outdoor enthusiasts. You can book both winter and summer activities with local outfitters that have partnered with The Pad.
With its own performing arts complex that houses the renowned Lake Dillon Theatre Company; a cache of good restaurants, breweries, bakeries, and coffee houses; and a string of outlet stores, Silverthorne is a magnet for tourists looking for a complete mountain town experience.
The Pad
491 Rainbow Drive
Silverthorne, CO 80498
970-445-7767
thepadlife.com
Claudia Carbone is an award-winning travel writer based in Denver. Read about other hotels she's visited in Sleepin' Around.
Latest posts by Claudia Carbone
(see all)